Charities & Campaign Groups
Ahead of London's Council Elections, 81% of Londoners tell Survation that Local Councils should pay the Real London Living Wage
On behalf of 4in10, Survation polled 1,005 Londoners online between 27th-30th April on the issues of poverty, wages and housing. Labour leads the Conservatives by 20 points (51% to 31%) going into Thursday's elections, with the Liberal Democrats on 12%.
With one in ten still unsure of which party to vote for, there is an incentive for parties to prioritise efforts to help the least fortunate: 61% say they would be more likely to vote for a party that made a commitment to improving the lives of the poorest children. Only a third believe that their current local council has done everything possible to lift children out of poverty, and 65% want their new Council Leader to make a strong commitment on the issue.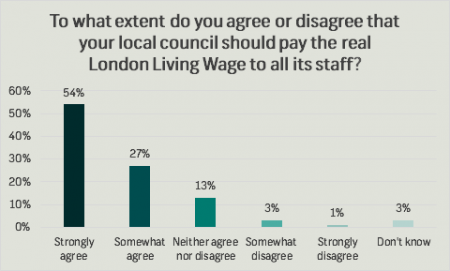 More than four in five (81%) think local councils should pay all their staff the real London Living Wage of £10.20 an hour.
Other policies designed to help parents in low-paid work also attracted majority support in our poll: 71% of respondents want their local authority to promote greater flexibility in work patterns. The housing crisis continues to occupy the thoughts of Londoners, with three quarters wanting their council to increase the availability of social housing and 85% reporting that they would feel more positively about their council if it took measures to improve the quality of the private rented sector.
Commenting on the findings, Laura Payne of 4in10 said:
"Families are struggling in London with a combination of high housing and childcare costs, low wages and cuts to welfare support. It seems this has not gone unnoticed by Londoners with 65% of those living inside Greater London for four years or more saying the level of poverty in London has increased. London local authorities face particular challenges to best support the families they serve.
Money is very difficult to find for councils, but even more so for their low-income residents.
London Child Poverty Alliance has come together to publish a manifesto for London's Local Authorities, with twelve recommendations which could make things better for London's families – we hope the new administrations pay heed to the public desire for action on poverty, wages and homes."
Full tables and all questions can be found here
---
< Back