Charities & Campaign Groups
Almost Half (46%) of Children Worry About Returning to School Because of Bullying
Most children have experienced bullying at school, according to a Survation poll on behalf of the Diana Award. Sixty percent of 11-16 year olds reported having been bullied at school at some point in their lives and, as children prepare to begin a new academic year, almost half (46 percent) have worried about returning to school after a holiday because of bullying. A significant minority (28 percent) of children say they have faced bullying on social media.
Of those who had been bullied at school, 40 percent say they were targeted because of their academic ability and 36 percent were picked on because of their weight. Twelve percent of victims were bullied because of their perceived sexuality. Of the black and minority ethnic children who had been bullied, 63 percent say the colour of their skin had been used to torment them.
Worryingly, 38 percent of kids who had experienced bullying said the experience had impacted their attendance at school. Seven in ten victims (69 percent) thought bullying had adversely affected their mental health, and 59 percent had struggled to sleep at night. A quarter (25 percent) had contemplated self-harm, and 20 percent said bullying had made them feel suicidal.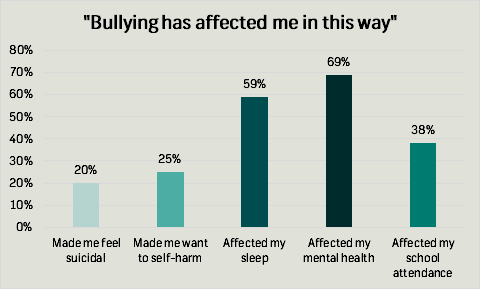 Survation polled 1,003 11-16 year olds living in the UK on behalf of the Diana Award. Fieldwork was conducted 7th-13th August 2018. Tables can be found here.
Survation is a member of the British Polling Council and abides by its rules. To find out more about Survation's services, and how you can conduct a telephone or online poll for your research needs, please visit our services page.
You can sign up other email addresses or colleagues to our press release list here.
Follow Survation on Twitter: @Survation – Our Main Account
Would you like to have your own views represented in Survation's work? Survation's paid consumer opinion panel is now live. Go to https://panel.survation.com/ to join.
To say thank you, you'll receive 50 points (50p) for registering and 100 points (one pound) when you complete a very short welcome poll on the panel dashboard.
Please let us know what you think – we'd love to hear your feedback.
The Survation team.
---
< Back