Blog
CON Lead LAB By 17 Points amid UKIP decline. New polling series for Good Morning Britain:
Survation's initial poll this General Election using our telephone methodology is the first in a new series today for ITV's flagship programme Good Morning Britain.
---
Methodology: Survation interviewed 1005 GB residents aged 18+ using a combination of demographically pre-balanced mobile and landline data, conducting fieldwork from the 5th to the 6th of May. Sample Size 1005. Full data tables are linked here.
---
Headline voting intention results (change since 2015) (nc) = no change.
CON 47% (+10) LAB 30% (nc) LD 7% (-1) UKIP 4% (-9) SNP 5% (nc) GRE 3% (-1)  OTH 4% (nc)
---
UKIP's national vote intention share (-9)  is in steep decline since the 2015 General Election
Clearly, one of the biggest observable changes in these figures since the last General Election is the marked decline of UKIP voting intention. This further confirmation today comes on the heels of a poor set of local election results for the party whose national vote was some 4 million voters strong in 2015.
UKIP's decline appears, as has been seen in other polling including our recent online polling to be primarily benefiting the Conservative vote as these voters return to the Tories or shift to the party in the case of UKIP's former Labour supporting cohort.
The mood has clearly changed in the post referendum environment for UKIP, with declaration of Article 50 now well behind us and Theresa May "talking tough" about the EU.
In today's polling, despite applying a sensible cautionary note about small sub-sample size,  85% of 2015 UKIP voters in the poll think Theresa May would make the best Prime Minister vs only 6% saying Jeremy Corbyn. 89% of 2015 UKIP voters in today's polling also told Survation Theresa May would negotiate the best Brexit deal for Britain vs only 4% saying Jeremy Corbyn.
Finally, how many constituencies have a UKIP option on the ballot paper remains an open question, with the party not likely to repeat the broad national coverage of national candidates 2015, especially as UKIP local branches are being urged not to stand candidates against committed Brexit members of parliament by their own party.

The Liberal Democrats national vote share is yet to pick up, but national share does not equal seat count
Shown today as (-1) vs 2015 in the poll (the decline vs 2015 is actually just half of one percent) the Lib Dems will not be cheered by today's showing of the party essentially flat vs 2015 nationally, however as is commonly known, Liberal Democrat national vote share is not a good predictor of whether the party will win or lose seats or where in this election relative to 2015 as the party's supporter base is concentrated among certain regions and demographic groups and further have new campaign direction as England & Wales' primary standard-bearer for the anti-brexit voter.
Conservative national share lead extends over Labour
If the Conservative party lead over Labour in today's poll of 17% (from a 6.5% CON lead  in 2015) was the final result on polling day we would, of course see a large number of Labour seat losses to the Conservatives and a significant Conservative overall majority, however a poll like this can not accurately predict exact figures of seats won and lost due to regional differences. The effect of the particular candidates standing in seats, their tenure and factors such a tactical voting are not fully captured in enough detail here. However, this polling – an additional check on the national picture using a unique telephone methodology will be (private) cheer to the Tories who at the same time worry however that complacency of an easy election for their party could negatively affect their supporter's turnout – the Prime Minister for example has regularly reminded the public of the obvious truth that pollsters have been known to "get things wrong".
For Labour supporters, a 30% national vote share might actually be viewed with (some) cheer having seen national polling for the party in the mid 20's in some polling conducted in the aftermath of the calling of this snap General Election.
Questions in the polling:
What would you say is the number one issue when it comes to deciding your vote? (unprompted)
There are a number of factors that influence people's vote – and we did not prompt a pre-scripted list, rather interviewers listened to respondents, then wrote and coded their answers which were often complex, personal and not always made in such a way that a "number one issue" was obvious. The responses we gathered reflect the reality that voting motivation is complex and voters themselves can find it difficult to say which issue is number one in terms of influencing their vote.
Notwithstanding this, the top policy issues from the 83% of respondents who were able to express a "number one issue" when deciding how to vote were, in order Brexit – however only marginally reported as a number one issue over the NHS followed by The Economy, Immigration, Party Leader and Education. This unprompted polling method illustrates that in terms of personal voting choice, voter motivations are complex and this election will not be framed wholly in voters minds (despite the efforts of parties) as simply a "Brexit Election"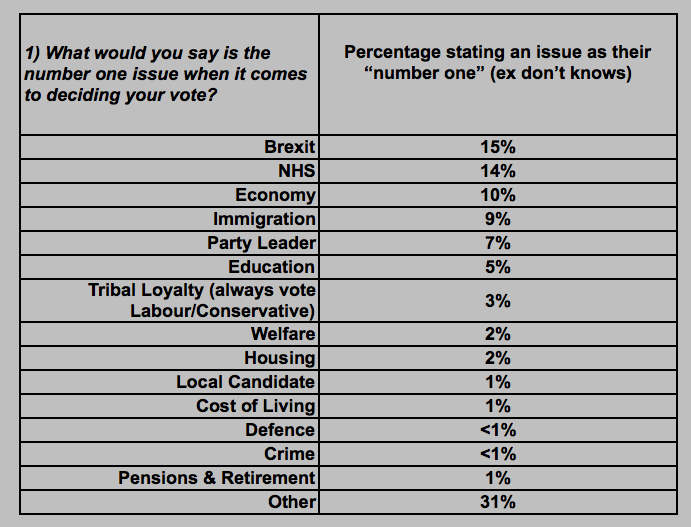 This poll series also introduced some "Best Prime Minister by issue" questioning and yielded the following:
95% of Conservative voters back May over Corbyn as "best Prime Minister" however one in five of those intending to vote

Labour

believe Theresa May would make a better Prime Minister than Corbyn, with a further slightly larger group – 23% telling Survation they "don't know" whether the Labour leader would make a better Prime Minister than May.
These types of question responses underline the reality that motivations behind voter choice are still far from Presidential in the UK despite the efforts of certain strategists to make it increasingly so. Only 7% of respondents stated in the earlier question that 'Party Leader" was their top issue when deciding their vote.
Theresa May's lead over Corbyn on this measure however provides the rationale as to why the Conservative campaign chooses to frame the election as a choice between potential Prime Ministers.  Amplifying this personal advantage, May enjoys were questions about public trust regarding key issues were each potential candidate be Prime Minister:


A Conservative candidate for Prime Minister leading on questions regarding public trust over Brexit and Economy would not necessarily be seen as particularly surprising, however a Labour Leader not being ahead on trust the most to "protect the NHS and "promote a fairer society" should be of concern given Labour's policy platform in these areas and  campaign focus on these issues.
Tactical voting in the election?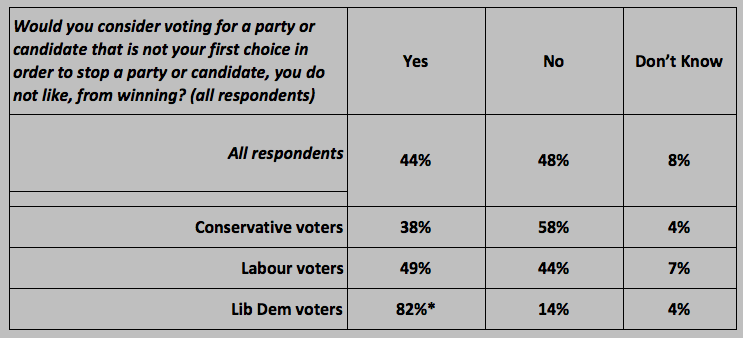 Perhaps unsurprisingly as a traditional 3rd party, and with so many marginal seats in England & Wales historically being electoral battles between a Conservative or a Labour candidate. Lib Dem voters are the most likely to consider voting tactically – more than twice as likely as Conservative voters according to this question. In this election, additional implications for vote transference in seats for example where the candidates standing for election and re-election are known leavers or remainers, often in contrast to the voting pattern of the seat's probable EU referendum vote make modelling many seat outcomes more complex and may throw up some surprising constituency results on June 8th.
Full data tables for our initial GMB polling are linked here
Damian Lyons Lowe.
Founder & Chief Executive.
Survation is member of the British Polling Council and abides by it's rules.
To speak to someone about commissioning research from Survation, or for further information please phone 0203 818 9661 or email researchteam@survation.com.  For press enquiries, please phone 0203 818 9661 or email media@survation.com.For general enquiries, please call 0203 142 7640 or email enquiry@survation.com.
---
< Back