Blog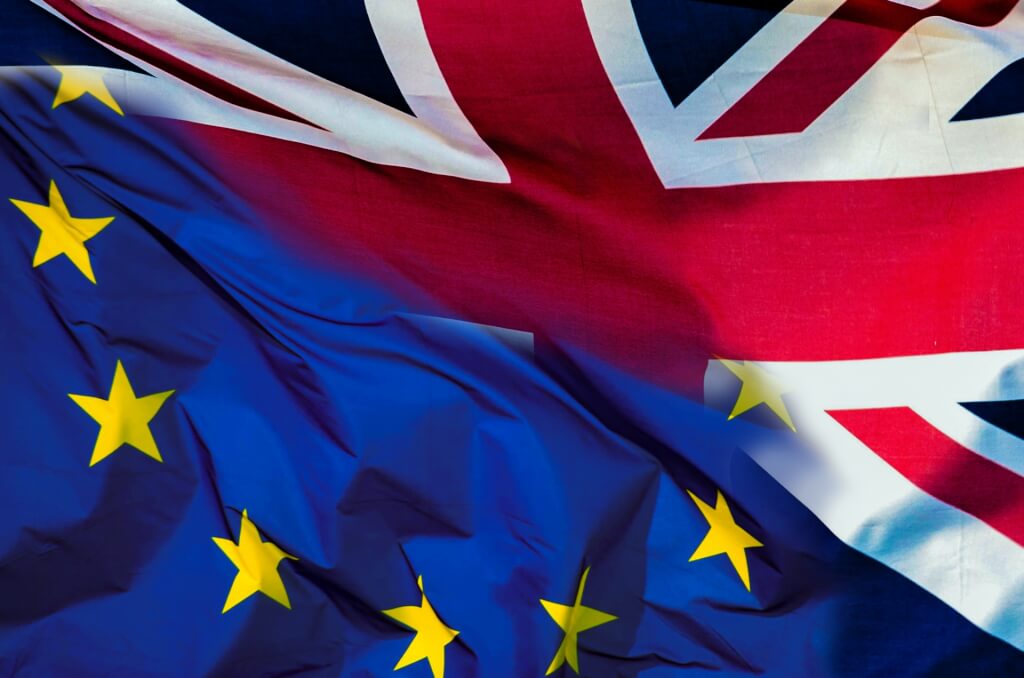 Conservative councillors want MPs to back May in a potential vote of confidence
Survation interviewed 505 Conservative councillors online on behalf of the Mail on Sunday about their opinions on the draft Brexit agreement as well as the current events occurring among their party at Westminster. We found that while councillors on balance oppose the draft Brexit agreement, they are a little more likely to want MPs to vote for the deal in parliament than oppose, and they support Theresa May's leadership by a significant margin.
The survey finds that 50% of the councillors who had seen or heard details about the draft agreement opposed the deal with 47% saying they supported it. The remaining 3% said they neither supported nor opposed the deal or that they did not know.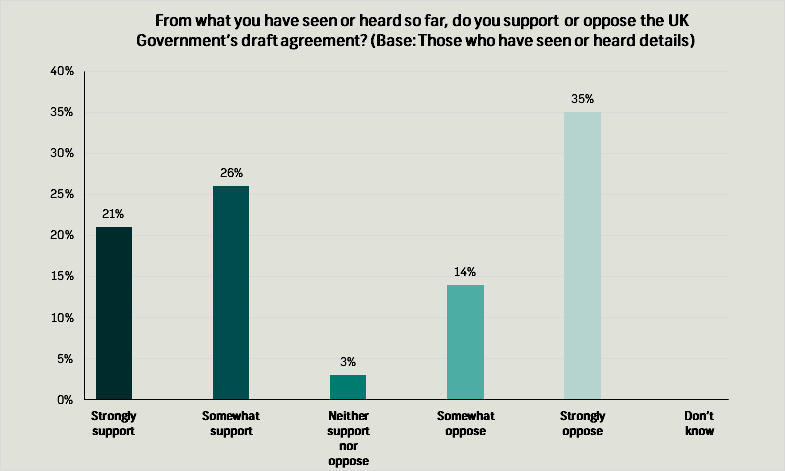 Despite the slightly higher percentage saying they opposed the deal, when asked how they would want Conservative MPs to vote on it in the House of Commons, 48% said they wanted the MPs to vote for the deal against 45% who said they wanted the MPs to vote against it. The remaining 7% said 'don't know'.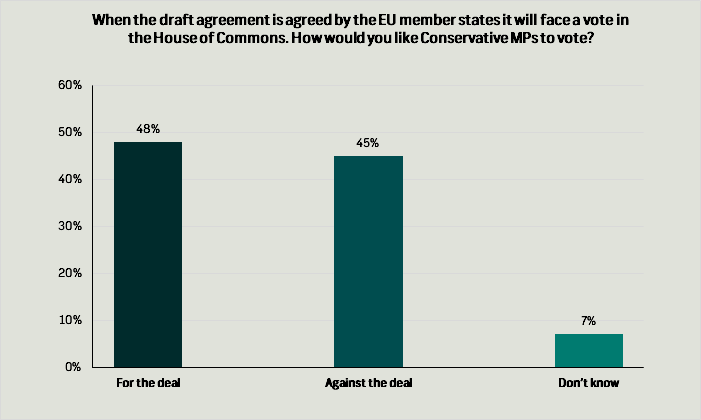 On Thursday Jacob Rees-Mogg announced that he had submitted a letter of no confidence in Theresa May and several other Conservative MPs had said they had done the same. With this in mind if there was a vote of confidence in the PM amongst Conservative MPs, a clear majority (59%) of the councillors surveyed wanted MPs to back Theresa May with 33% saying the opposite. The remaining respondents selected 'don't know'.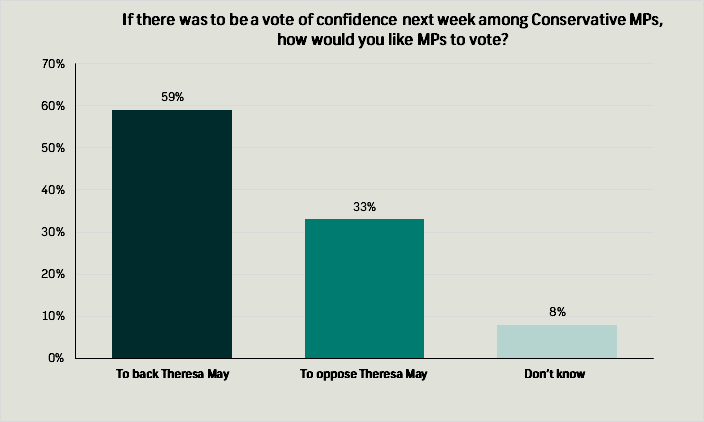 If Theresa May did lose this vote, 58% agreed that the next leader should be someone who supported Leave in 2016. Only 14% disagreed with this and the remaining 27% selected neither or don't know.
Out of a list of candidates, David Davis is the slight leader with 12% saying he should become the next Prime Minister if May was ousted. Boris Johnson and Sajid Javid were next popular (11% selected them) followed by Michael Gove and Jacob Rees-Mogg on 8% each. The option with the highest percentage selecting it (22%) was don't know .
Survation polled 505 Conservative Councillors online between 16th-17th November 2018. Data tables and methodology can be found here.
Survation is a member of the British Polling Council and abides by its rules.
---
More information on how we poll councillors is available here. If you are interested in commissioning a poll of councillors then please contact Harry Mason or John Gibb to discuss your requirements on 020 38189661 or email researchteam@survation.com.
---
Would you like to have your own views represented in Survation's research work?
To join our paid consumer opinion panel, simply go to: https://panel.survation.com/ and register (1 minute) and we'll credit your account with 50 points for simply confirming your email and allocate 100 points for taking a very short survey. Points convert to cash which can be withdrawn each time you reach the equivalent of £50.
---
< Back