Politics, Government & Current Affairs
Conservative Lead Halves Following Manifesto Release – Survation for Good Morning Britain
Following a week in which the main parties officially unveiled their election manifestos, the Conservative lead over Labour has halved from 18% to 9%, according to a new Survation poll on behalf of Good Morning Britain.
Whilst still showing a sizeable Conservative lead, the change, which is outside the standard "margin of error", has also been observed by some other polls in the last week. With manifestos now officially launched and party policies openly discussed in the media, it is possible that these are having some effect on voting intentions.
Headline voting intention results (change from Survation/GMB May 15th)
CON 43% (-5); LAB 34% (+5); LD 8% (NC); UKIP 4% (NC); Others 10% (-1)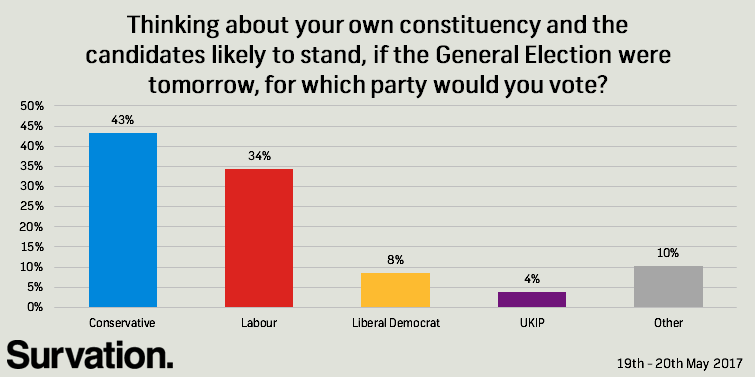 Policies for Different Groups and Purposes
In this latest poll we asked which of the three main parties, the Conservatives, Labour and the Liberal Democrats, had the best policies for certain groups of voters, such as young people, or to manage particular policy areas, such as the NHS. Respondents were also given an 'other' option, so Scottish respondents could have chosen the SNP, for example.
Respondents were more likely to say that Labour, rather than the Conservatives, had the best policies for young people, families with young children, managing the NHS, improving the education system and older people & pensioners.
Labour 'winning' the latter group was particularly interesting in the week where the Conservative's plan for funding social care has drawn criticism, along with their manifesto pledge to scrap the pensions "triple lock" – these are policies that could negatively affect older people, the age demographic most likely to turn out to vote.
However, the Conservatives were the party most likely to be selected by respondents to have the best policies for people on higher incomes, managing the economy, making you better off financially, offering the best vision for Britain and securing the best Brexit deal.
Full tables are available here.
Survation interviewed 1,034 UK residents aged 18+ using a combination of demographically pre-balanced mobile and landline data, conducting fieldwork 19th-20th of May. Survation is a member of the British Polling Council and abides by its rules.
---
< Back