Blog
Conservatives & Labour "Neck and Neck" in our Initial Post Local Election Polling
As with analysis from leading political scientists who have had the unenviable task of projecting "national vote share" after low-turnout local elections, Survation's first Westminster Voting Intention polling since the local elections shows Labour and the Conservatives 'neck and neck'. However the figures do not show a great departure from our April 15th published work on behalf of Mail on Sunday.
State of the parties (UK) (chg. vs 15th April 2018)
CON 41% +1 LAB 40% NC LD 8% -1 UKIP 3% NC SNP 3% NC GRE 2% +1 AP 3% -1
Survation polling since GE 2017 (CON vs LAB)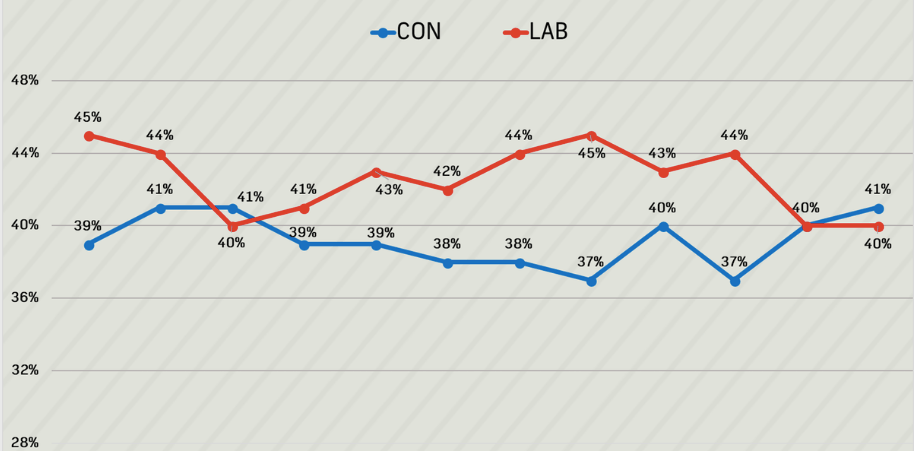 Impact on Seats
Notionally, using Martin Baxter's "Strong Transition*" seats model (which allows input of CON/LAB/LD/UKIP/GRE/SNP (including Baxter's Scotland adjustment using Survation Scotland data) this would produce the following seat picture if replicated at a General Election:
We also repeated our regular conceptual "EU Second Referendum" question, which is a reasonable proxy for Leave/Remain support. The top line figures were, as usual, fairly static:
LEAVE 50% (+1); REMAIN 50% (-1) 
(chg. vs Survation polling 15th April 2018)
Full Data tables can be found here.
Research was conducted online with a sample of 1585 UK Adults aged 18+.
Fieldwork from 8-10 May 2018.
Survation are members of the British Polling Council.
BPC Statement: All polls are subject to a wide range of potential sources of error. On the basis of the historical record of the polls at recent general elections, there is a 9 in 10 chance that the true value of a party's support lies within 4 points of the estimates provided by this poll, and a 2 in 3 chance that they lie within 2 points.
To find out more about Survation's services, and how you can conduct a telephone or online poll for your research needs, please visit our services page.
You can sign up other email addresses or colleagues to our press release list here.
Follow Survation on Twitter: @Survation – Our Main Account
---
< Back