Politics, Government & Current Affairs
Survation Current State of the Parties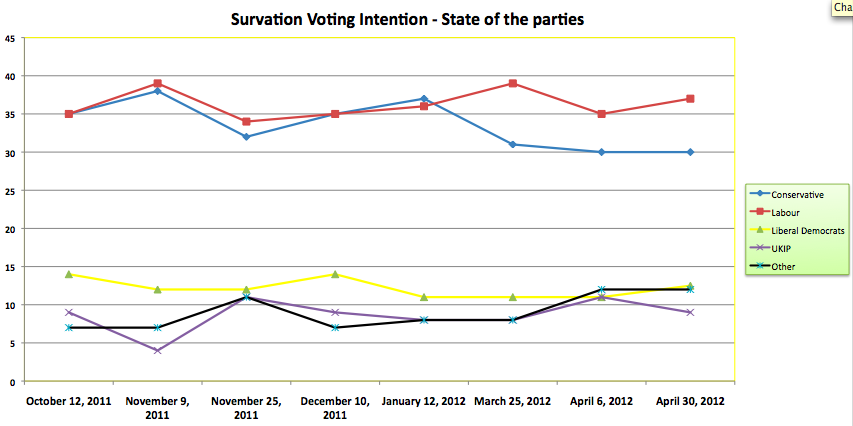 April 30th – National State Of The Parties (plus change since our last state of the parties survey April 7th)
LAB 37% +2 CON 30% (No Change) LD 12.5% (+1.5) UKIP 9% (-2) AP 12% (NC)
Local Election Overall Voting Intention 2012
LAB 32 CON 26 LD 15 GRE 8 UKIP 7 BNP 3 SNP 3 PC 1 OTH 6
Applying the local poll to the national local council equivalent vote "last time" – (2008) in a fairly simplistic fashion for the 3 main parties contesting and contending for most council elections we get:
LAB +8 CON -17 LD – 9
Implied CON to LAB swing is 12.5%
Implied CON to LD swing is 4%
Implied LD to LAB swing is 8.5%
That would see a huge (800-1000) Labour gain, mostly at the expense of the Tories but also the Lib Dems.
Damian Lyons Lowe.
Sign-up to the Survation Consumer Panel and share your views with the nation here;
Follow us on twitter to see new polls as they break here and here.
Survation is a member of The British Polling Council and abide by its rules
http://www.britishpollingcouncil.org
Survation Ltd Registered in England & Wales Number 07143509
---
< Back