Blog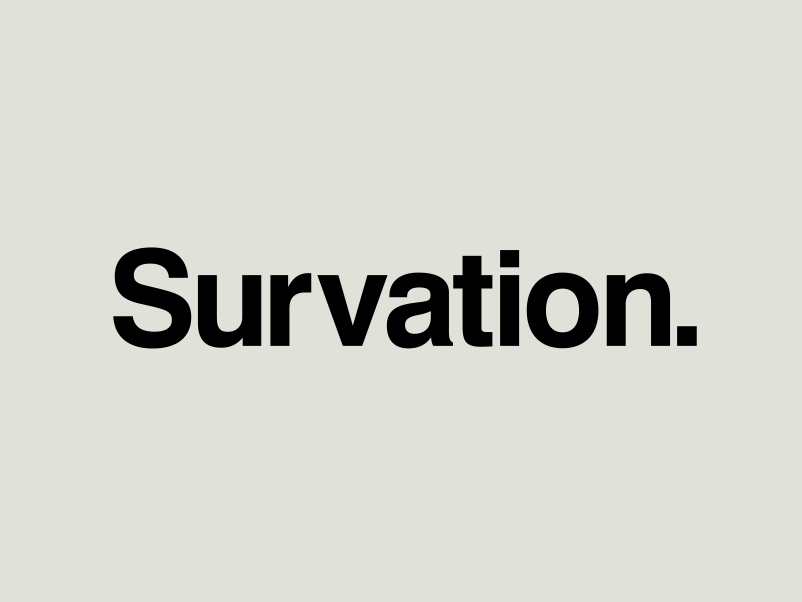 Survation Financial Services
Damian Lyons Lowe leads this division of Survation. Damian is the founder and Chief Executive of Survation, a London-based market research agency and leading political market company.  Survation is a non-partisan polling company and work with various political parties and campaigns in the UK.
Survation also offers qualitative services for Financial Services clients through Survation Qualitative Research (SQR) led by Jane Carn, formerly head of YouGov's qualitative research team. Prior to YouGov, Jane worked for ICM Research and Ipsos Mori in senior qualitative roles.
We also offer election, parliamentary and constitutional services via  Prieskel & Co LLP, a boutique law firm specialising in UK and international corporate and commercial, specialist litigation, and regulatory matters.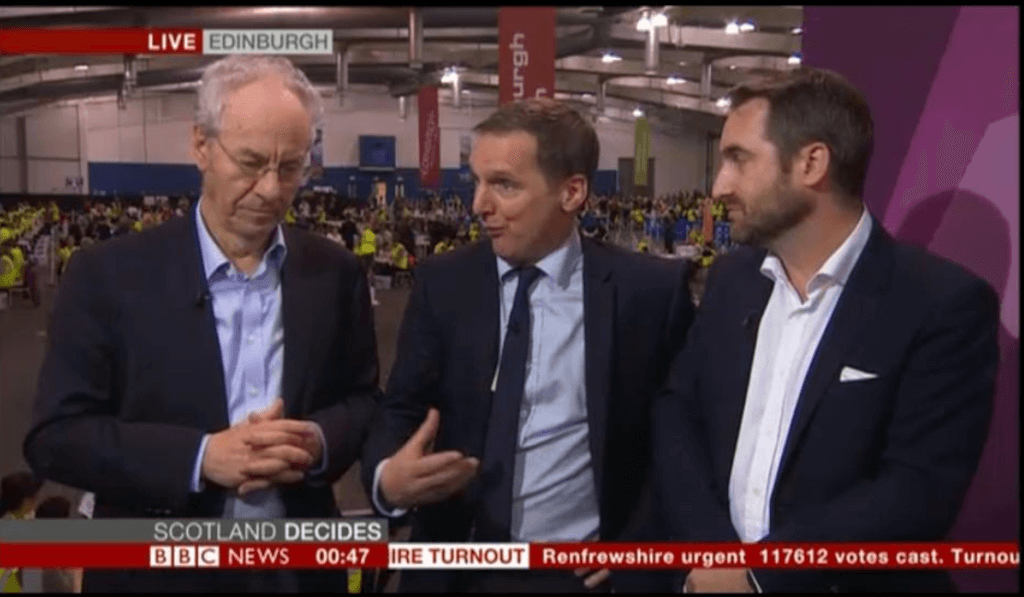 Damian Lyons Lowe (on the right of this picture) on BBC News for the Edinburgh Count at the 2014 Scottish Independence Referendum, with Peter Kellner (YouGov, left) and Mark Diffley (Ipsos Mori, centre)
Background
Prior to founding Survation in 2010, Damian spent 12 years in specialist financial research. He was director of global research sales at specialist US and Global research providers Cowen – Société Generale, Investment bank Jefferies and Thomas Weisel Partners -now Stifel.
Survation have an active business assisting banking and asset management clients with political risk, especially in relation to elections and referendums through consulting (e.g. currently on EU Withdrawal Act) polling, exit polling, and seat and government formation models.
Survation Financial
We recently partnered Survation Financial with rsrchxchange, providing research and analysis via their leading MIFID II compliant research and market intelligence platform.
2014 Scottish Independence Referendum No vote prediction, BBC Daily Politics
Survation prides ourselves on our reputation for accuracy. As well as being the most accurate polling company in the 2014 Scottish Independence Referendum – a key event for Sterling – we enjoyed notable successes including at the UK General Election in July 2017.
Much derided ahead of the General Election , Survation was the only polling company in the industry to forecast the "hung parliament" that ensued, forecasted not once, but in three final published polls, and one private "MRP" model with Dr. Chris Hanretty of Royal Holloway University.
Eve of polling day, 2017 UK General Election, BBC Daily Politics
Polling day, 2017 UK General Election, CNBC
Survation forecast a 2017 hung parliament using three different methods – telephone interview, online panel and multi-level regression and post stratification model (MRP).  The model work for clients focused solely on predicting seat wins by party, generated a Conservative party seat projection of 314  – the same seat forecast for the party the official exit poll later produced.
International Elections
Survation develops and extends these different approaches to elections in other countries which should have broad investor interest; in particular, elections with impact on economic outlook, for currency, debt and equity markets. Survation polled and consulted the 2018 Italian General Election and the 2018 US mid-term elections, as well as topics such as experiences and lessons learned from the UK Brexit vote and our continuing coverage,
We can also advise on Survation's newer financial services products, unrelated to political and international election coverage which have application outside of the political sphere.
Democracy and Elections Centre, Royal Holloway, University of London
Political and non-political projects are assisted by Survation's exclusive relationship with Royal Holloway, University of London School of Politics, International Relations and Philosophy, Democracy and Elections Centre. Survation works with Professor Oliver Heath and Professor Chris Hanretty. Professor Hanretty is Survation's Chief Academic advisor for our MRP modelling projects.
Damian Lyons Lowe is a regular broadcast contributor during elections, on Bloomberg TV, CNBC, BBC and Sky News. Survation were selected to be ITV's polling company for the 2017 General Election. For several years, Survation has provided advice and oversight to political programmes for Sky News, Channel 4 and ITV relating to Broadcast production and audience balance.
Contact Rushaa or Angelique at: media@survation.com for any media related enquiries, case study requests or queries.
Past Election Coverage
Scottish Independence Referendum 2014, UK General Election 2015, London Mayoral Election 2016, UK EU Referendum 2016, Italian Constitutional Referendum 2016, UK General Election 2017, Italian General Election 2018, US Mid-Term Elections 2018
Current
EU Withdrawal Process research, UK Election and referendum monitoring
For access to Survation's Financial Services offering, please contact Angelique Vukmirovic, John Gibb or Harry Mason at +44 203 818 9646 or email the team at: survationfinancial@survation.com.
_____________________________________________________
Survation is a Market Research Society (MRS) Company Partner and member of the British Polling Council. All MRS Company Partners and their employees agree to adhere to the MRS Code of Conduct and MRS Company Partner Quality Commitment.  As members of both organisations, Survation have a strong commitment to transparency and the integrity of our work.
_____________________________________________________
---
< Back