Charities & Campaign Groups

Does hunting with dogs reflect countryside values? Rural residents in England and Wales have their say:
A recent poll of rural residents in England and Wales has found that hunting with dogs enjoys only marginal participation and is seen by the majority of those polled to not reflect the values of the countryside.
Survation's rural values and activities poll, conducted on behalf of the League Against Cruel Sports, shows that 91% of respondents believe that observing nature reflects countryside values, compared to 16% who agreed with the statement that hunting with dogs reflects the values of the countryside – 67% disagreed.
The survey shows people in rural areas enjoy a wide range of leisure activities (using an "at least once a month" definition). These included observing and enjoying wildlife (63% of respondents), and walking, hiking and rambling – 59% of those polled. Hunting with dogs however is comparatively alien to the vast majority of rural residents. 96% of respondents stated that they never participate in this activity.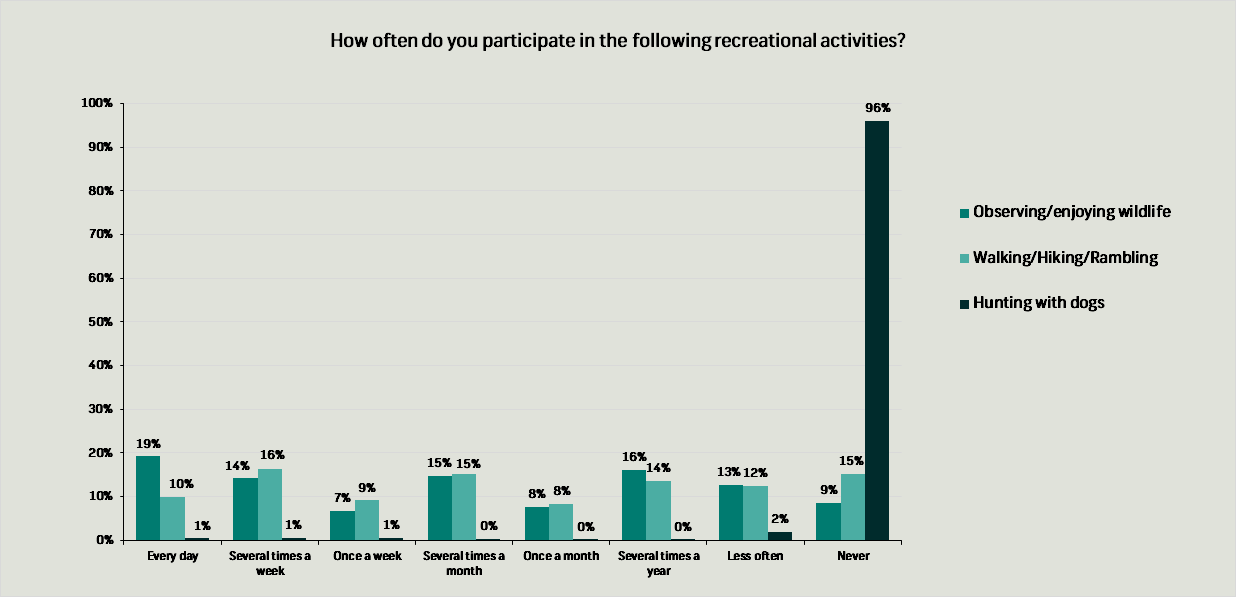 Despite the decline of "the Village Pub" visiting pubs remains a common recreational activity among those living in rural areas. 52% of respondents said they visit a pub at least once a month, and 90% of rural residents overall visit pubs.
Levels of feeling?
65% of respondents strongly agreed that observing nature is an activity that reflects the values of the countryside with a further 26% somewhat agreeing.  In stark contrast, only 4% strongly agreed that hunting with dogs reflects countryside values, and  50% strongly disagreed that it did.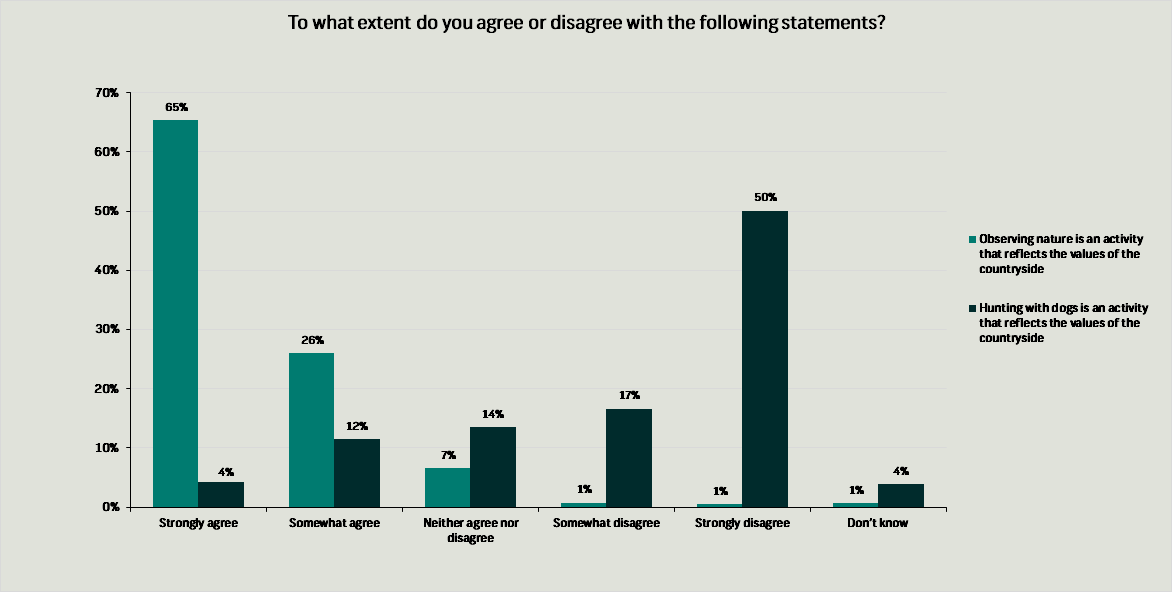 96% of those who voted Labour in 2017 and 97% of 2017 Conservative voters never participate in hunting with dogs, but there is more variety in their attitudes to hunting. Among Conservative voters, 20% agree and 58% disagree that hunting with dogs reflects countryside values. With Labour voters, only 11% agree and 78% disagree.
The new polling follows our 2017 poll for the League Against Cruel Sports where 66% of respondents across England and Wales stated that fox hunting should not be made legal.
Survation conducted an online poll of 1,072 people aged 18+ living in rural areas in England and Wales. Fieldwork was between 7th-14th December 2018.
Respondents were targeted if they lived in an area of England and Wales classed as rural by the Office for National Statistics. Responses were then weighted by age, sex and region using data from the ONS's Small area population estimates for England and Wales, mid-2017 to ensure the sample was representative of the population surveyed.
Full data tables and methodology can be found here.
Survation is a member of the British Polling Council and abides by its rules.
---
To learn more about Survation's polling capabilities or to commission a poll, contact Harry Mason or John Gibb on 020 3818 9661 or email researchteam@survation.com.
---
Would you like to have your own views represented in Survation's research work?
To join our paid consumer opinion panel, simply go to: https://panel.survation.com/ and register (1 minute) and we'll credit your account with 50 points for simply confirming your email and allocate 100 points for taking a very short survey. Points convert to cash which can be withdrawn each time you reach the equivalent of £50.
---
About the author – David Izamoje
David joined Survation January 3rd 2019. He has an MSc in Sociology from the University of Oxford, and a BA(Hons) in Politics from Queen Mary, University of London. His key areas of interest are politics, education, faith and ethnicity. For further information on some of Survation's academic work in these areas, see: https://www.survation.com/services/academic-data-collection/
---
< Back