Misc
Remain Maintains a Steady Lead over Leave as Campaigns Yet to Sway Voters
With 29 Days Until The EU Referendum, on behalf of IG, new Survation polling shows "Remain" continues to have a steady lead over Leave in the latest telephone poll in our series.
Results are as follows with changes from the previous Survation/IG poll (27/04) in brackets:
Full data tables for this polling including all questions asked and the methodology used can be viewed here.
Remain 44% (-1); Leave 38% (NC); Undecided 18% (+1)
---
Excluding Undecided voters, headline results are:
Remain 54% (NC*); Leave 46% (NC*)
*For avoidance of confusion, Survation calculates +/- change based on unrounded decimal figures from poll to poll.
What About the Undecideds?
Voters in the sample who initially told Survation they were undecided were then "squeezed" with the question:
"If the referendum was today and you had to choose, would you Vote for the UK to leave the European Union / Vote for the UK to remain a member of the European Union, or would you not vote?" 
Some of these undecided respondents then stated their preference for leave or remain after this "squeeze" question. Adding back these respondents the initial leave/remain voting intention had the effect of a slight (1%) boost to the Remain figure:
Remain 55%; Leave 45%
The Respective Campaigns Are Not Swaying Voters (Yet)
Survation's polling this year has shown voting intention for Leave between 41% and 46% and Remain between 54% and 59% (excluding undecideds) – a consistent picture despite the Leave and Remain campaigns beginning in earnest during this period.
Commenting on the findings, Damian Lyons Lowe, Chief Executive of Survation said:
"In today's polling for IG we also asked respondents to what extent they agreed or disagreed that Britain leaving the European Union would lead to an economic recession – comments that George Osborne and Prime Minister David Cameron made widely this week.  The extent to which voters agreed with this assertion was revealing.
Of those indicating that they would vote to Leave the EU, only 1% "completely agreed" with this statement compared to 10% of those indicating that they would vote to Remain, suggesting a reluctance on the part of all voters to be swayed by campaign messages. This may well explain the lack of movement in polling thus far.
Between now and referendum day, a series of major events from mainstream broadcasters – Sky News, ITN and the BBC's Wembley event on June 21st – may change this and we'll continue to monitor opinion for IG right up until polling day."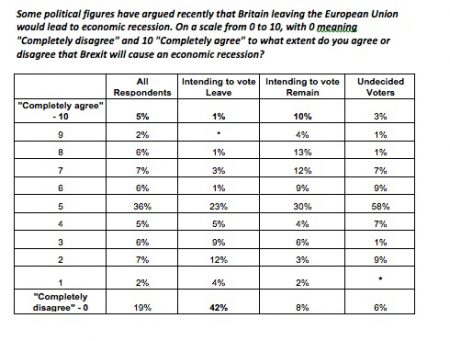 IG's EU Referendum Barometer is currently showing an 81% chance that the UK will remain within the European Union, a new high for the Barometer since its launch in February 2016. A Brexit has been the most unlikely outcome since the inception of this market, according to IG clients. A vote to leave was given a 35.5% chance in March, before pulling back to just 19% today.
The Barometer is an indicator of what those traders are predicting will happen in the 2016 UK referendum on membership of the European Union. The data is based on the political binary market IG has created for clients to trade on.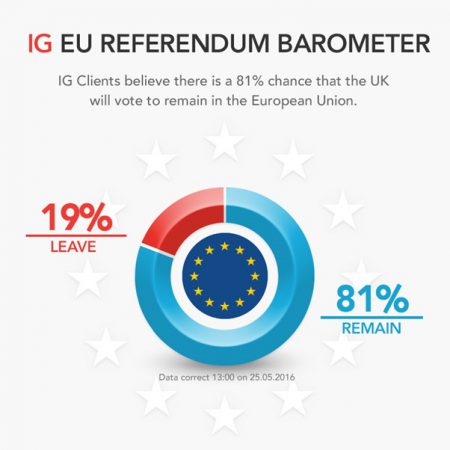 Matt Brief, Head of Dealing at IG Group, comments:
"Our binary market has consistently shown a strong likelihood that the UK will vote to remain in the EU, demonstrating that traders are choosing to look favour the results from phone polls over online polls when setting their expectations. Our political binaries have shown a high success rate in predicting the correct outcome in previous elections and referendums. The pattern we are seeing is similar to the Scottish Referendum when markets remained solidly for a NO victory throughout the campaign."
Survation interviewed 1,013 adults aged 18+ across the UK including Northern Ireland on behalf of IG by telephone on 24th May.
IG Group
Chris Alfred            PR Manager                               020 7573 0319
Press@ig.com
Survation
Chris Hopkins         Senior Project Manager              020 3818 9661
media@survation.com
Notes to Editors
About IG Group
IG is a global leader in online trading, providing fast and flexible access to over 10,000 financial markets – including shares, indices, forex, commodities and binaries.
Established in 1974 as the world's first financial spread betting firm, IG's aim is to become the default choice for active traders globally. It is an award-winning multi-platform trading company, the world's No.1 provider of CFDs* and a global leader in forex, and it now offers an execution-only stockbroking service in the UK, Ireland, Germany, Austria and the Netherlands.
It is a member of the FTSE 250, with offices across Europe, Africa, Asia-Pacific, the Middle East and the US, where it offers limited risk derivatives contracts via the Nadex brand.
*Based on revenue excluding FX, from published financial statements, September 2015.
About Survation 
Survation conduct telephone, online and in-person market research, as well as strategy & advisory research for well-known brands & organisations. Survation are members of the British Polling Council.
You can sign up other email addresses or colleagues to our press release list here.
Follow Survation on Twitter:
@Survation – Our Main Account
@DamianSurvation – Personal commentary from our Chief Executive
More about the services Survation provide can be found here. For press enquiries, please call 0203 818 9661 or email media@survation.com
*Note: unrounded figures observable in the data tables are:
EU REFERENDUM VI inc. Undecided: Leave 37.5%; Remain 44.3%; Undec 18.2%
EU REFERENDUM VI excl. Undecided: Leave 45.9%; Remain 54.1%
EU REFERENDUM VI inc. Undecided Squeezed: Leave 45.4%; Remain 54.6%
Rounded headline figures in this press release are based on the actual counts divided by the weighted number of respondents.
---
< Back