Blog
First Hartlepool phone poll has Conservatives in driving seat
A Survation phone poll for the Hartlepool by-election on 6th May, has the Conservatives with a seven-point over lead over Labour, who is defending the 'red wall' seat.
The Conservatives are currently polling 49% in the seat, with Labour in second place on 42%.
The success or not of small parties in the constituency could make a significant difference to the outcome in this by-election. In the 2019 general election, the Brexit Party obtained 25% of the vote, much of this which came from former Labour voters. Labour won the seat in 2019 with 37% of the vote share, and yet our poll has Labour 7 points behind the Conservatives but still on a higher vote share than 2019.
At this stage in the contest, it would appear a significant proportion of 2019 Brexit Party voters have moved to the Conservatives, have yet to make up their minds or will choose not to vote. How this develops will have a significant effect on the final outcome.
The Brexit Party's most direct successor party, Reform UK, is currently polling only 1%.
There has been speculation that the Northern Independence Party (NIP) could have an impact by taking votes from younger people,  in particular from potential Labour voters. However our poll shows that at this stage, its candidate, the former Labour MP Thelma Walker, has only attracted 2% of the vote.
A potential explanatory factor for the Conservative lead in Hartlepool, alongside a 'vaccine bounce',  is the relative differences in how voters in Hartlepool view the leaders of the two main parties.
While Keir Starmer has a net favourability rating with Labour voters in Hartlepool of +30, Boris Johnson's net favourable rating is +80 with Conservative voters. Overall, Starmer has a net score of -14 to  Johnson's  +19.
Labour has sought to make the issue of nurses pay a campaign issue in this by election. We asked Hartlepool voters which level of pay they would support for nurses.
Voters split equally between supporting a 3% pay rise for nurses (43%), or a higher 10% rise (42%). Only 10% of voters supported a 1% pay rise (the offer currently formally on the table for nurses)
To get some wider data on voter attitudes, we asked some further questions.
A large majority, 67%, favoured investment in public services as an alternative to paying off the country's deficit, supported by 24%.
A majority of Hartlepool voters, 57%, chose the option of re-nationalising Royal Mail, with 29% wanting to keep it in private hands, as it has been since 2014.
Finally, a large majority of Hartlepool voters support the idea of providing free broadband to all UK homes and businesses by 2030, backed by 69%, with 18% opposed.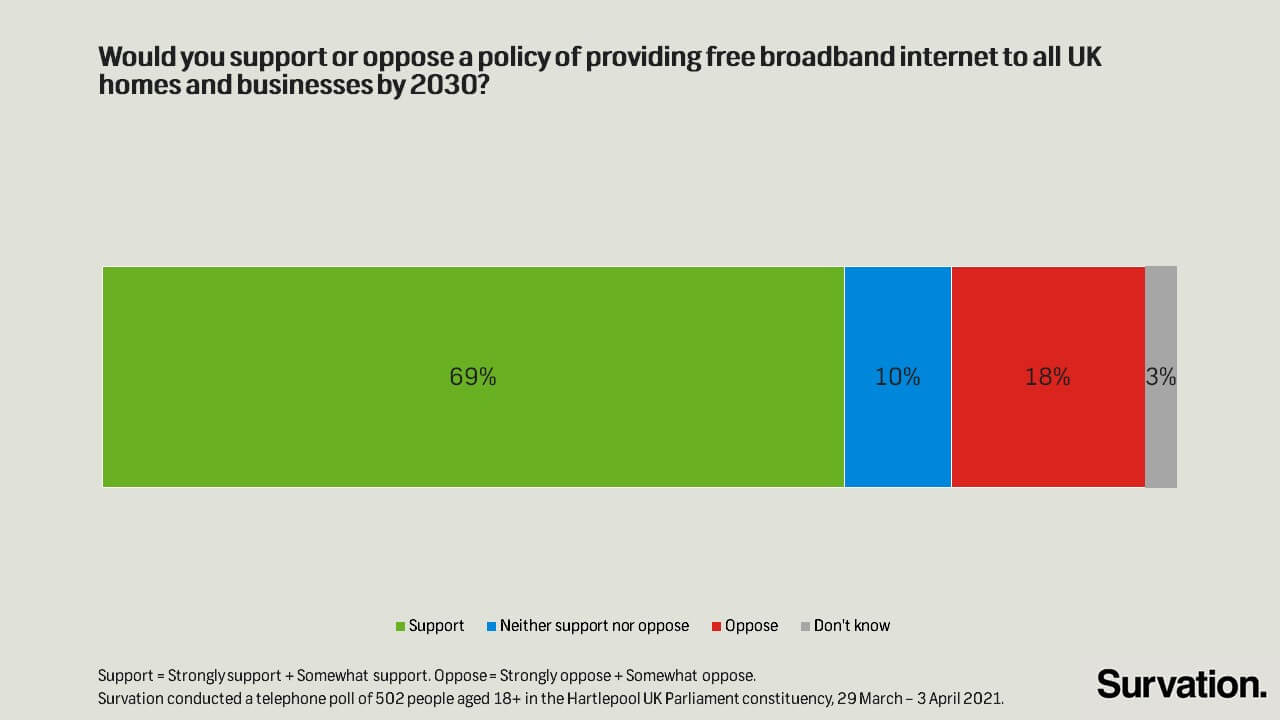 The poll was conducted by Survation on behalf of the Communication Workers Union
Methodology: Telephone interviews of people aged 18+ living in the Hartlepool UK Parliament constituency.
Fieldwork: 29 March – 3 April 2021
Sample size: 502
Data tables:
---
< Back