Politics, Government & Current Affairs
Four fifths (81%) of people in England and Wales want the Government to reverse police budget cuts to help recruit more officers
Survation recently conducted a poll on behalf of the Daily Express examining public attitudes towards police presence and spending. 1,013 people in England and Wales aged 18 and over were surveyed on 26th November. Significant majorities agreed that the government should reverse cuts to police spending and increase the wages of front-line officers.
Around 20% of respondents reported seeing a police officer on patrol in their neighbourhood in the past week during the day, between 8 AM and 6 PM, and around 13% had seen one in the past week between between 6 PM and 8 AM. A quarter of those surveyed had never seen one on patrol during the day, and 40% hadn't at night.
56% of respondents were concerned about being the victim of crime, and almost the same proportion (55%) reported being more concerned now than they had been five years ago. 35% said they were not very concerned at the moment and a further 6% said they were not concerned at all, with the remaining 3% saying they did not know. Only 3% said they were less concerned than five years ago, although 39% said they were neither more nor less concerned now than five years ago.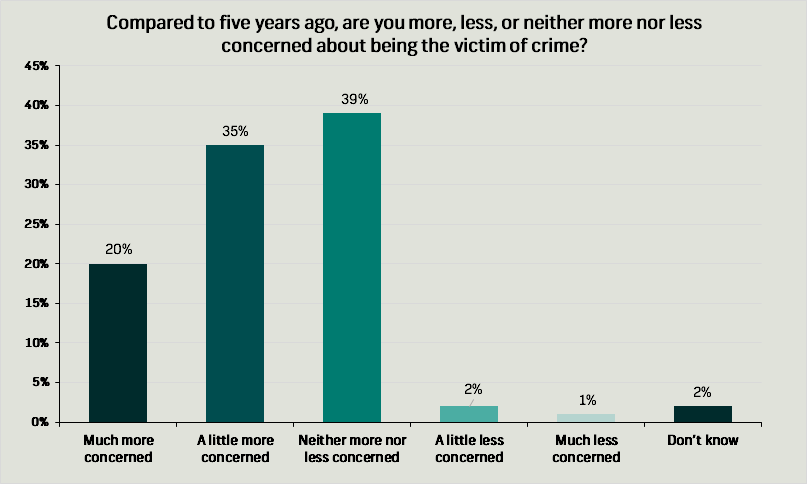 When asked how they would react if they saw a police officer being attacked and they believed they could help, 69% stated they would be likely to help. Only 9% said they would be unlikely.
Although 48% felt their local police force was "overwhelmed by the amount of crime they have to deal with", the same proportion of respondents also felt that policing still acted as a deterrent to prevent crime where they live.
Close to three quarters (73%) of those surveyed agreed with the argument that public spending should be more focused on domestic issues like police services, and even more, 81%, thought the Government should reverse cuts to the policing budget to allow for the recruiting of more front-line officers. In a similar vein, 73% of those surveyed believed that the Government should increase the wages of front line officers to attract more recruits and stop experienced officers from leaving.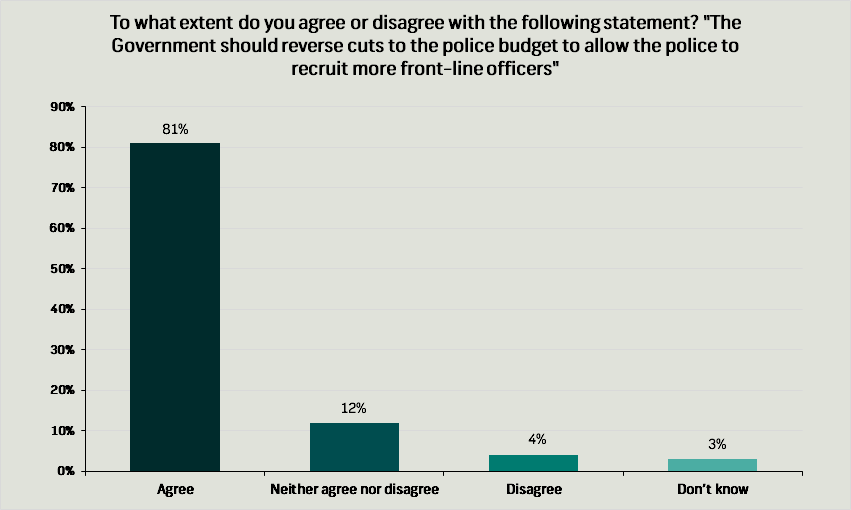 Over four-fifths (82%) of respondents agreed with the notion that sentences for knife possession were not strict enough. Two-thirds (68%) thought the police should prioritise offenses like burglary and violent crime over non-violent hate crimes.
Survation interviewed 1013 people aged 18+ in England and Wales. Fieldwork took place on 26th November 2018. Full data tables and methodology can be found here.
Survation is a member of the British Polling Council abide by its rules.
---
To learn more about Survation's polling capabilities or to commission a poll, contact Harry Mason or John Gibb on 020 3818 9661 or email researchteam@survation.com.
---
Would you like to have your own views represented in Survation's research work?
To join our paid consumer opinion panel, simply go to: https://panel.survation.com/ and register (1 minute) and we'll credit your account with 50 points for simply confirming your email and allocate 100 points for taking a very short survey. Points convert to cash which can be withdrawn each time you reach the equivalent of £50.
---
< Back