Panel
General Election Voting Intention and Brexit preferences – Poll
14th August 2019
We have updated Westminster General Election voting intention figures, online fieldwork conducted 6th-11th August. This is our first published voting intention poll since Boris Johnson became Prime Minister.
Top line voting intention figures:
CON 28%, LAB 24%, LD 21%, BREX 15%, SNP 4%, GRE 3%, AP 4%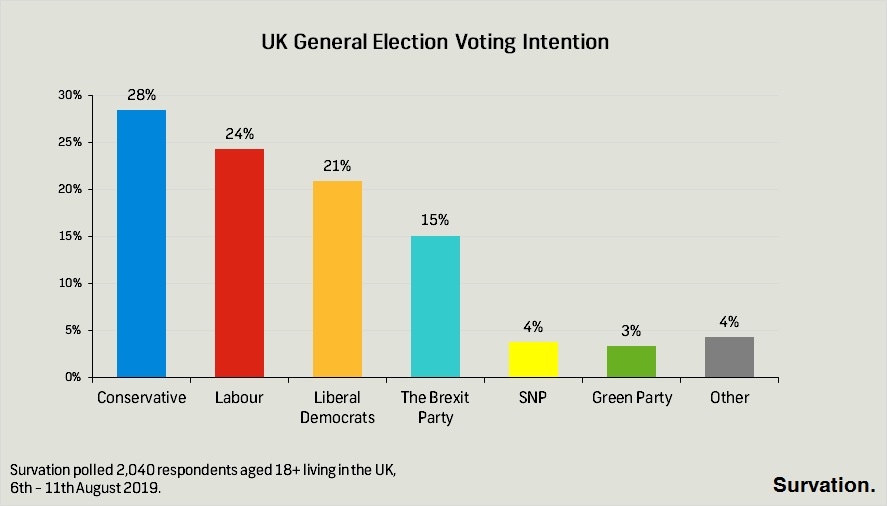 In our previous Westminster voting intention poll (GB, fieldwork 10-11 July), the figures were:
CON 23%, LAB 29%, LD 19%, BREX 20%, SNP 4%, GRE 3%, AP 2%
On the question of their preferred outcome of the Brexit process, 43% of those polled said they would prefer to remain in the EU; 29% said leave the EU with a deal; 19% preferred leave the EU without a deal; and 9% were not sure.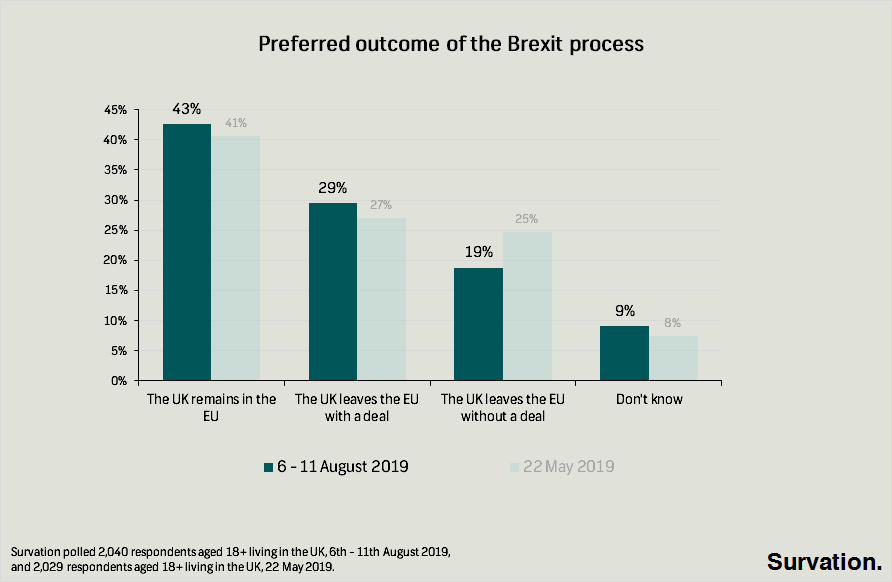 When asked about their second preference outcome of the Brexit process, 58% of respondents said leaving the EU with a deal, 24% said leaving without a deal, and 10% stated remaining in the EU, with 8% unsure.
Regarding the expected outcome of the Brexit process, 15% expect the UK to remain in the EU, and 16% think leaving with a deal is the most likely outcome. 49% predicted a no-deal Brexit. 21% said they do not know.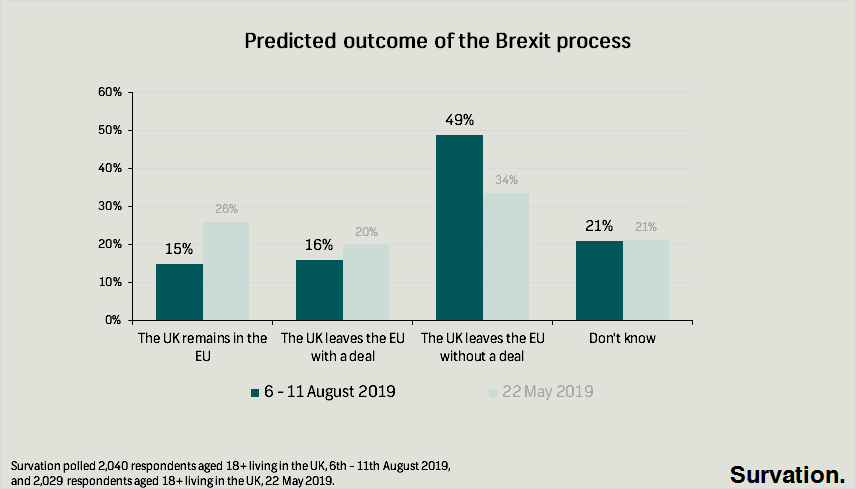 Our poll also asked about voting intention in another referendum on EU membership. These are the results: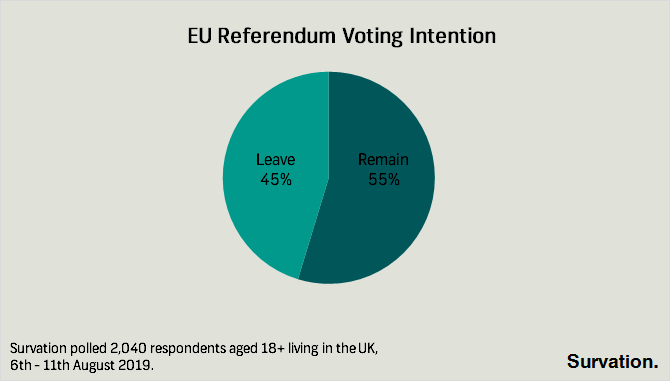 Survation conducted an online poll of 2,040 respondents aged 18+ in the UK on their General Election voting intention and other political questions. Fieldwork was between 6th – 11th August 2019. Data tables can be found here.
Survation is a member of the British Polling Council and abides by its rules.
---
To learn more about Survation's polling capabilities or to commission a poll, contact Harry Mason or John Gibb on 020 3818 9661 or email researchteam@survation.com.
---
Would you like to have your own views represented in Survation's research work?
To join our paid consumer opinion panel, simply go to: https://panel.survation.com/ and register (1 minute) and we'll credit your account with 50 points for simply confirming your email and allocate 100 points for taking a very short survey. Points convert to cash which can be withdrawn each time you reach the equivalent of £50.
---
< Back