Misc
Government and Conservative party approval ratings fail to improve despite new Chancellor reset:
Polling conducted 18th-19th October of 1,617 UK adults found Labour further extending their lead over the Conservatives, in a sign that new Chancellor Jeremy Hunt's reversal of many of the controversial mini-budget plans is yet to install confidence among voters. Labour's lead has extended 8 points to 29 points since polling conducted September 29th.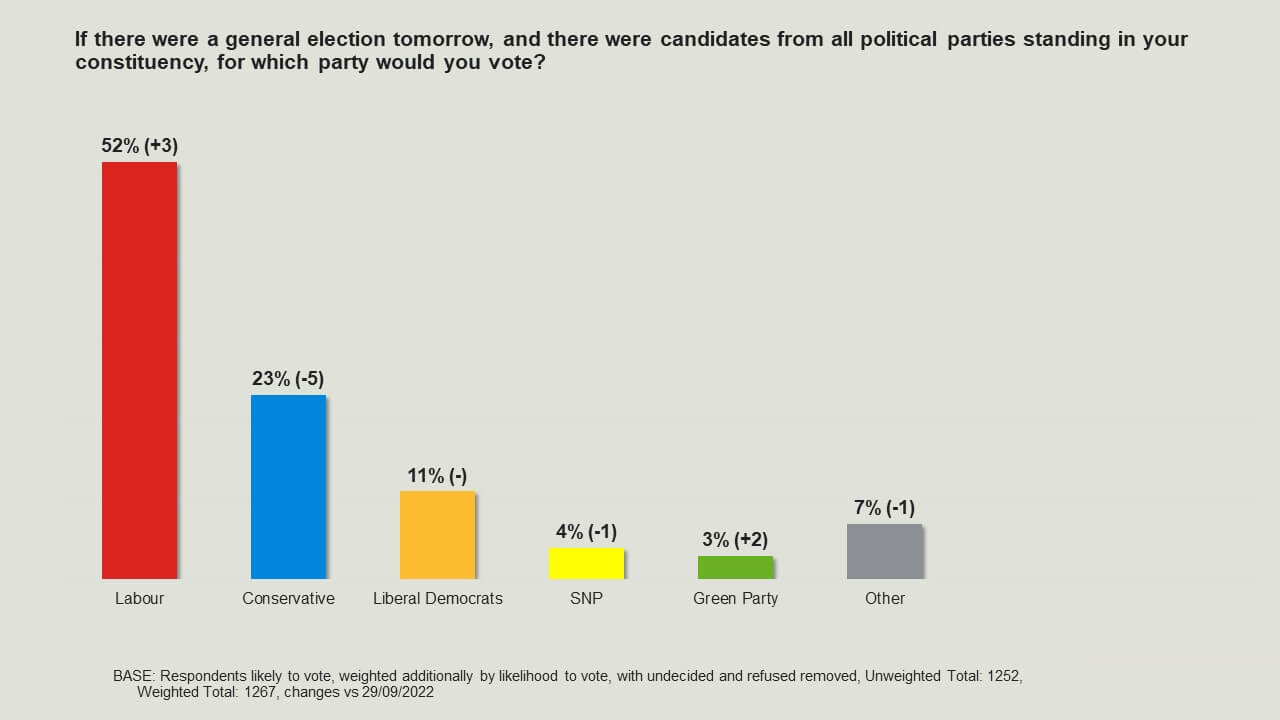 Voters who backed the Conservatives in the 2019 general election continue to move to Labour. 28% of these voters who are not undecided are now saying they would now vote Labour.
Liz Truss has dropped to a net favourability rating of -59% from -32% at the end of September and -25% within her first month as Prime Minister, significantly below that seen by Boris Johnson at the lowest point of his premiership in July (-32%).
Just 12% of the public have a favourable view of the Prime Minister, and are more than 3 times more likely to have a favourable view of Keir Starmer (39% favourable).  Similarly, the public at large are more than twice as likely to have a favourable view of the Labour Party (43%) than the Conservative Party (20%). Government approval at 14% (-7) is the lowest we've recorded in our history (post 2010) in 11 years of tracking.
When the public are asked about our "best Prime Minister" tracker question they are now towards 3 times more likely to say Keir Starmer than Liz Truss. Looking at the cross breaks, Starmer is even ahead of Truss among Leave voters (41% vs 18%) and Conservative 2019 voters (32% vs 24%)
The new Chancellor, Jeremy Hunt is considered "competent" by 33% (37% would not say that, 27% don't know) – somewhat better than the Prime Minister's lowly 10% competence rating:
However put against Labour's shadow Chancellor, Rachel Reeves in a forced choice, 60% say they trust Reeves more with the economy:
Get The Data
Data tables for this research can be found here. Survation conducted online polling of 1,617 adults in the United Kingdom on 18th-19th October.
________________________________________
Survation. is an MRS company partner, a member of the British Polling Council and abides by their rules. To find out more about Survation's services, and how you can conduct a telephone or online poll for your research needs, please visit our services page.
If you are interested in commissioning research or to learn more about Survation's research capabilities, please contact John Gibb on 020 3818 9661 email researchteam@survation.com or visit our services page.
For press enquiries, please call 0203 818 9661 or email media@survation.com
---
< Back