Consumer, Media & Technology
Half of young women (aged 18-34) on Facebook have experienced harassment
New polling on behalf of Level Up with The Sunday Times of women aged 18+ who use or have used Facebook in the past reveals the scale of harassment on the site and the levels of trust female users have in Facebook to deal with incidents of harassment responsibly.
Across the population of women who use or have used Facebook in the past, 29% say they have experienced harassment on Facebook at least once. When looking at this in more depth, there are differences across age groups. 57% of women aged 18-24, and 45% aged 25-34 have experienced harassment on Facebook at least once. When looking at younger women aged between 18 and 34 as a whole, 50% have experienced harassment. 27% of 18-24 year-olds have experienced this more than once.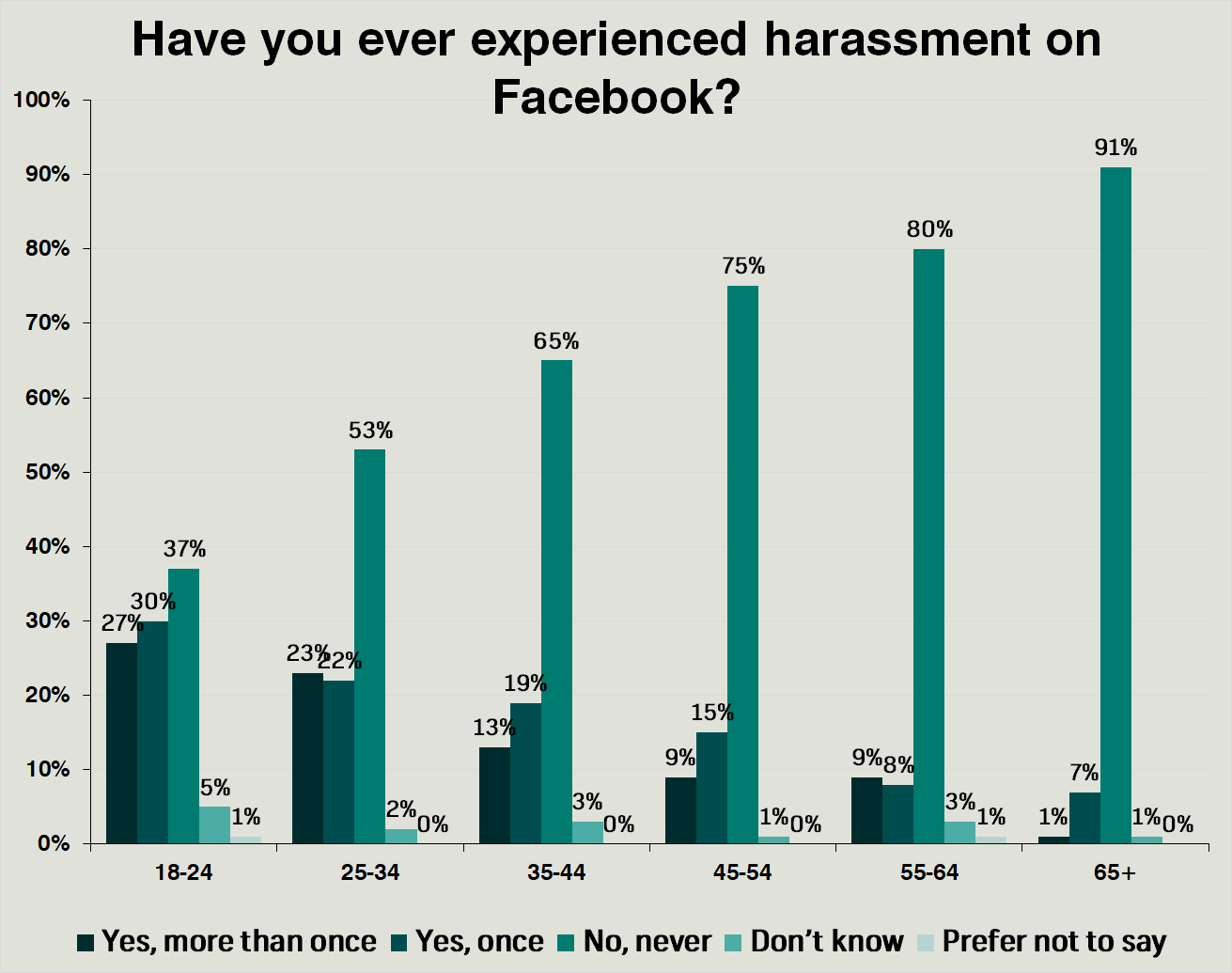 The majority of harassment experienced consists of receiving offensive, graphic, or insulting messages or comments – around 60% claim to have experienced this. A further 38% have experienced harassment that made them feel afraid for their safety and 16% had private images posted online without their consent. One in four (25%) people had been sent explicit images.
Slightly more than half of respondents who had experience harassment had reported their to Facebook and slightly less than half had not (53% versus 47%). Of those who had not experienced harassment, more than 8 in 10 (82%) said they would report it to Facebook.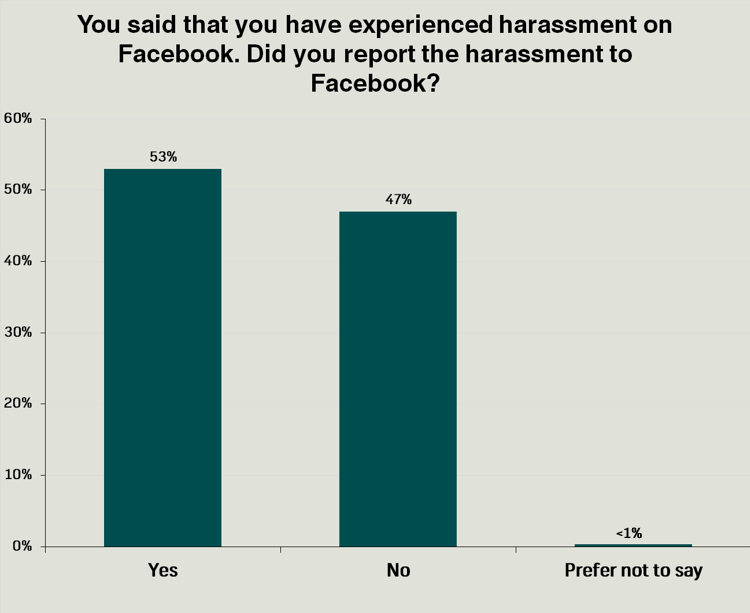 Of those who did report the harassment they experienced, almost a quarter (22%) said Facebook did not respond to their claims and 30% said Facebook told them the content did not violate community guidelines. 42% of respondents did say Facebook removed the content.
Of those who chose not to report their experience, slightly less than half (45%) cited that they did not believe Facebook would take action. A further 20% said they did not know how to report the harassment they were experiencing.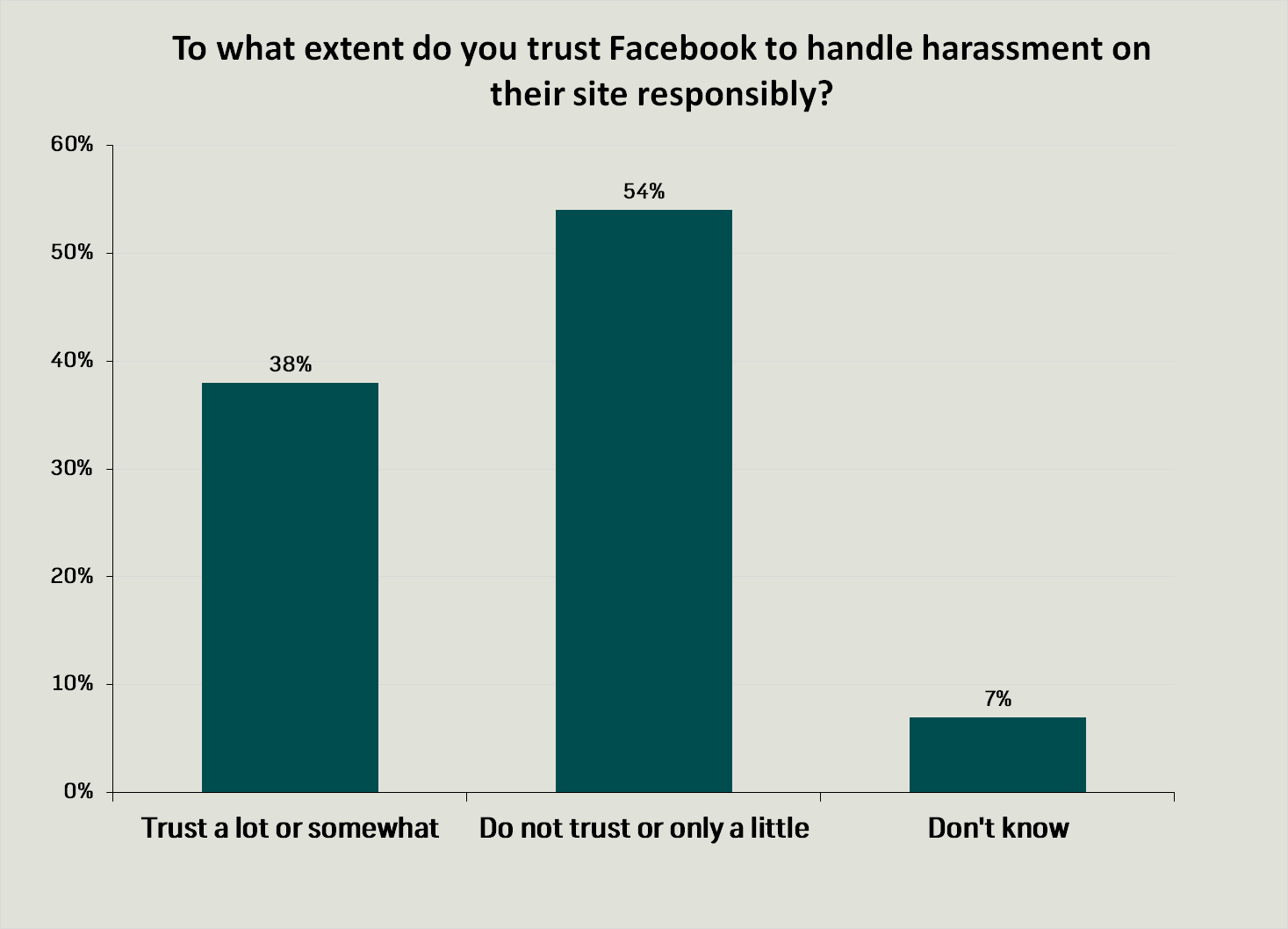 Despite the majority of respondents saying they either had (if already experienced) or would report harassment they experienced, around 54% have little to no trust in Facebook to handle harassment on their site responsibly. When asking respondents questions about how Facebook's moderates the issue, 72% said there should be more moderators on Facebook. However, when asked if they trust people employed by Facebook to moderate content to deal with such incidents in a compassionate and understanding manner, more than half (54%) of respondents also said that they do not trust them or only trust them a little.
Survation polled 1016 women aged 18 and over in the UK who use Facebook (or used it in the past) on behalf of Level Up.
Fieldwork was conducted between 27-28th February 2019.
Data tables and methodology can be found here.
Survation is a member of the British Polling Council and abides by its rules.
---
To learn more about Survation's polling capabilities or to commission a poll, contact Harry Mason or John Gibb on 020 3818 9661 or email researchteam@survation.com.
---
Would you like to have your own views represented in Survation's research work?
To join our paid consumer opinion panel, simply go to: https://panel.survation.com/ and register (1 minute) and we'll credit your account with 50 points for simply confirming your email and allocate 100 points for taking a very short survey. Points convert to cash which can be withdrawn each time you reach the equivalent of £50.
---
< Back