Consumer, Media & Technology
Hitachi electric trains in Scotland: passengers have their say
More than 4 in 5 (86%) of those who have travelled on Hitachi's new electric trains  in Scotland view them as an improvement on diesel trains
A poll of passengers of the new Hitachi Rail Express (Class 385) trains has found that the vast majority are satisfied with their travelling experience, and consider these trains to be better than the previous diesel trains.
In July 2018, the Hitachi Rail Express (Class 385) electric trains replaced diesel trains on some of Scotland's busiest routes, including the newly electrified Edinburgh to Glasgow and Central Belt routes. In our February 2019 survey, 86% of respondents agreed that the new trains were an overall improvement compared to the diesel trains. And 83% of respondents said they were satisfied with their travelling experience, with only 6% reporting that they were dissatisfied.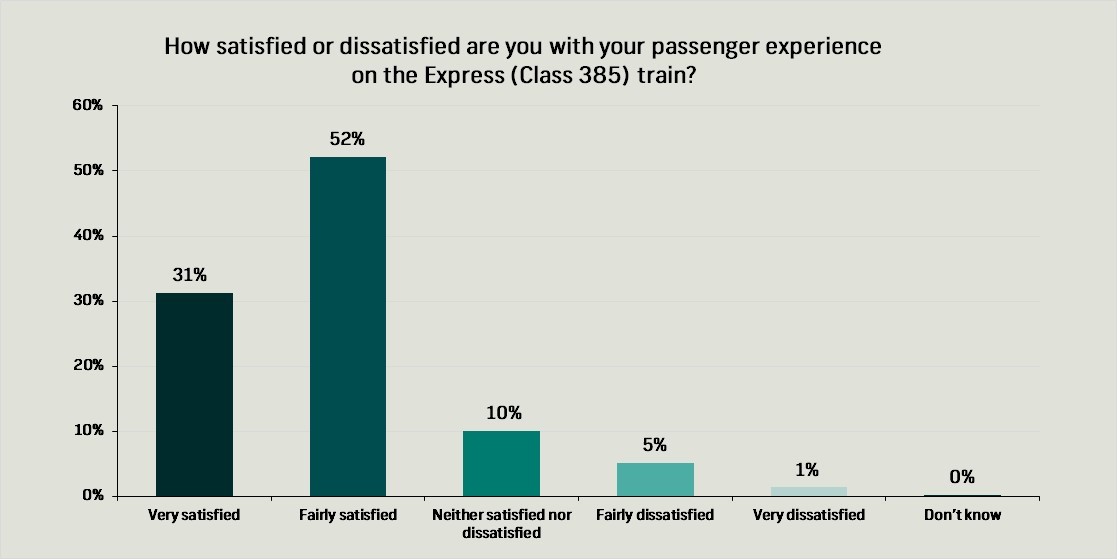 In addition to respondents' reporting an overall improvement, the Class 385 trains were also viewed as an improvement in specific areas of passenger experience and environmental impact.
55% of respondents reported that they were more likely to get a seat on the new trains, and 76% considered the physical environment and personal space of Hitachi Class 385 trains to be better than the previous trains. 64% of respondents described an improvement in disabled access, facilities and priority seating.
77% of passengers in the poll said they felt Hitachi Class 385 trains had faster and improved acceleration, and 86% stated that the new trains are smoother and quieter. 81% of respondents said that these electric trains are better for the environment.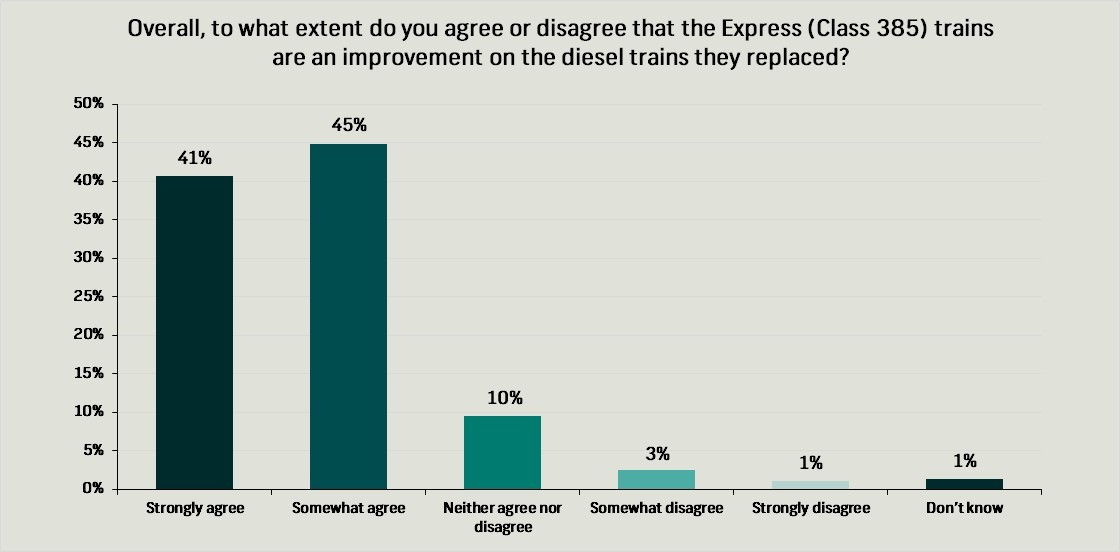 Survation conducted an online poll of 1,020 respondents aged 18+ living in Scotland who have used  the Hitachi Express (Class 385) train. Fieldwork was between 5th-18th February 2019.
Data tables can be found here.
Survation is a member of the British Polling Council and abides by its rules.
---
< Back