Blog
How bad was Boris Johnson's week? It depends who you ask…
Saturday September 7th, 2019.
We have new polling that features in today's Daily Mail, fieldwork 5-6th September with a particular focus on General Election approval and timing, the Benn-Burt bill which has now past the Lords and the blocking of the government's call for a General Election.
Westminster voting intention
Considering changes vs our last update (fieldwork 29th-30th August) state of the parties was as follows:
CON 29 (-2) LAB 24 (NC) LD 18 (-3) BREX 17 (+3) GRE 3 (NC) SNP 4 (NC) AP 6 (+2)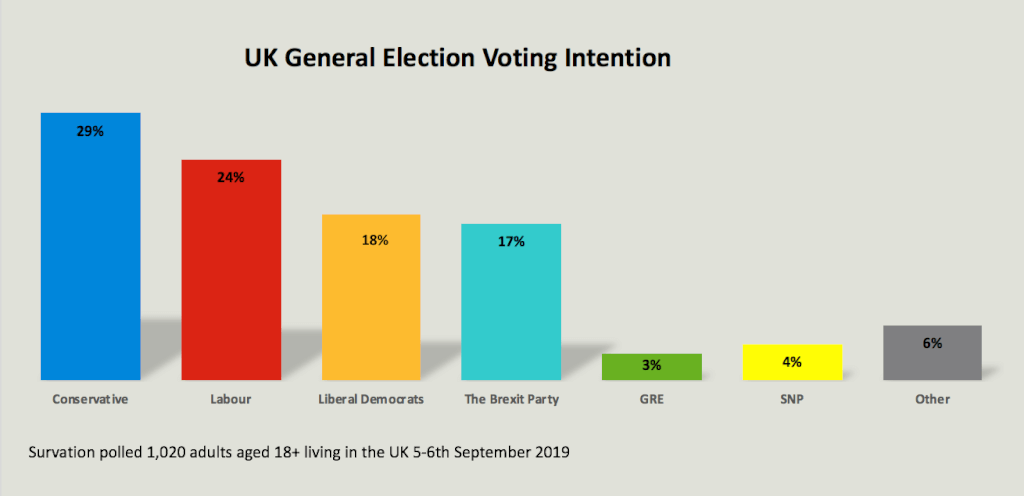 Conceptual EU Referendum re-run
Top line attitudes to how the public would, if it occurred vote in a re-run of 2016's referendum remain static;
Leave 47% (NC) Remain 53% (NC)
Should there be an "early" General Election?
Without framing a General Election in any way, but simply asking the public if there should be an "early" General Election produced the the following response:
Which of the following statements is closest to your view?
There should be an early General Election – 48%
There should not be an early General Election – 31%
Don't know – 20%
In terms of who does or does not want an early election, while most groups favour an election, 2016 Leave voters felt there should be one by 57% to 30%, ahead of Remain voters 44% to 35%. Current Conservative (57-32) Labour (61-27) and Brexit Party (52-36) supporters are in favour of a new trip to polling stations, only current Lib Dems voters with a view were against (39-40).
Were MPs right to block a General Election "at this time?"
We then asked:
On Wednesday, MPs from most opposition parties did not support or voted against a bill in parliament brought by the government that would have allowed a General Election. Which of the following statements is closest to your view?
MPs were right to block a General Election at this time – 35%
MPs were wrong to block a General Election at this time – 43%
Don't know – 21%
While overall, the idea of MPs blocking a General Election "at this time" saw more opposition than support, the political parties might be reassured that they are not entirely out of synch with their supporters. Current Conservative Party supporters split 20% "right" 66% "wrong" and Brexit Party supporters even less equivocal (11% right and 76% wrong) however current Labour voters split 55% right to 30% wrong and Lib Dem voters 65% right to 16% wrong.
An Election before or after "the results of the UK government's negotiations with the EU over Brexit are known?"
The Benn-Burt bill gives the Government until Saturday 19 October to seek and secure the approval of MPs for either a withdrawal agreement or leave the EU without a withdrawal agreement (approval for a no-deal). If neither of these has occurred by this date, the Prime Minister is required to request an extension from the EU until 31 January 2020 but if at any time after 19 October a withdrawal agreement is approved by the Commons, the Prime Minister can withdraw or modify his Article 50 extension request.
This type of detail is not the basis for an effective survey question, but whether an election would be preferred before the results of UK-EU negotiations are known or after is straightforward enough. It is also an important political consideration. A cynic might suggest that the two election dates sought by the current government (October 14th and then 15th) being before the European Council meeting October 17-18th were chosen to avoid potential negative narrative from that meeting on the state of the UK's negotiations. At the previous European Council meeting, an optically humiliating scene featured former Prime Minister Theresa May sitting in an office away from the Council Chamber while EU leaders separately debated terms and duration of an extension request by the PM to subsequently attempt to pass her deal in Parliament.
Our question:
The government does not currently have an effective majority in the House of Commons so there is likely to be a General Election for a new government. Should this election be held:
Before the results of the UK government's negotiations with the EU over Brexit are known – 36%
After the results of the UK governments negotiations with the EU over Brexit are known – 43%
Don't know – 20%
In this case, we see a different response by political party support with some Conservative and Brexit supporters more split, with some opting for "after": Conservative supporters split 47% "before" 42% "after" on this question. Brexit Party supporters 47% – 39% while Labour voters split 31-56 and Lib Dems 28-58.
Support for the Benn-Burt bill?
Our attempt to frame the arguments simply for and against Benn-Burt were as follows:
On Wednesday, MPs passed a bill designed to stop a no-deal Brexit. If it becomes law, the bill would force the Prime Minister to ask for an extension beyond the 31 October Brexit deadline if a deal has not been agreed with the EU. Supporters say this bill does not hinder the Prime Minister from reaching a good deal with the EU and blocks a no-deal Brexit. Critics say that without the option of no-deal the Prime Minister will be unable to negotiate a good deal.
-We don't like long survey questions, but it is necessary on some occasions.
To what extent do you support or oppose this bill?
Support – 37%
Neither support nor oppose – 16%
Oppose – 37%
Don't know – 9%
The overall responses to this question are underwhelming, but like the country at the moment, this question produced a polarised response. Conservative voters were 15% in support and a huge number, 74% were opposed, which we could say was -59 (support minus opposition). Here is support minus opposition by current party vote:
Conservative (-59)
Brexit Party (-67)
Labour (+45)
Lib Dem (+65)
and by Leave/Remain (2016):
Leave (-55)
Remain (+48)
Public attitudes to Brexit – "no deal" expectation subsides
Parliament's actions to block a "no deal" Brexit appear to have  affected public expectation of a "no-deal" Brexit – which has declined sharply (-21). Such an outcome is preferred by only a small number (22%).
Which of the following do you think will be the outcome of the Brexit process? (changes vs 29th-30th August)
The UK remains in the EU – 21% (+8)
The UK leaves the EU with a deal – 25% (+6)
The UK leaves the EU without a deal  – 31% (-21%)
Don't know – 23% (+8)
Which of the following would be your preferred outcome of the Brexit process? (changes vs 29th-30th August)
The UK remains in the EU – 37% (-3)
The UK leaves the EU with a deal 32% (-1)
The UK leaves the EU without a deal 22% (+3)
Don't know 9% (+2)
Leader Ratings – tracking Boris Johnson's performance
Politics is of course a relative game, we repeated last week's "Best Prime Minister" question and found little change – Boris Johnson scores 44% on this measure (-1) with Jeremy Corbyn on just 19% (+1) with Jo Swinson at 16% (-2). With lots of the public not enamoured with any politician these days, don't know was at at 21% (+2)
In terms of perceptions of Boris Johnson's performance alone, we asked:
How would you rate the performance of Boris Johnson as Prime Minister? (changes with 29-30 August 2019)
Good – 37% (-4) 
Neither good nor bad – 19% (-1)
Bad – 40% (+5)
Don't know 4% (nc)
Do you think he has done a better or worse job than you expected?
Better 32% (-8)
Worse 33% (+11)
Neither 28% (-4)
Don't know 7% (+1)
So how bad was Boris Johnson's week?
In a week where the Prime Minister lost 2 parliamentary votes, had to remove the whip from 21 Conservative MPs, whilst others announced they would not stand for election again, including his brother Jo Johnson, "How bad was Boris Johnson's week and did it cut through to the general public" is a key question.
Looking at "good performance vs bad performance" the Prime Minister was seemingly on a high the last time we checked (at the end of August). A positive rating for a politician's performance or approval is very rare, so the PM's +5 rating last week was quite unusual. For the Boris Johnson to be only -3% on this measure after such a tumultuous week is some comfort for the PM. In terms of voting intention, the maintenance of a Conservative 5 point lead over Labour at the current snapshot is respectable while much of the voter base and potential voter base is both in favour of a General Election and hostile to parliament's "taking back control".
For some MPs and commentators, the PM's biggest mis-step of all this week was the mass whip removal and deselection of Conservative MPs who voted for Benn-Burt. When we asked To what extent do you approve or disapprove of these expulsions? the results were also quite interesting. More of the public approved (43%) than disapproved (32%) and, if we are to consider the potential Conservative voter base, current Conservative voters approved by 67 to 17%, Brexit Party voters 84 to 7% and even Labour voters were somewhat split 30 to 44%. Lib Dem voters split 23 to 60%.
So not that bad then? Timing could be everything.
Key to the Conservative prospects for a General Election is the PM's ability to hold together the current Conservative vote. The Conservative party can of course win an election tomorrow with results similar to our voting intention snapshot today, but it is worthwhile considering  the current predicament over EU negotiations and General Election timing and the make up of those currently voting Conservative in our polling.
Current Conservative Voters.
33% prefer a no-deal Brexit (vs 19% not voting Conservative)
39% expect a no-deal Brexit is the the most likely Brexit outcome
71% rate Boris Johnson's performance as quite good or very good (vs 37% overall)
79% voted to leave the EU
44% voted for the Brexit Party in the EP 2019 elections (vs 29% in July)
The current revival in Conservative fortunes in our polling has been powered by the Conservatives under Boris Johnson winning back the types of voters that defected to the Brexit Party at the European Parliament elections – when the party had failed to deliver a Brexit deal (or Brexit). When we last showed a Labour lead over the Conservatives in July (6-points), only 29% of those that voted Brexit Party in EP 2019 had returned to the Conservatives, however that figure increased to 50% in August after Johnson took office and remains high at 44%.
Were the Prime Minister to bring a deal to parliament after the EU council meeting October 17-18 that this group considered "not Brexit enough" or if the process became extended again, or negotiations failed to generate definitive change and then face a General Election, many of these voters would be likely to swing back to the Brexit Party in frustration or protest.  The Brexit Party would find it difficult to justify even an informal electoral pact. Keeping these voters onside in the run-up to an election therefore will be key to the ability of the Conservatives to secure an overall majority, something the party will be acutely aware of, given it's appetite for an election as soon as possible.
Damian Lyons Lowe.
____________________________
Survation polled 1,006 UK Adults online 5th-6th September.  Methodology and full data tables for all questions can be viewed here:
Survation is a member of the British Polling Council and abides by its rules.
---
To learn more about Survation's polling capabilities or to commission a poll, contact Harry Mason or John Gibb on 020 3818 9661 or email researchteam@survation.com.
---
Would you like to have your own views represented in Survation's research work?
To join our paid consumer opinion panel, simply go to: https://panel.survation.com/ and register (1 minute) and we'll credit your account with 50 points for simply confirming your email and allocate 100 points for taking a very short survey. Points convert to cash which can be withdrawn each time you reach the equivalent of £50.
---
< Back