Blog
Labour Gains a Four-Point Lead Over the Conservatives as UKIP Picks Up Support
State of the parties (UK) 
Conservative 37% (-1), Labour 41% (+1), Lib Dem 6% (-4), SNP 3% (NC), UKIP 7% (+4), Green 2% (NC), AP 4% (-2)
(Change vs 7th July 2018) Fieldwork 31st August – 1st September 2018
EU VI:  Imagine there was a referendum tomorrow with the question ''Should the United Kingdom remain a member of the European Union or leave the European Union?'' How would you vote?
Leave 50% Remain 50% (ex undecided)
---
Would you like to have your own views represented in Survation's research work? Survation's paid consumer opinion panel is now live. Simply go to 
https://panel.survation.com/ – register (1 minute) and we'll credit your account with 50 points for simply confirming your email and allocate 100 points for taking a very short survey. Points convert to cash you can withdraw each time you reach the equivalent of £50. 
---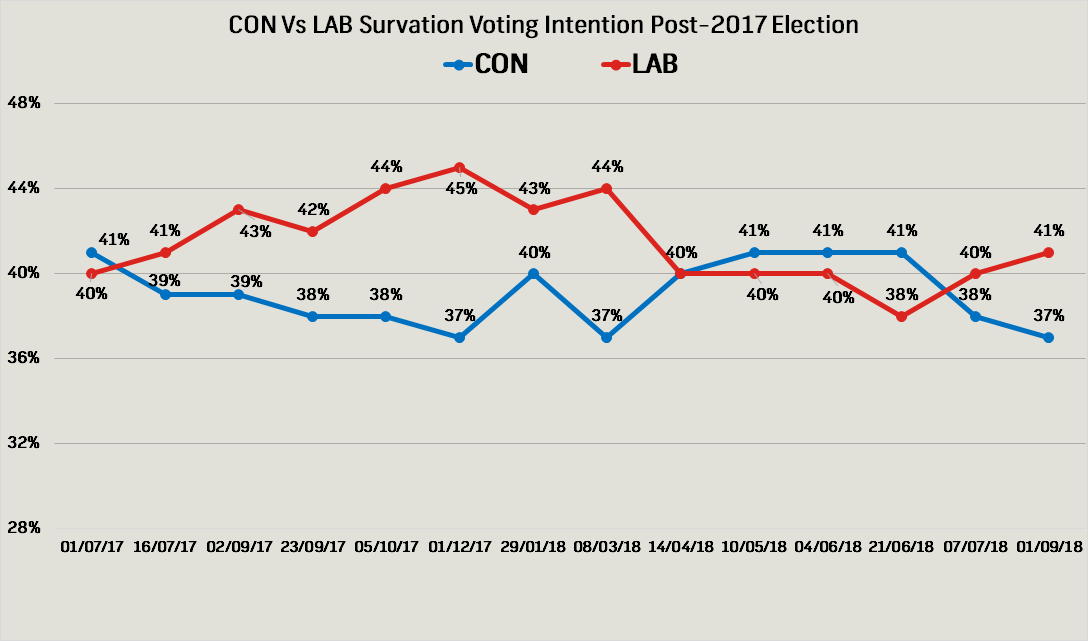 Parliament returns
As parliament returns from its summer break today, Labour begins the parliamentary session with a four-point lead over the Conservatives. The apparent boost in UKIP's support is perhaps the most surprising finding from today's polling; poll watchers should be cautious about reading too much into a single poll and a small sub-sample, however.
The Chequers "Agreement" and Brexit Negotiations
This is the first voting intention poll we've conducted since the morning of the Chequers "agreement", which prompted a number of Cabinet resignations. The results of Brexit-related questions asked in today's poll may provide some explanation for the Conservative party's polling drift. Fewer than one in five (19 percent) think the government has handled negotiations with the EU well, against 57 percent who think they have been handled badly.
What are the public's "Red Lines"?
When asked whether certain terms would be acceptable as part of a final Brexit deal, a majority of those polled said they would not accept either a hard border between Northern Ireland and the Republic (57 percent unacceptable to 21 percent acceptable) or tariffs on UK businesses seeking access to the single market (55 percent unacceptable to 25 percent acceptable). Both of these potential terms provoked majority opposition across all party lines. Respondents also rejected the possibility of the European Court of Justice (ECJ) having supremacy over the UK's legal system by an overwhelming margin of 62 percent to 20 percent. The public had more mixed views on the issue of free movement,  as 42 percent would find no further restrictions placed on the rights of EU citizens to live and work in the UK an acceptable part of a Brexit deal, while 37 percent would find it unacceptable.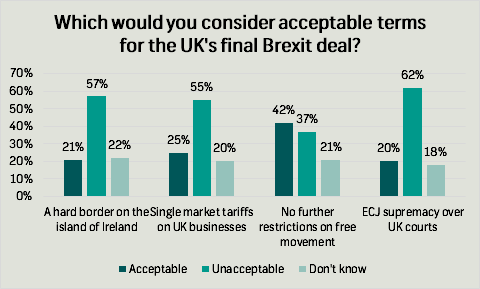 Notably, Conservative voters were the most vociferous in their opposition to the potential deal scenarios we mentioned in the poll. Four in five (78 percent) were opposed to a hard border on the island of Ireland, and the same proportion (78 percent) objected to ECJ supremacy over British courts. Sixty percent found the idea of tariffs on UK businesses unacceptable, and almost half (49 percent) insisted on greater restrictions on freedom of movement as part of any Brexit deal. A majority of Conservative voters (55%) believe that Brexit will be good for the UK economy, in contrast to the minority of Labour (20 percent) and Lib Dem voters (18 percent) who think the same.
Leader Approval
None of the four main party leaders enjoys a positive approval rating: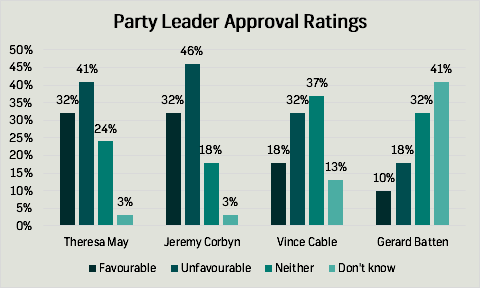 The results for Gerard Batten suggest that UKIP's rise in the poll has little to do with their leader: just one in ten (10 percent) have a favourable view of him, while 72 percent either expressed no opinion or didn't know (32 percent and 41 percent respectively).
Survation polled 1017 people aged 18+ living in the UK. Fieldwork was between 31st August and 1st September 2018. Tables can be found here.
Survation is a member of the British Polling Council and abides by its rules. To find out more about Survation's services, and how you can conduct a telephone or online poll for your research needs, please visit our services page.
BPC Statement: All polls are subject to a wide range of potential sources of error. On the basis of the historical record of the polls at recent general elections, there is a 9 in 10 chance that the true value of a party's support lies within 4 points of the estimates provided by this poll, and a 2 in 3 chance that they lie within 2 points.
Survation has a new opinion panel.
Would you like to have your own views represented in Survation's work? Survation's paid consumer opinion panel is now live. Go to https://panel.survation.com/ to join.
To say thank you, you'll receive 50 points (50p) for registering and 100 points (£1) when you complete a very short welcome poll on the panel dashboard.
Please let us know what you think – we'd love to hear your feedback.
The Survation team.
---
< Back