Blog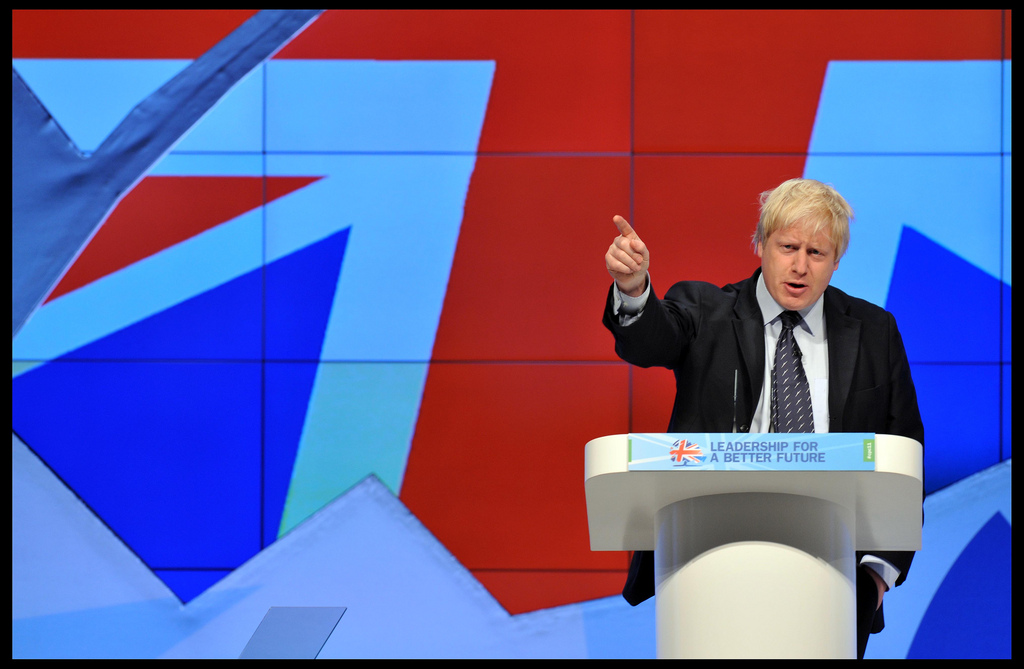 Labour's Poll Lead and May's Challengers
Our latest poll for the Mail on Sunday
Labour are five points ahead of the Conservatives, with the main parties on 43% and 38%, respectively

A slim majority of Conservative voters, 54%, think Theresa May should lead the Conservative party into the next election, as opposed to her standing down this year (11%), or after Brexit is completed in 2019 (26%)

But, of all voters, only 28% she should lead the Conservative party into the next election, 20% say she should go after Brexit is completed and 35% think she should go this year

Boris Johnson is the most popular candidate to replace her, with support from 21% of Conservative voters, with backbencher Jacob Rees-Mogg second, on 15%

No leadership challenger enjoyed overwhelming support, and there was greater enthusiasm for the idea of the next Conservative party leader being a "fresh face" not in the current cabinet, with 29% of Conservative voters and 39% of all voters in favour
Jeremy Corbyn is in a much stronger position as Labour leader than he was a year ago – a June 2016 poll found 53% of Labour voters thought he should step down; only 17% do now

Voters also support Labour's newly announced plans for a Brexit transition involving staying in the single market and customs union, with 42% in favour; 49% think the Government should adopt a similar approach
State of the parties (change since July 15th)
LAB 43% (+2) CON 38% (nc) LD 7% (-1) UKIP 4% (-2*) Others 7% (+1)
Last week Theresa May, the Prime Minister, said she could fight another election as Conservative leader. This came despite her party's loss of its House of Commons majority in the last election, in June 2017.
Our poll for the Mail on Sunday has gauged public confidence in her leadership, in particular towards the Conservative's electoral fortunes while she remains in office, and of her government's strategy in the ongoing Brexit negotiations with the European Union.
Full data tables can be found here.
We asked respondents when they thought Theresa May should step down, or if she should continue as Prime Minister until at least the next election. 35% of voters think she should step down this year, 20% say she should wait until Brexit is completed in 2019 and 28% say she should stay to fight the next election.
Conservative voters were more encouraging – 54% say she should lead the party into the next election.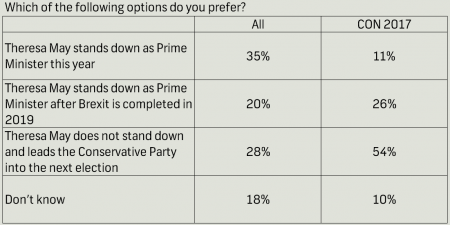 The next Prime Minister: Runners and Riders
There is little confidence that the Conservatives will do better at the next election if Theresa May remains Prime Minister, with 73% of all voters, and 56% of Conservative voters, saying the party will fare worse or about the same.

With the Prime Minister's future uncertain, we asked the public which Conservative politician they would most like to replace her. For the first time when asking about leadership challengers, we included backbencher Jacob Rees-Mogg in the options.
No candidate enjoyed an overwhelming lead, but Boris Johnson, the Foreign Secretary, came out on top amongst all voters (19%), and amongst Conservative voters (21%). Rees-Mogg was second, with support from 9% of all voters and 15% of Conservative voters.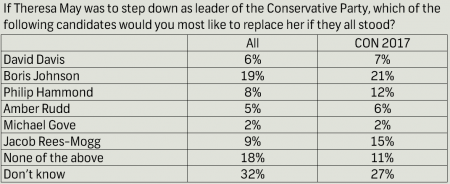 Even if Rees-Mogg hasn't managed to eclipse Johnson's popularity, there was some support for the next Conservative leader being a "fresh face" – someone not in the current cabinet. 39% of all voters agree with this idea, including 29% of Conservative voters.

Support for Corbyn Grows
Our poll will make for encouraging reading for the Labour leader and his supporters.
A year ago we asked respondents if they thought Jeremy Corbyn, then facing a vote of no confidence from his own party, should step down as Labour leader. More than half of Labour 2015 voters said he should resign. 
We asked a similar question in this poll. This time, only 17% of Labour 2017 voters thought he should go.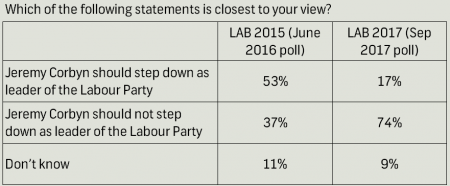 Conservatives vs. Labour on Brexit
Last week the Labour Party signalled a new approach to Brexit, advocating remaining in the single market and customs union for a transition period after Britain formally leaves in 2019.
The Conservative Government has suggested it is in favour of a transition period, but, unlike Labour, has not stated definitively whether or not it would seek to keep Britain in the single market or customs union.
There was support for Labour's strategy, with 42% saying they somewhat or strongly agreed with it, including 23% of CON voters. And when asked if they thought the Prime Minister should adopt a similar approach, 49% of voters said "yes".


Survation interviewed 1,046 UK adults on August 31st and September 1st 2017.
---
< Back