Blog
Labour's vote share reaches new current parliament heights – 45%. Conservatives trail 14 points behind, a distance not seen since 2013:
While just one poll

, and with fieldwork conducted July 6th in the midst of the Conservative party's blue on blue barrage to remove the Prime Minister, today's extraordinary figures may well reflect those going ons, or of course not.
Labour's 45% showing would be the highest we've seen for the party in the current parliament from any pollster. In fact we have to go back to a Survation poll published December 4th 2017 to find such a figure for the party when Corbyn's Labour, possibly still with a post election spring in their step, had a matching vote share albeit with a smaller 8 point lead over Theresa May's Conservatives.
A snap General Election, which the Prime Minister was loathe to rule out this week, with this type of party vote shares would have theoretically resulted in a Labour Majority of 88, using regional swing in England & Wales and our latest Scotland only polling.
Boris Johnson's net leader approval rating slumped a further 9 points as he prevaricated over his future – the contra effect of this was Keir Starmer turning from a slight net negative just last week to a positive 7 point net approval, a whopping 48 points clear of the PM on this measure.
Damage also clearly occurred to the Conservative Party's own standing, dropping from a 23 point approval deficit to Labour to a 35 point deficit in a matter of a few days.
Approval of the government's performance naturally also took a dent (many in the government had resigned by this point) to -32% – depths only previously reached by the PM himself.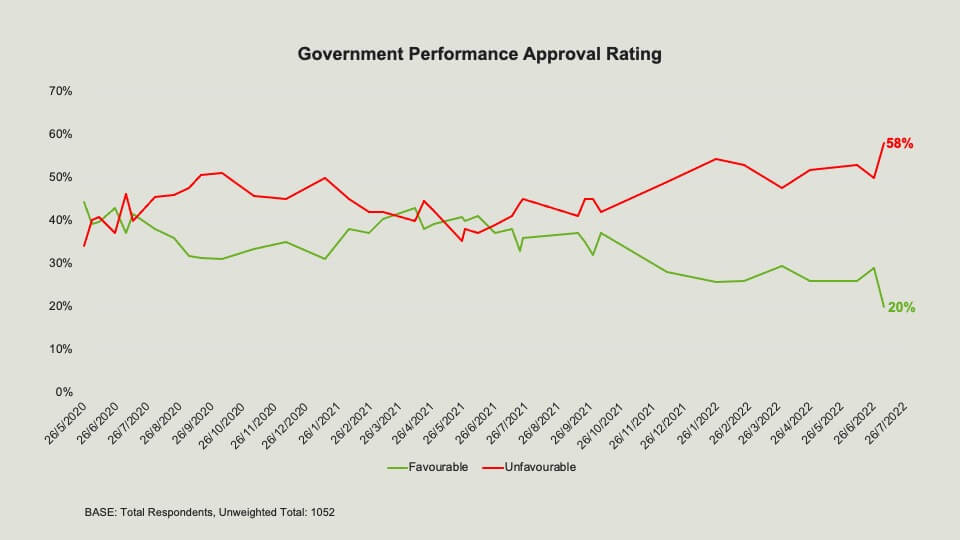 And finally the best PM charts see Starmer accelerate to his highest absolute and relative scores, on what must have been the very worst of days for Johnson to be audited in this manner.
Get The Data
Data tables for this research can be found here. Survation conducted online polling of 1,052 adults in the United Kingdom on July 6th 2022.
If you are interested in commissioning research or to learn more about Survation's research capabilities, please contact John Gibb on 020 3818 9661 email researchteam@survation.com or visit our services page.
________________________________________
Survation. is an MRS company partner, a member of the British Polling Council and abides by their rules. To find out more about Survation's services, and how you can conduct a telephone or online poll for your research needs, please visit our services page.
BPC Statement: All polls are subject to a wide range of potential sources of error. On the basis of the historical record of the polls at recent general elections, there is a 9 in 10 chance that the true value of a party's support lies within 4 points of the estimates provided by this poll, and a 2 in 3 chance that they lie within 2 points.
---
< Back