Politics, Government & Current Affairs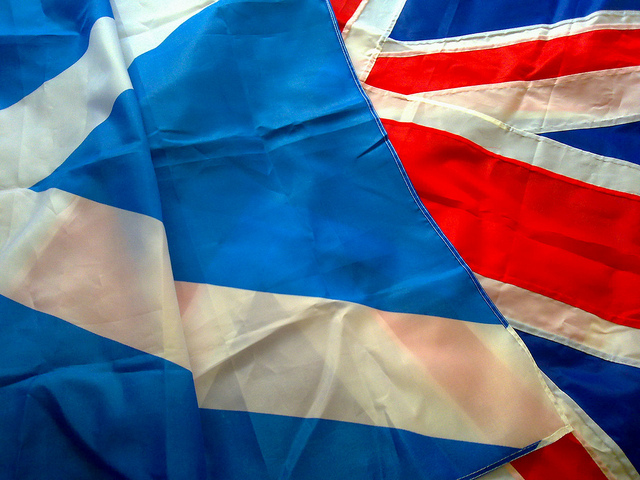 Latest Scottish Referendum Poll Suggests 8 Point Lead for 'No'
Survation on behalf Better Together release their latest poll on the Scottish independence referendum. Fieldwork was between 10-12 September. Tables are available here.
Headline voting intention:
Yes – 42%
No – 49%
Don't know – 9%
Excluding Undecided voters:
Yes – 46%
No – 54%
Are you sure that you will definitely vote this way, or do you think you might still change your mind?
I am sure I will vote this way – 93%
Might change my mind – 7% (8% for "Yes" voters, 6% for "No" voters)
You said you are currently undecided. If the referendum was today and you had to choose, would you vote Yes, No, or would you not vote?*
Yes – 27%
No – 22%
Would not vote – 16%
Don't know – 35%
*Note: very small sample size for this question
A Note on Methodology
Our latest poll was conducted using a different methodology to previous Survation polls on Scottish independence. This poll was conducted by telephone using a systematic random sample of mobiles and landlines, ordered by key strata to reflect the eligible Scottish population. These strata were: age, sex, local authority, income and employment status.
Though the poll managed to reach 1,044 respondents, it has an effective sample size of 927. This is due to the sampling strategy employed, which aimed to mitigate some of the biases associated with contacting respondents via landlines. After interviewing a first person via landline, households with multiple eligible occupants were asked for a second response within the household. A Kish Grid was used to assign the eligible participant at random. These double household responses were accounted for in the weighting strategy by applying a factor of 0.5 to both respondents' weights.
Mobile respondents were not asked for a second response.
For first household respondents and mobile respondents, only those originally drawn into the sample were invited to to take part in the survey. Other answerers were not interviewed.
Call-backs were employed where possible and with permission from a household occupant.
The survey was conducted from 10th-12th September.
Survation is a member of the British Polling Council and abides by its rules. Tables here: http://survation.com/wp-content/uploads/2014/09/Better-Together-Voting-Intention-Tables.pdf
---
< Back