Charities & Campaign Groups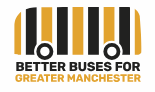 Majority (76%) of people living in Greater Manchester agree that the region's bus network should be re-regulated
A new poll on behalf of Better Buses for Greater Manchester asked people living in Greater Manchester about the region's bus network and whether they would support re-regulation.
Currently the bus market in Greater Manchester is deregulated, meaning that private bus companies set the fares, routes, timetables and ticketing structure. The 2017 Bus Services Act allows combined authorities like Greater Manchester to re-regulate their bus networks which would mean that local authorities would set the fares and routes, with private companies competing to provide the actual service. Respondents were asked whether they agreed or disagreed that the network should be re-regulated, three quarters (76%) agreed and only 5% disagreed. The remaining respondents said they neither agreed nor disagreed or that they did not know.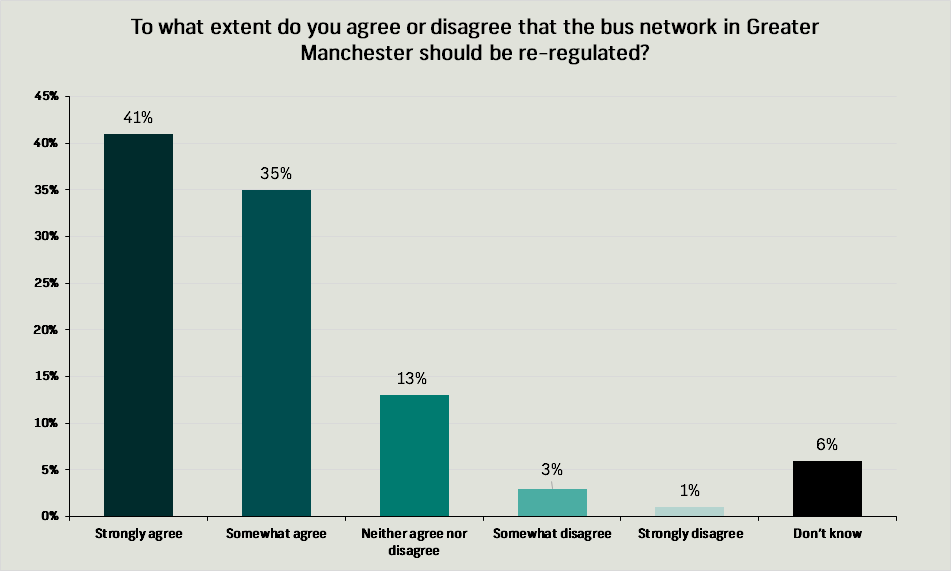 A majority of respondents (82%) also agreed that local authorities should have more control over bus services in Greater Manchester as they provide public money for the bus network, for example through subsidies for certain services.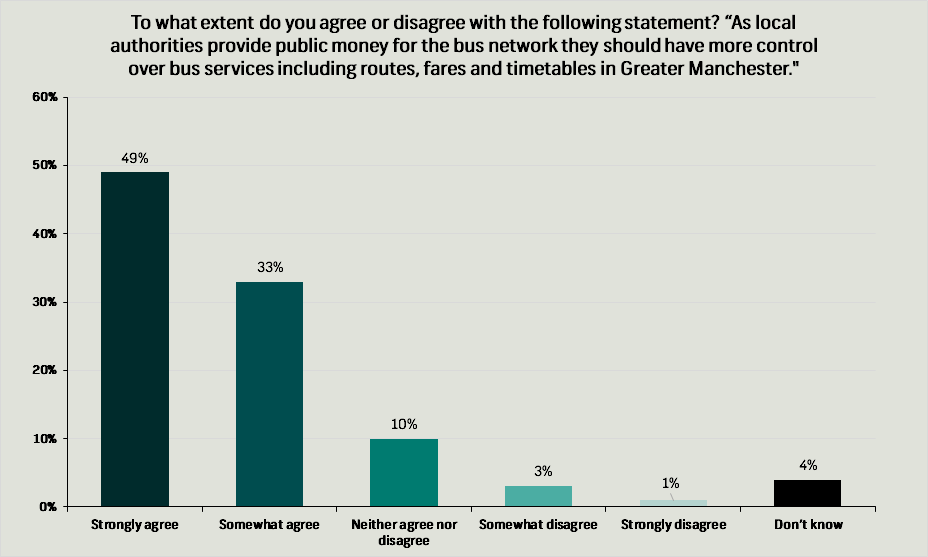 The introduction of pay as you go area-wide ticketing with an automatic daily cap on spend on buses in Greater Manchester was widely supported by respondents. 80% said they supported this to some extent with only 4% saying they were opposed. The remaining 16% said neither or don't know.
Survation conducted an online poll of 1,019 people aged 18+ living in Greater Manchester. Fieldwork was between 10th-22nd January 2019.
Full data tables and methodology can be found here.
Survation is a member of the British Polling Council and abides by its rules.
---
To learn more about Survation's polling capabilities or to commission a poll, contact Harry Mason or John Gibb on 020 3818 9661 or email researchteam@survation.com.
---
Would you like to have your own views represented in Survation's research work?
To join our paid consumer opinion panel, simply go to: https://panel.survation.com/ and register (1 minute) and we'll credit your account with 50 points for simply confirming your email and allocate 100 points for taking a very short survey. Points convert to cash which can be withdrawn each time you reach the equivalent of £50.
---
< Back