Blog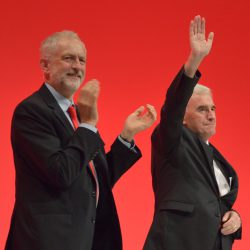 Labour Two Points Ahead and Voters Divided on Brexit
Our latest Poll for the Mail on Sunday.
Labour are two points ahead of the Conservatives, with the parties on 41% and 39%, respectively

Majority of public still say Theresa May should resign, by 45% to 40%

Voters are divided on the nuanced choices of Brexit: 34% say we should leave the customs union, 24% say we should pay for access to it, 27% say we should stop Brexit altogether and 15% say don't know

There is steady support for a referendum on any EU deal, with 46% in favour and 39% against
Sample size: 1,024
Fieldwork dates: 14th – 15th July 2017
Method: UK adults ages 18+ surveyed online
Full tables available here.
Our latest poll for the Mail on Sunday has further tracked public opinion on the state of the parties and on Brexit.
State of the Parties
Lab 41% (-4); CON 39% (NC); LD 8% (+1); UKIP 6%* (+2); Others 6% (+1)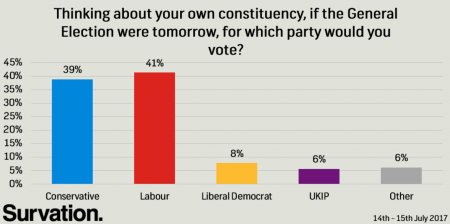 Voters are still split on how they would vote if there was a rerun of 2016's EU referendum, with 48% saying they would vote leave, 47% remain and 5% undecided.
If there were another referendum on the UK's membership of the EU, how would you vote?
Leave 48%
Remain 47%
Undecided 5%
(With undecided removed)
Leave 50% (+1)
Remain 50% (-1)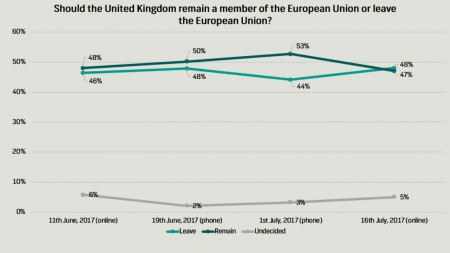 Voters still say they would trust Theresa May over Jeremy Corbyn to deliver the best Brexit Deal, by 42% to 33%.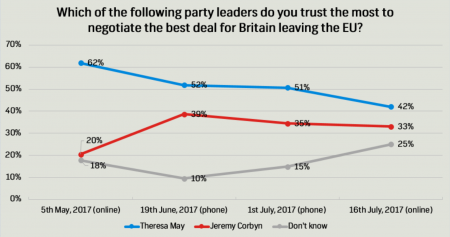 And Theresa May is still described by most, 43%, as the best Prime Minister. Jeremy Corbyn is seen as best by 35%.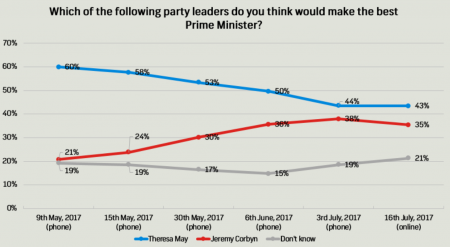 Who should replace May?
We also asked voters their top choices to replace Theresa May from the Conservative front benches, and who they thought would be most likely to secure a good Brexit deal.
| | Boris Johnson | David Davis | Amber Rudd | Philip Hammond | Don't know |
| --- | --- | --- | --- | --- | --- |
| Which would you most like to replace her? | 22% | 15% | 6% | 12% | 46% |
| Which would be most likely to secure a good Brexit deal? | 19% | 18% | 7% | 12% | 44% |
Other topics covered in the polling include: perceptions of Brexit negotiations and public opinion of the UK's prospects after EU exit.
* In this poll those who chose UKIP were not amended. Our general election polling however reallocated UKIP voters to their second preference vote (or decision to not to vote) in their constituency, if UKIP were not standing in their constituency.
Survation interviewed 1,024 UK adults online between the 14th – 15th July. Survation is a member of the British Polling Council and abides by its rules.  You can sign up to our press release list here.
---
< Back