Blog
New phone poll places Conservatives on course for Hartlepool win
Fall out from 2019 General Election puts Hartlepool back in Conservative sights
On behalf of ITV's Good Morning Britain Survation have conducted a second poll in the Hartlepool Constituency ahead of the byelection there on May 6th, fieldwork was conducted between 23rd-29th April.
The Conservative party appear set to win the seat, with a 17-point lead in the poll which has a margin of error of +/- 5%
Hartlepool has been held by the Labour Party since the seat was first contested at the February 1974 election (and mostly won the similar constituency of The Hartlepools from the 1945 election).
Survation have now interviewed a total of 1000+  Hartlepool residents by telephone, 517 in this latest poll.
While this would be a welcome result for the Conservative Party, Survation's house view is that Hartlepool is a seat which could well have been lost in 2019 were it not for a particularly strong Brexit Party challenge.
Headline results are as follows:
Voting intention 
Leadership ratings 
Party ratings 
Best Prime Minister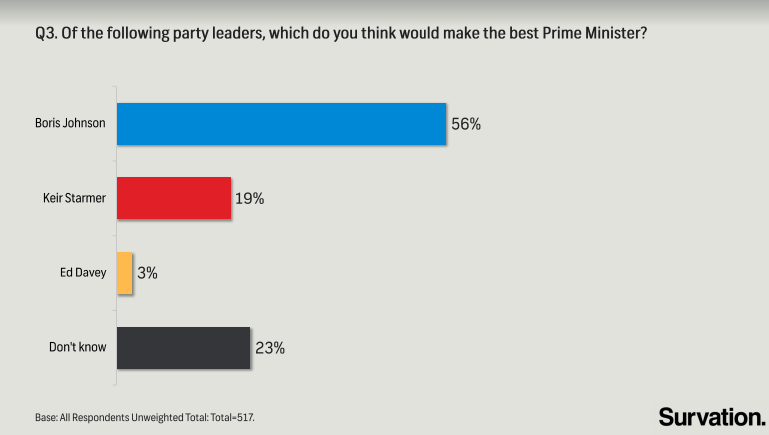 Former Brexit Party Voters Flock to The Conservatives , Independents Cleave Labour:
Analysis – Damian Lyons Lowe.
On the face of it, this looks like one of the most stunning potential poll results we've (actually published) -so what's the driver? Let's look under the hood.
The Conservative Party appear to be attracting the Lion's share of the (28%) in Hartlepool who cast a vote for the Brexit Party in 2019 . Now renamed Reform UK, just 1% of the voters we spoke to intend to vote for the newly named party. Only 8% of those we spoke with said they had a favourable view of party leader Richard Tice, while 14% said they either didn't know their view or had not heard of (39%) Nigel Farage's replacement as party leader – despite his insurgent  candidacy in this seat. While a fairly small sample, 77% of those we spoke to that remembered voting for the Brexit Party in 2019 say they will now vote for the Conservatives, vs only 5% planning to cast a vote for Labour.
In terms of prior voter retention, the Conservatives are maintaining their 2019 voters better than Labour, 85% of those that voted Conservative in 2019 said they will vote for the party again, while a smaller number – 73% of Labour's 2019 voters say they will stay with the party.
Independent candidates Thelma Walker (former Labour MP for Colne Valley) and Sam Lee (12% of the vote combined) appear to be taking share more from Labour's vote than the Conservatives, meaning Labour risk polling fewer votes than in 2019 despite the Brexit-Reform UK Party collapse.
In a seat highly charged by the 2016 EU Referendum, Hartlepool voted 70% leave in the 2016. 66% of leave voters told Survation they would vote Conservative, vs only 18% who would vote for the Labour Party (the comparable figure for Hartlepool's smaller cohort of remain voters is (21% CON, 55% LAB).
Support for the Conservative Party in Hartlepool skews heavily male. Amongst Women the polling showed CON 44% / LAB 40% – neck and neck, however among the town's men, the Conservatives have a 29 point lead in the polling (CON 55% / LAB 26%). In terms of age groups, Labour leads among 18-34s alone, with the Conservatives ahead in all older age groups.
While this would be a very welcome result for the Conservative Party* were it to come to pass and likely be characterised as a failure for Keir Starmer's "under new management" Labour Party, my view is that Hartlepool is a seat Labour would likely have lost to the Conservatives 2019 were it not for the particularly strong Brexit Party challenge. Together, the Brexit Party and the "Get Brexit Done*" party took 55% of the 2019 vote to Labour's 38%. True to his promise, Boris Johnson got Brexit done, and in a seat where where Brexit is a major driver of voting behaviour we can only look to his +23 favorability rating to see what these voters think about that.
Data tables
Survation interviewed 517 people aged 18 plus, living in Hartlepool, by phone for @GMB, living in Hartlepool, 23-29 April. A summary of the results can be viewed here: Data tables can be viewed here:
---
< Back