Blog
New poll: Voters want the Government to make significant change to gambling industry
A Survation poll, commissioned by Gambling with Lives, reveals strong public support for changes to the current gambling laws and restrictions. The Government's long awaited review into the industry is expected to be published shortly.
67% of the public believe the Government's review should be viewed as an opportunity to significantly reform the gambling sector, with 16% thinking it should not.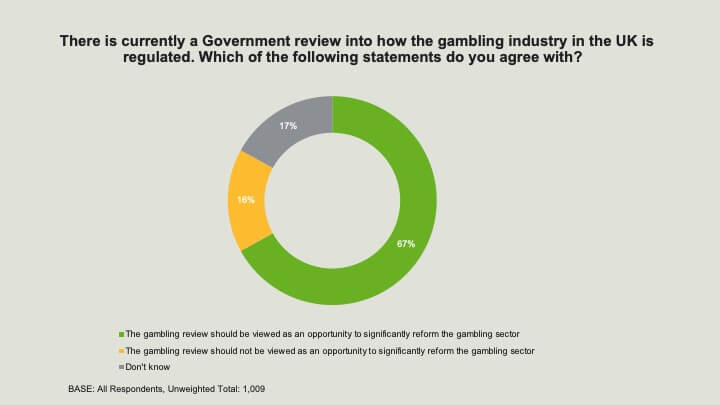 Support for reforms to gambling doesn't split on party political lines and it is interesting that more 2019 Conservative voters,  75%, than 2019 Labour voters, 69%,  want the review to make significant reform.
The type of issues which are up for potential changes are also tested in our poll.
The Government has to make a decision, for example, on whether to limit or ban gambling advertising and sponsorship. 52%, to 12%, believe that all gambling advertising, promotion and sponsorship should be banned. 68% believe that no one under the age of 18 should be exposed to gambling advertising.
61% of the public believe there is enough money in football so that no club should have to rely on gambling sponsorship.
Other potential regulations and restrictions on online gambling are also being considered by the Government's review. Our poll shows that majorities believe there should be affordability checks for those wanting to bet more than £100 a month, and there should be limits on how much money can be placed on a single online bet or into online gambling accounts.
The public have a strong understanding about the dangers of gambling addiction with 67% aware that gambling increases the risk of suicide.
Get the data
Survation conducted an online poll of 1,009 adults aged 18+ in the UK. Fieldwork was conducted between 29th March and 2nd April 2023. Tables are available here.
________________________________________
Survation. is an MRS company partner, a member of the British Polling Council and abides by their rules. To find out more about Survation's services, and how you can conduct a telephone or online poll for your research needs, please visit our services page.
If you are interested in commissioning research or to learn more about Survation's research capabilities, please contact John Gibb on 020 3818 9661, email researchteam@survation.com, or visit our services page.
For press enquiries, please call 0203 818 9661 or email media@survation.com
---
< Back