Politics, Government & Current Affairs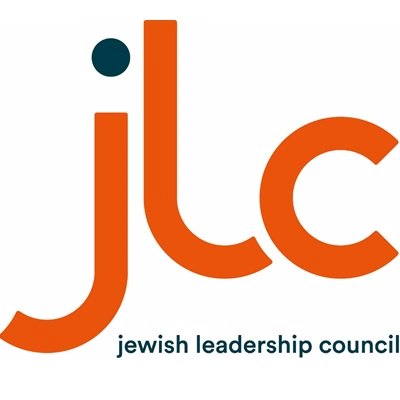 New polling of British Jews shows tensions remain strong between Labour and the British Jewish Community
New Survation polling of British Jews on behalf of the Jewish Leadership Council suggest that the perception of both Jeremy Corbyn and the Labour Party as a whole by the Jewish community of Great Britain with regard to the issue of antisemitism has not shifted in the past year.
The poll, conducted using Survation's telephone panel of Jewish adults in Great Britain, found that 86% of respondents believe that there are high levels of antisemitism among Labour Party members and elected representatives (4 and 5 on a 1 to 5 scale where 1 represented low levels of antisemitism and 5 represented high levels), the same percentage as in 2018. Only 6% felt there were similar levels of antisemitism within the Conservatives and the Liberal Democrats, with 46% stating that UKIP had high levels of antisemitism.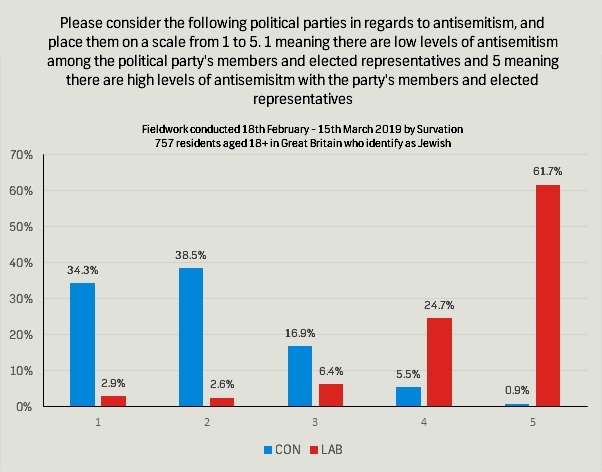 This perception carries over into that of the individual party leaders with 87% viewing Jeremy Corbyn as antisemitic compared to just 1% for Theresa May, 6% for Vince Cable and 21% for Gerard Batten. For the latter two leaders however a substantial proportion of respondents were unaware of if they were or were not antisemitic; 28% and 65% respectively answering 'don't know'.
These results indicate that the Labour Party still has significant work to do to regain trust from the Jewish community. When asked if the Labour leader becoming prime minister would lead respondents to seriously consider emigrating, 42% agreed it would versus 51% who would not.
Antisemitism remains a key election issue for the community and represents the single most important issue for 28% of respondents when deciding who to support in an election, with Brexit – the second most popular option – falling far behind at 15%. Approximately 96% of respondents highlighted the issue of antisemitism was important in deciding which political party they support, with 82% stating it was very important to them.
– – – – –
Survation polled 757 residents aged 18+ in Great Britain who identify as Jewish. This survey was primarily conducted via telephone; however additional respondents were invited to take part in the survey online. Fieldwork was between 18th February and 15th March 2019.
Tables and methodology can be found here.
For more information about Survation's Jewish Panel please read.
Survation is a member of the British Polling Council and abides by its rules. BPC Statement: All polls are subject to a wide range of potential sources of error.
---
Would you like to have your own views represented in Survation's research work?
Survation's paid consumer opinion panel is now live!
Simply go to: https://panel.survation.com/ – registration takes only 1 minute and we'll credit your account with 50 points for simply confirming your email and allocate 100 points for taking a very short survey. Points convert to cash which can be withdrawn each time you reach the equivalent of £50.
---
To find out more about Survation's services, and how you can conduct a telephone or online poll for your research needs, please visit our services page.
You can sign up other email addresses or colleagues to our press release list here. Follow Survation on Twitter: @Survation
---
< Back