Charities & Campaign Groups
New polling reveals public support for running the railways in the public sector
A new survey of people aged 18+ living in the UK on behalf of We Own It has explored attitudes towards the railways and how they should be run.
The poll found there was little support for the current system of privatisation with only 23% polled believing privatisation to be a success and 43% believing it to be a failure. Only 23% of respondents agreed that private train operating companies have the best interests of passengers at heart compared to 44% who disagreed.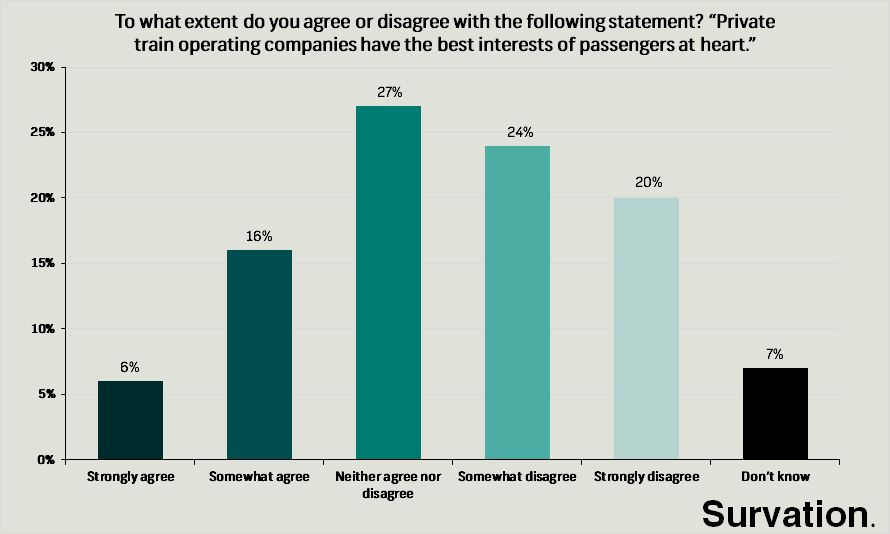 When asked if they thought the railways should be run in the public or private sector, 56% said the former and only 19% the latter. The remaining 24% said they did not know how it should be run. There was considerable belief that nationalisation would show some improvements compared to privatisation – 45% of those surveyed said fares would be cheaper and 51% said passengers would get better value for money. 19% said it would be more expensive and 14% said it would be worse value.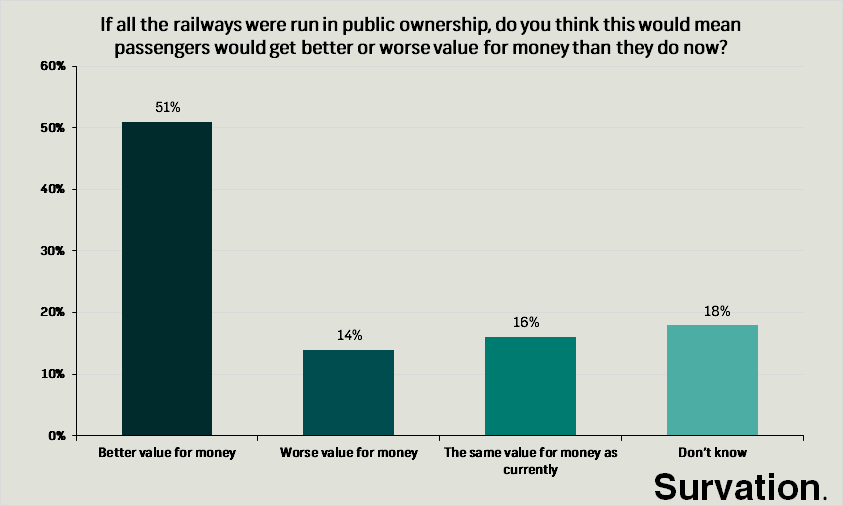 Two fifths (38%) of those polled said that running the railways in public ownership would improve their trust in the railway, 29% said it would make no difference and 10% said it would damage their trust. A quarter (24%) said they did not know.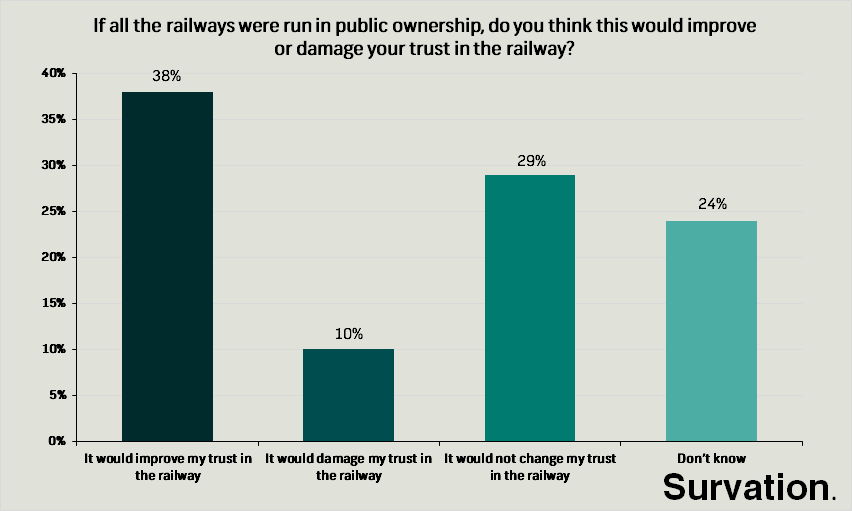 The survey tested whether the public would prefer public ownership or allowing companies to run rail routes in direct competition with each other as some have suggested. Half of respondents preferred public ownership and 29% preferred greater competition. 22% said they did not know.
Survation polled 1002 people online aged 18 and over in the UK on behalf of We Own It.
Fieldwork was conducted between 16th-22nd May 2019.
Data tables and methodology can be found here.
Survation is a member of the British Polling Council and abides by its rules.
---
To learn more about Survation's polling capabilities or to commission a poll, contact Harry Mason or John Gibb on 020 3818 9661 or email researchteam@survation.com.
---
Would you like to have your own views represented in Survation's research work?
To join our paid consumer opinion panel, simply go to: https://panel.survation.com/ and register (1 minute) and we'll credit your account with 50 points for simply confirming your email and allocate 100 points for taking a very short survey. Points convert to cash which can be withdrawn each time you reach the equivalent of £50.
---
< Back