Politics, Government & Current Affairs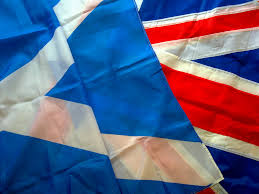 First Online Scottish Omnibus Poll on Voting Intentions For Daily Record, Dundee University and Better Nation
On behalf of the Daily Record, Dundee University and Better Nation, Survation today launch a new monthly series into the attitudes of the Scottish public on a range of issues, including how they intend to vote in the referendum on Scottish independence and in the Scottish parliament and Westminster elections. We polled a representative sample of 1,002 Scottish residents aged over 16. The headline figures for voting intention are summarised below. Data tables for voting intention can be viewed here.
Headline figures
(Changes since the last Survation poll that asked comparable questions, on February 19th, are indicated in parentheses; tables are available here)
Referendum
In the referendum, voters will be asked, "Should Scotland be an independent country". If this referendum were held today, do you think you would vote "Yes" or "No"?
Yes:  39% (+1)
No:  48% (+1)
Undecided:  13% (-3)
Voting intention
Scottish parliamentary elections (May 2016) – constituency vote:
Labour:  34% (+3%)
Conservative: 13% (nc)
SNP: 45% (+1)
Liberal Democrat:  5% (-1)
Another party (Net):   3% (-3%)
Scottish parliament (May 2016) – regional list vote:*
Labour : 28%
Conservative: 11%
SNP: 40%
Liberal Democrat:    7%
Scottish Green Party:  8%
UKIP:  5%
Another party (Net): 1%
*Results are not comparable to previous polling because two parties – UKIP and the Scottish Green Party – were added to the responses that were prompted in this survey
Westminster vote (May 2015):
Labour:    36% (+3)
Conservative: 15% (-2)
SNP:  38% (nc)
Liberal Democrat:  5% (-1)
Another party (Net):  6% (-1)
These figures show little change from previous polling, with the SNP continuing to enjoy high levels of support in terms of  forthcoming elections to the Scottish and Westminster parliaments, but the Nationalists have not managed to significantly increase support for the 'Yes' campaign. This may reflect a hardening of views on the independence question, with polls consistently showing support for a 'No' vote at a margin similar to that found in this poll. 39% in favour of independence is the highest level of support seen this year, but by a very narrow margin, and within the margin of error.
Our poll also shows support for the 'No' campaign is much higher among women than men (51% compared to 44%), and is notably higher for those over 65 (60% of this age group are opposed to independence).
You can read the Daily Record's reporting on the poll here, and the analysis by Better Nation here.
This poll was the first of Survation's monthly series on Scottish issues, which will be conducted at the start of every month until the independence referendum. If you want to ask a question in this series, please get in touch with our Director of Research, Patrick Briône on 0203 142 7643 or patrick.brione@survation.com
Survation is a member of the British Polling Council and abides by its rules.
---
< Back