Blog
New Westminster Voting Intention – Labour on 43% with an 8 point lead. Boris Johnson approval makes new lows:
Since our last update on UK wide Westminster voting intention on 10th June, we have seen the Conservatives lose 2 by-elections after the resignation of Tory MPs following 2 separate scandals. Labour took Wakefield on 23rd June, and the Liberal Democrats won Tiverton and Honiton, with its first non-Tory MP since the creation of the seat in 1997.
While just one poll, Labour's 43% showing would be the highest we've seen for the party since January this year, and while this is still an insufficient lead over the Conservatives on 35% to be assured of an overall majority were an election called, Labour would be comfortably the largest party.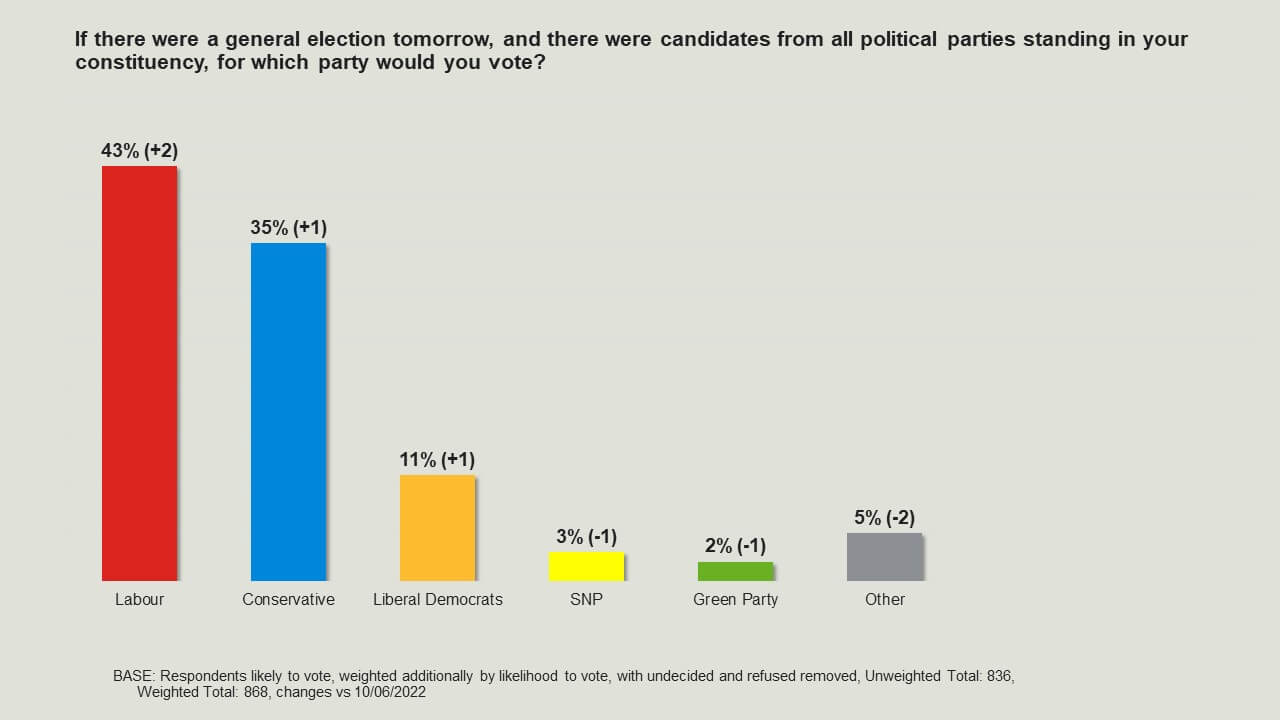 While 83% of those who voted Labour at the 2019 General Election will still vote for the party, only 67% of former Conservative voters are staying loyal. 14% of past Conservative voters say they will now vote Labour, however just 2% of former Labour supporters back the Conservatives.  Past Conservative voters are more than twice as likely to say they are undecided (13%) about their current vote than past Labour voters (6%).  The lead that Labour assumed during the partygate initial period has proved a stable one throughout this year.
Boris Johnson's net favourability rating has made new lows (-32%) while about as many voters approve as disapprove about Keir Starmer, which, while nothing to celebrate, puts him 30 points ahead of the PM on this measure.
Overall, the two main parties are doing moderately better than their party leaders. The Labour party has a net favourability rating of 2%, with Conservatives on -21%, compared to Boris Johnson's -32%.
Get The Data
Data tables for this research can be found here. Survation conducted online polling of 1,071 adults in the United Kingdom on 27th June 2022.
________________________________________
Survation. is an MRS company partner, a member of the British Polling Council and abides by their rules. To find out more about Survation's services, and how you can conduct a telephone or online poll for your research needs, please visit our services page.
If you are interested in commissioning research or to learn more about Survation's research capabilities, please contact John Gibb on 020 3818 9661 email researchteam@survation.com or visit our services page.
For press enquiries, please call 0203 818 9661 or email media@survation.com
---
< Back