Blog
Next Labour Leader? Survation Polling Past and Present Sheds Light:
With Ed Miliband announcing his resignation on Friday, and contenders throwing their hats into the ring, attention is firmly on who should be next Labour leader.
This is not the first time in Ed Miliband's leadership such attention has happened. This time last year, amidst rumours of Ed Miliband stepping down, Survation conducted an in-depth poll on behalf of the Mail on Sunday looking at who voters would like to see as the next leader.
Survation's method was particularly innovative and thorough, with every respondent being shown a video clip of each candidate that we considered to be be balanced, with the "candidate" speaking about their Shadow brief and being scrutinised by their interviewer.
With the exception of Ed Balls, the list of potential candidates has not changed substantially since the poll was conducted, and a lot of insight can be drawn from the results.
More recently (May 8th) Survation once again posed questions about possible Labour leaders, again for the Mail on Sunday, which considers the most recent list of potential candidates. To skip straight to the discussion of these recent results click here
The method
Rather than relying entirely on what respondents already knew of the candidates, which often generates a high level of "don't know" responses, all respondents were shown a short video clip of each candidate in a televised interview. Respondents were then asked questions on the performance and impression given by the potential candidate.
NB: Respondents were also asked a basic question on the content of the interview to ensure that the clip was actually watched.
To see the clip for each candidate, see below.
Andy Burnham
Chuka Umunna
Ed Balls
Tristram Hunt
Yvette Cooper
After viewing each clip respondents were asked "Would you describe this person as [x]?" where they were asked about 6 characteristics; charismatic, intelligent, trustworthy, normal, in touch with ordinary people, and tough.
Finally, they were asked "Overall, how likely would you be to consider voting for the politician shown in the above clip?", and "Do you think this person would make a better or worse leader of the Labour Party than Ed Miliband?".
The results
Here we present the % of respondents who agreed with each of the characteristics (excluding "don't know" responses). In addition, respondents had been asked to rank the characteristics in terms of how important they were in a political leader. The left hand column gives the percentage of respondents who ranked the characteristic in their top 2.
Respondents were also given 5 options to whether they would consider voting for the potential candidate; would definitely consider voting for, would probably consider voting for, might consider voting for, would probably not consider voting for, and would definitely not consider voting for. The table reports the percentage who said they would definitely or probably consider voting for the potential candidate.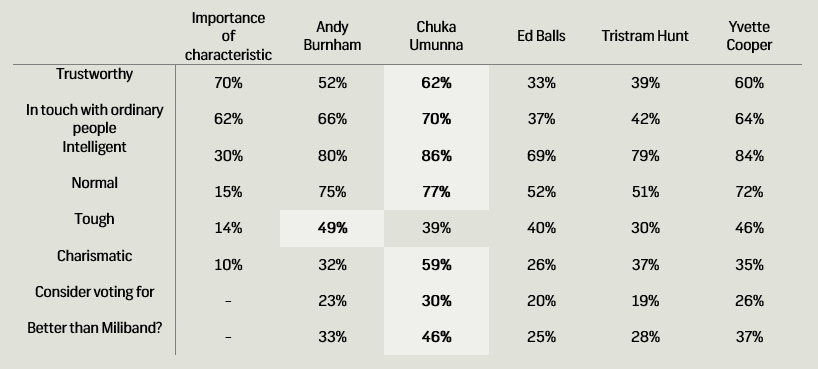 Below are two averages for these scores. The first score is a mean average of the 8 measures, whilst the second is a weighted average with the weights taking the value of the "importance of characteristic" measure ("consider voting for" has been given a weight of 1, and "better than Miliband?" a weight of zero).



Umunna wins on all measures, apart from toughness, putting him in the strongest position of the potential candidates. However Cooper and Burnham come a close second on many measures and are not so far behind on the average scores, particularly when they are weighted for importance.
Labour Voters
Of course whilst the views of the public will be taken into account by those voting for the next leader, it is (under the new rules agreed by the 2014 Collins Review) Labour party members and registered supporters who will have the final say. Whilst the poll did not ask whether respondents were registered with the Labour party, their voting intention can be used as a helpful proxy for the demographic. Below we report the same figures, looking only at respondents that intended on voting Labour at the time of the poll.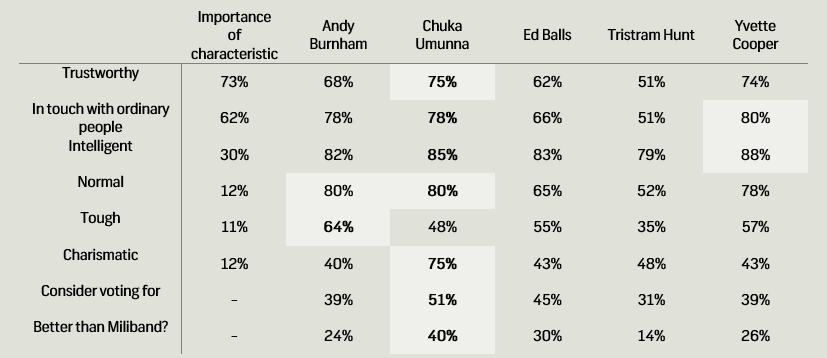 Looking solely at the views of Labour supporters does little to change the overall front runners, although it does slightly increase Umunna's lead over Cooper when looking at the weighted average.



However, if the aim is to attract voters over from other parties, Cooper could be the best option. Whilst UKIP supporters are most likely to back Umunna, Conservative and Lib Dem voters are most likely to be swayed by Cooper.
Looking simply at those who said they would "definitely" or "probably" consider voting for the potential candidate produces the following breakdowns by voting intention.


Latest Results
This Sunday (May 10th) Survation released a poll on behalf of the Mail on Sunday which asked "Out of the following, who do you think should be the next leader of the Labour Party?". The graphic below presents the results, once again with "don't know" responses excluded.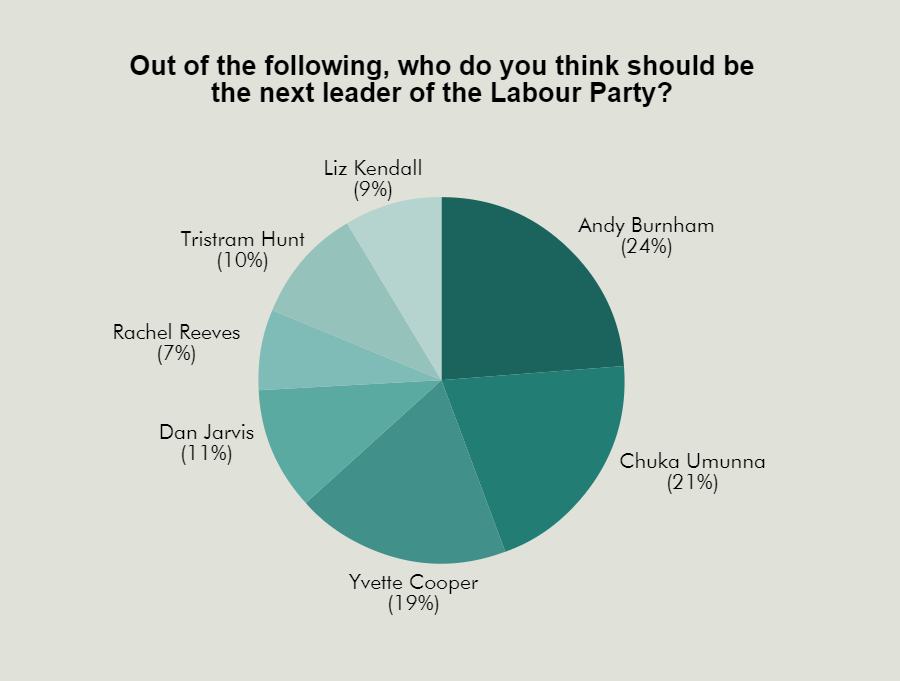 This shows the same front-runners, although the order of preference has shifted slightly (preferences amongst those who voted are roughly similar, with Burnham, Umunna and Cooper still being ranked 1st, 2nd and 3rd respectively).
It is worth noting that some of the difference could be accounted for by the change in question format – in this question only the first preference was asked, whereas in our 2014 poll respondents gave judgements on all candidates, more similar to a ranking-style question.
The Prince Over The Water
The announcement that Ed is stepping down has also led to intense speculation about David Miliband's potential return to UK politics, which so far he has ruled out.  In order to run as a leader he would need to win a seat in a by-election, and it looks like his popularity as a potential leader has not waned. When the same question was asked including David Miliband as a potential candidate, he clearly came through as the most popular option.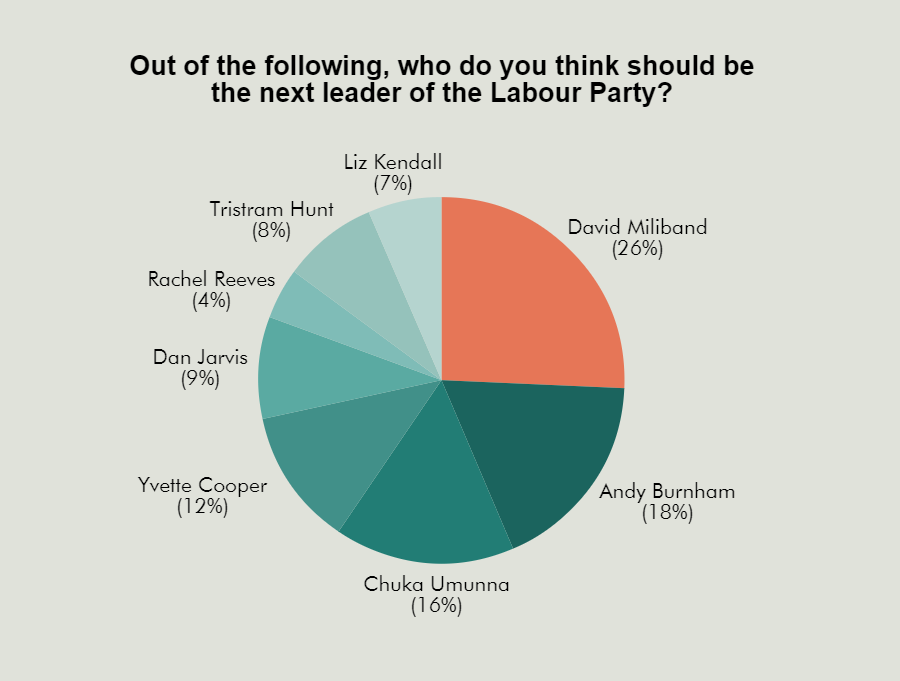 Would a different candidate have saved Labour from the election defeat it just faced? Of those that didn't vote for Labour 24% said that had David been leader instead of Ed, they would have been more likely to.
In contrast, just 8% of those that did vote Labour said David would have made them less likely to. These figures are even stronger for Scotland, where Labour saw the heaviest defeats. 28% of those in Scotland would have been more likely to vote Labour had David been leader.
No doubt more questions will arise closer to the leadership election when we will have a complete list of candidates and exposure of those standing becomes greater. But for now the front-runners are clear.
Cooper looks like the most "expansive" candidate in terms of vote share – attracting CON and LD voters best, with Andy Burnham and Umunna scoring well.
We'll discuss further tomorrow how the "UKIP effect" has been destructive in LAB/CON GE2015 marginal seats in the Midlands and North – perhaps on that basis, a solid northern voice like Burnham who is highly rated for being "in touch with ordinary peoople" could redress some of the LAB 2010 vote loss to UKIP that proved so destructive in those regions on May 7th.
Lucy Makinson
Researcher, Survation Ltd
To view the tables for the 2014 Labour Leadership Contenders Poll click here.
To view the tables for the Post-Election Poll click here.
---
< Back