Politics, Government & Current Affairs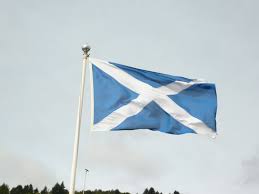 New Scottish referendum poll – No 'Commonwealth Games Boost' for 'Yes' campaign
Survation's latest Scottish independence referendum poll, conducted on behalf of the Mail on Sunday, shows essentially no change from our most recent previous poll:
Yes – 40% (-1)
No – 46% (nc)
Undecided –  14% (+1)
Excluding undecided:
Yes – 47% (nc)
No –  53% (nc)
Full tables can be found here.
Commonwealth Games
Any hopes the 'Yes' campaign may have had for a boost from the Commonwealth Games in Glasgow do not seem to have materialised. Only 12% of Scots said the games had made them more likely to vote 'Yes', with more than 4 out of 5 of all respondents saying the games had made no difference to the way they would vote. About the same proportion of those who are currently undecided were similarly unmoved, and only 14% of 'undecideds' said they more likely to vote 'Yes'.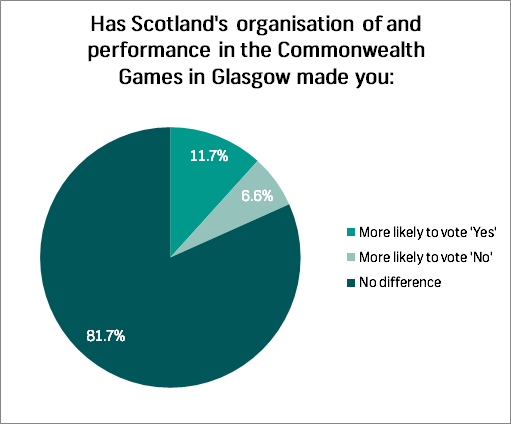 Darling vs. Salmond
With the head-to-head debate between Alex Salmond and Alistair Darling imminent, we asked our respondents who they thought would win.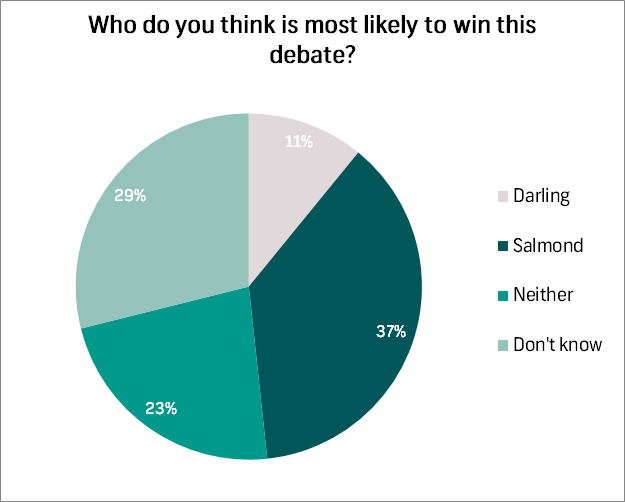 There is a clear expectation that Salmond will out-perform Darling, but neither candidate seems to have inspired a majority of the Scottish public to believe they will make a decisive impact in the debate, with more than half choosing 'neither' or 'don't know'. Darling's lukewarm support even among 'No' voters may be source of concern (24% think he will win), as will the fact that no 'undecideds' believe he will win the debate. That said, Salmond has more to lose if he fails to meet these expectations, and Darling has a far easier job in terms of exceeding expectations.
Cameron
The Scottish public seem to have even less sympathy for David Cameron – nearly half (47%) believe that he is a 'coward' for not debating Salmond head-to-head, and has not done so only because he fear he would lose. Unsurprisingly, this rises to 80% of 'Yes' voters. 63% of 'No' voters agreed with the view that Cameron was 'sensible' to leave the job of debating with Salmond to Darling, compared to 36% of all respondents.
Survation polled 1,000 residents of Scotland aged 16+ between 30th July and 1st August 2014. Full tables can be found here.
---
< Back