Charities & Campaign Groups
Over a Third (35%) of Young People Have Been Called 'Gay' or 'Lesbian' as an Insult in School
Over two fifths have heard friends use negative or discriminatory language about students based on race, religion, or being LGBTQ+.
On behalf of the Diana Award, Survation conducted a survey of young people aged between 11 and 16. The results of the survey, commissioned by the charity for Anti-Bullying Week in partnership with the hit musical "Everybody's Talking About Jamie," reveal how often young people witness or experience bullying in their schools based on race and sexual orientation.
45% of young people had heard their friends use negative or discriminatory language about other students based on their race or skin colour. A similarly high percentage (43%) had heard their friends use language that is discriminatory or negative towards LGTBQ+ students.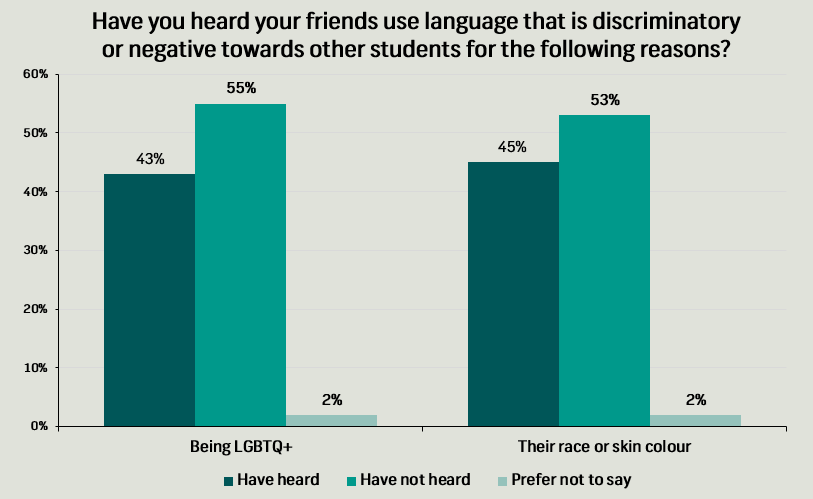 The survey also revealed that over a third (35%) of secondary school students surveyed had been called "gay" or "lesbian" as an insult with a further 17% saying they had experienced being called a homophobic, biphobic, or transphobic slur. Nearly two-thirds (65%) of those surveyed had heard the phrases "that's so gay" or "you're so gay" in school.
Only 30% of respondents said their school had ever taught lessons focused on LGBTQ+ lifestyles, while 58% said it had not and 13% said they did not know.
Survation interviewed 536 young people in the United Kingdom between the ages of 11 and 16. Fieldwork took place on October 26th 2018. Full data tables can be found here.
Survation is a member of the British Polling Council and the Market Research Society and abide by their rules.
---
To learn more about Survation's polling capabilities or to commission a poll, contact Harry Mason or John Gibb on 020 3818 9661 or email researchteam@survation.com.
---
Would you like to have your own views represented in Survation's research work?
To join our paid consumer opinion panel, simply go to: https://panel.survation.com/ and register (1 minute) and we'll credit your account with 50 points for simply confirming your email and allocate 100 points for taking a very short survey. Points convert to cash which can be withdrawn each time you reach the equivalent of £50.
---
< Back