Blog
Parents support Relationships Education in schools
New research on behalf of Parentkind and fastn has found overwhelming support among parents for a renewed focus on Relationships Education. The government has given schools until summer 2021 to fully introduce new statutory requirements that come into force in September this year to facilitate engagement and communications with parents.
Conducted to mark #RSEDay on 25th June, the research shows parents in England want to see schools playing an active role in helping children understand and prepare for healthy connections with family and friends, future colleagues and in sexual relationships. Overall, 89% said it was important for schools to help children understand friendships, 84% for family relationships, 79% for workplace relationships and 71% for sexual relationships.
Parents were also keen to see social values such as inclusion and diversity promoted in Relationships Education, with 85% saying it was important that RSE should improve relationships and acceptance of others in society, and a further 83% wanting the curriculum to be adapted to the realities of each child and their community.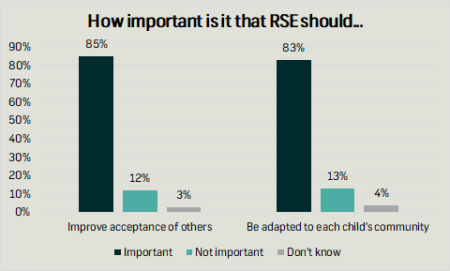 The survey also examined how parental priorities have changed as a result of the COVID-19 pandemic, with three in five (59%) saying they now place a greater emphasis on their child's relationships with family members.
The research also found a lack of awareness among parents of RSE provision ahead of it becoming a compulsory part of the curriculum in September: just a third (33%) had been made aware of the statutory Relationships Education that will soon be delivered in English schools.
On #RSEDay, parents, schools and the education sector will come together to support best practice in Relationships and Sex Education (RSE). Survation polled 1025 parents of children currently in a primary or secondary school in England online. Fieldwork was conducted 10th-11th June 2019. Data tables and methodology can be found here.
Survation is a member of the British Polling Council and abides by its rules.
---
< Back