Blog
Post pandemic: Planning, jobs support and worker rights supported by MPs and businesses
Survation has carried out comprehensive research of MPs,  business and industry leaders, for Unite the Union on attitudes towards their priorities and attitudes for businesses and workers post pandemic.
The polling which took place over three different waves in January and February found that:
A majority of MPs and industry leaders favour an improvement to workers rights
A majority of business and industry leaders would like to see more generous terms and conditions for sick pay
Post pandemic planning is the top priority for MPs and business leaders
73% of businesses have been harmed by the pandemic
Workers rights
More than half of all MPs believe a government review into workers rights should improve workers rights.
35% think rights should stay the same, with only 5% believing they should be made weaker.
The poll is weighted to reflect the party make up of the current parliament.
A fifth of Conservative MPs would support improving workers rights, 61% favoured keeping rights the same, and 9% support reducing workers rights.
100% of Labour MPs support an improvement in workers rights, and 86% of SNP MPs.
Business leaders also support improving workers rights at exactly the same level as MPs.
As with MPs, 53% businesses supported improved rights, with 36% wanting to keep them as they are, and only 6% wanting to reduce workers rights.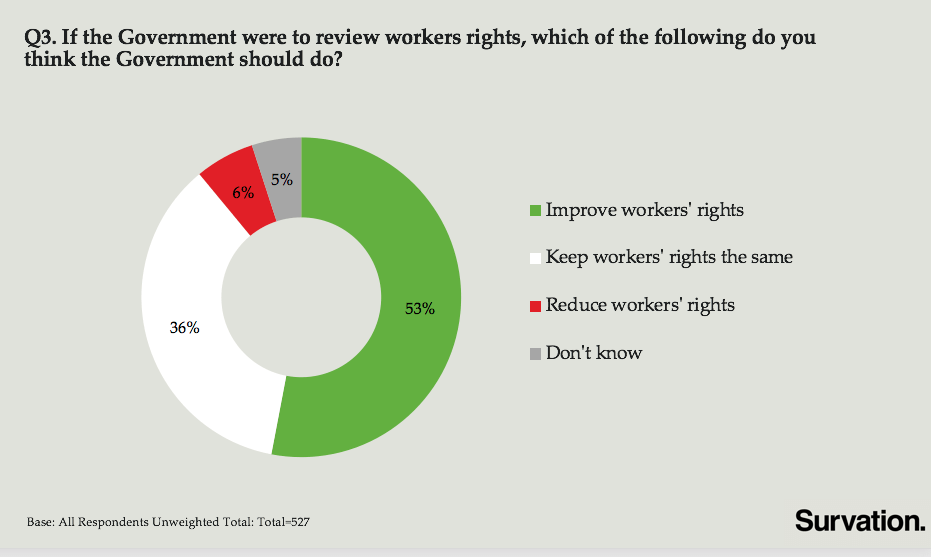 The business sectors most supportive of improving workers rights is the hospitality, transport and communications, and public sectors. The least supportive, and the only sector to favour keeping rights the same as opposed to improvement, is the agriculture, manufacturing and construction sectors, where 44% would like to keep rights as they are, and 40% to improve.
A majority of business leaders, 52%, believe trade unions in the workplace are beneficial to workplace relations, with 39% thinking they're aren't beneficial.
More generous sick pay for employees was supported by a majority, 54%, of business leaders, and opposed by 18%.
All sectors were broadly consistent in their support for improved terms and conditions on sick pay.
Survation also asked business leaders were asked for any further comments about the subjects they'd discussed in our research and employee rights and the importance of government support were the most salient.
Post pandemic priorities for Government
In terms of the immediate priorities for business and industry following the pandemic, MPs top two priorities are post pandemic planning (first priority of 48% of MPs), following by extending the Jobs Retention Scheme (JRS) supported by 23%.
The highest priority for Conservative MPs is post pandemic planning by a large margin, with 64% supporting this.
Labour MPs believe the JRS extension is the highest priority.
As with MPs, post pandemic planning is the highest priority for business and industry with an extension of JRS close behind, although the gap is smaller for business leaders
The sectors which are most concerned with post pandemic planning is the public sector, health and education, where 46% ranked planning as their top priority. Planning was also the top priority in the agriculture and construction and financial services industries.
However, for the distribution and hospitality sectors, JRS extension was the highest priority, at 43%.
When the list of priorities are pulled together as a net overall score, post pandemic planning (83%) and extending the JRS (76%) remain the top two priorities for government to address.
Impact on business and jobs of pandemic
The vast majority of businesses have been harmed by the pandemic, 42% saying very much, and 31% quite harmed.
The sectors hardest hit are distribution, hospitality, transport and communications with 81%  (net) saying their businesses have been harmed. 81% (net) in the banking, finance and insurance sectors have also been harmed, although the hospitality sector harms are more intense according to our survey. While 59% in the hospitality, transport and communications sectors say they've suffered 'very much' harm, 39% in the financial sector says it has suffered 'very much' harm.
Prior to the Budget, 42% of business leaders said it was likely they'd need to make redundancies without further business support from the government. The sectors with the most predicting redundancies is manufacturing construction and real estate at 53%, retail and hospitality at 43%,  and finance and services 44%.
Methodology and data tables
MPs poll
Online interviews of Members of the UK Parliament. Fieldwork: 26 January – 28 February 2021. Sample size: 103
Business leaders polling
Wave 1. Online interviews of business leaders aged 18+ living in the UK. Fieldwork: 25-26 January 2021. Sample size: 527
Data tables:
Wave 2: Online interviews of business leaders, aged 18+ living in the UK. Fieldwork: 16th-22nd February 2021. Sample size: 1040.
Data tables:
---
< Back