Blog
Public and Conservative voters believe windfall tax on energy producers should form a part of paying for energy bill cap
On the day the new Prime Minister Liz Truss announces the Government's plans for the energy price crisis, a snap poll carried out for 38 Degrees, shows the public by a large majority believe energy producers should be made to pay through a windfall tax on excess profits to fund some of the cost of a cap on bills.
A lower proportion of the also believe that some of the costs for the cap should be paid for via Government borrowing and future taxation. A still lower number, just a quarter of the population believe some of the costs should be paid back by consumers through higher bills in the future.
Overall 74% of the public believe a windfall tax on the excess profits of energy producers should be included as part of paying for the price cap. Significantly, 84% of 2019 Conservative voters support a windfall tax, even higher than the 74% of 2019 Labour voters who support a windfall tax.
37% of the public, 42% of 2019 Conservative voters, and 39% of 2019 Labour voters, believe government borrowing and higher taxes in the future should be included in the plan to cap energy bill.
A quarter of the public believe consumers should pay back the costs of the price cap through higher bills in the future,  28% of 2019 Conservative voters and 28% of 2019 Labour voters.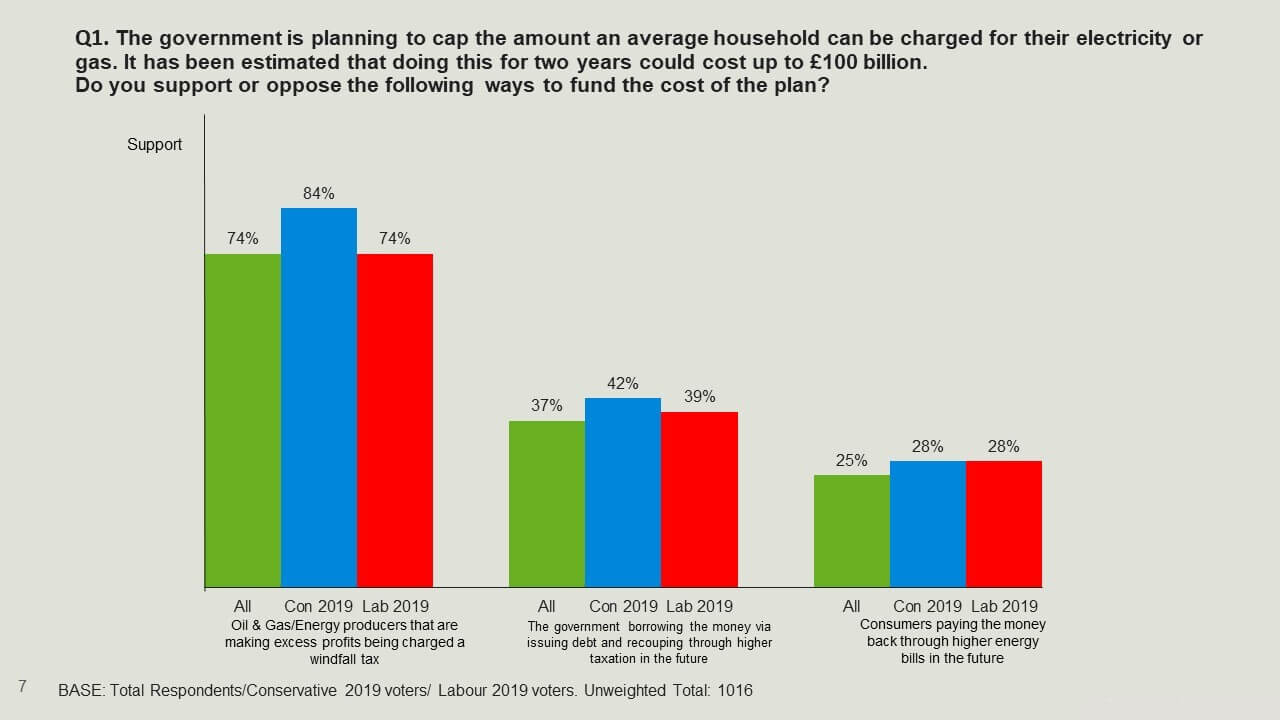 As Liz Truss prepares to make her announcement today, there isn't high public confidence in her ability to deal with the crisis. Only a quarter of the public have confidence in her to solve the crisis, with 57% not having confidence.
70% of the public believe the Government has to do more than freeze energy bills, think additional support to people struggling with the cost of living should also be included. 19% believe just freezing energy bills would be sufficient.
In terms of energy sources for the future, the public are supportive of a mix of methods, with the strongest support for offshore wind turbines, 71%, and solar panels, 70%.
51% are supportive of the Government investing in nuclear power. The public are least supportive, 30%,  of government investing in gas from fracking on land.
Damian Lyons Lowe, Chief Executive of Survation, said: "Although Liz Truss has stated her opposition to a Windfall Tax being a source of funding, just 5% of those that voted Conservative in 2019 are in agreement with the Prime Minister. 84% of these Conservative voters support the Labour and Lib Dem position of Windfall funding – higher support even than former Labour voters (74% in support), driven by the policy's popularity with older and more affluent voters".
Methodology 
Fieldwork conducted: 6th – 7 th September 2022
Population sampled: Residents 18+ living in the UK Sample size: 1016, online panel
Data tables be viewed here
---
< Back