Blog
Public opinion divided on providing fighter jets to Ukraine
Today marks the one year anniversary of Russia's invasion of Ukraine. Following visits to Kyiv from both Rishi Sunak and Keir Starmer, the Prime Minister has today pledged continuing support for Ukrainian resistance. One year on from the Russian invasion, Survation polled 1,029 adults in the UK on their opinion of British involvement in the war on behalf of the Telegraph.
While there is clear public support for British involvement in the war, the extent of how far this involvement should stretch is contested. Only 27% of respondents thought Britain should be less involved, with 49% believing Britain should maintain its current level of involvement, and 16% supporting increased involvement.
We see some partisan division over the degree of British involvement, with 31% of Leave voters believing Britain should play a lesser role, compared to just 16% of Remain voters. Generational divides are also evident, with support for greater involvement strongest amongst younger respondents. One in five 18-34 year-olds support greater British involvement compared to 12% of those aged 65+. Support for decreased involvement, however, was also twice as strong amongst 18-34 year olds (31%) than it was for over 65s (15%). The majority of older respondents (77%) are satisfied with Britain's current level of support.
Prime Minister Rishi Sunak has been urging fellow NATO members to supply Ukraine with weapons, stating Britain will support European allies who can provide fighter jets to Ukraine immediately. While Defence Secretary Ben Wallace has defended sending former Soviet jets to Ukraine, and King Charles has described such support as 'heartening', public opinion is divided. Although 41% believe Britain should provide fighter jets to the Ukrainian Air Force, 37% oppose such measures, and a further 22% are unsure. Despite just 12% of over 65s believing the UK should be more involved in the war, a majority think the Government should supply jets.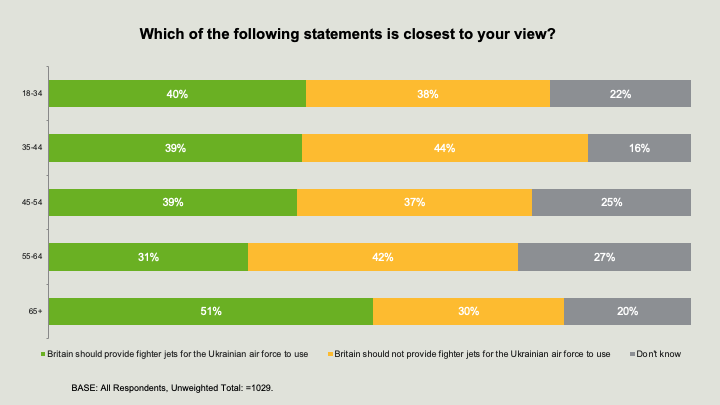 There was stronger public support for the provision of tanks, with a majority (58%) in favour of such a measure. This proposal was strongly favoured by respondents aged 65+, with 77% believing Britain should supply tanks – a figure +32% higher than amongst 18-34s.
A majority of respondents support allowing Ukraine to join both the EU (64%) and NATO (63%). Remain voters were more likely to support allowing entry to the EU (77%) than Leave voters (60%), and support amongst 2019 Labour voters was +9% greater than amongst Conservative voters.
Regarding allowing Ukraine to join NATO, the ramifications of which would be substantial for Britain, the demographic trends in support levels are similar to those in the EU question – increasing with highest level of qualification, household income, and being higher amongst Remain voters than Leave voters. However, where support for allowing Ukraine to join the EU was higher amongst Labour voters, support for allowing Ukraine to join NATO is +6% higher amongst Conservative voters.
There is clear support for British involvement in the war in Ukraine, but the extent to which Britain should be involved is contested. That a majority believe Ukraine should be allowed to join both NATO and the EU indicates public support for international cooperation, and there is majority support for the British providing tanks to Ukraine. Ukrainian President Volodymyr Zelenskyy has called for Western powers to deliver fighter jets, and Sunak has offered robust support for this measure. On the specific issue of jet provision, however, public opinion is divided. Determining exactly how involved Britain should be in the war, and what constitutes increased involvement in the minds of the public, is a difficult task. Yet one year on from Russia's invasion of Ukraine, public opinion is still supportive of British involvement in the Ukrainian resistance.
Get The Data
Survation conducted an online poll of 1,029 adults aged 18+ in the UK on attitudes towards the war in Ukraine on behalf of the Telegraph. Fieldwork was conducted between 22nd February – 23rd February 2023. Tables are available here.
________________________________________
Survation. is an MRS company partner, a member of the British Polling Council and abides by their rules. To find out more about Survation's services, and how you can conduct a telephone or online poll for your research needs, please visit our services page.
If you are interested in commissioning research or to learn more about Survation's research capabilities, please contact John Gibb on 020 3818 9661, email researchteam@survation.com, or visit our services page.
For press enquiries, please call 0203 818 9661 or email media@survation.com
---
< Back