Blog
Public perceptions of Boris Johnson in decline following Christmas party scandals
Second wave of polling for 38 Degrees shows Boris Johnson perceived as more dishonest and exhibiting worse leadership since November
Following revelations of government Christmas parties last year, we conducted a second wave of polling on behalf of 38 Degrees, asking over 2,000 members of the public to rate the Government, Boris Johnson, Keir Starmer, local MPs and the Conservative and Labour parties against Nolan's ethical principles for public office. This is what we found. 
6 in 10 people think that the current government does not uphold the principles of selflessness, integrity, accountability, openness and leadership (61%, 61%, 59% and 60% respectively). This increases to 65% of people who think the current government is dishonest.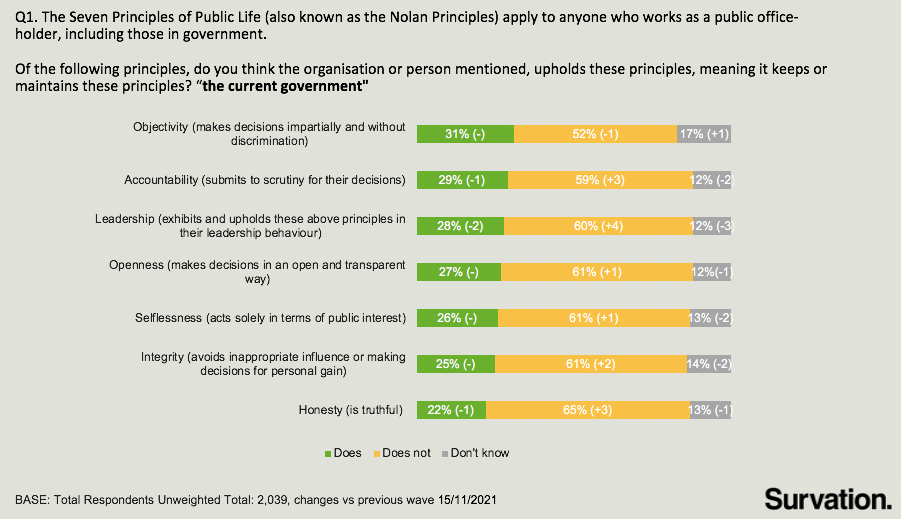 Public opinion of Boris Johnson has suffered in the wake of these scandals, with perceptions towards him deteriorating for each of the seven Nolan principles. Perceptions of his honesty and leadership have declined the most. Almost 7 in 10 people said he lacks honesty (68%), which is up from 6 in 10 (61%) in November. We also see a decline in trust in Boris Johnson to make decisions in an open and transparent way (65% of respondents do not think he does, compared to 59% in November). Public perceptions of his ability to exhibit good leadership have also declined, with just over 6 in 10 (63%) saying he fails to do so, compared to 55% in November.
We included Keir Starmer in this round of polling. His head-to-head comparisons with Boris Johnson are very favourable. Keir Starmer is rated more highly on all points compared to Boris Johnson. While only a quarter of respondents find Boris Johnson acts selflessly (25%), a third (32%) believe Keir Starmer does so. The same is true for the principles of integrity, accountability and openness, with only a quarter (25%) of the public believing Boris Johnson upholds these principles, while a third believe Keir Starmer upholds them (34%, 32% and 32% respectively). 
Boris Johnson performs the worst when it comes to how honest the public finds him. Only 1 in 5 (20%) members of the public see Boris Johnson as honest while 7 in 10 (68%) see him as dishonest. Again, the public is more favourable towards Keir Starmer, with a third of respondents (33%) finding him honest. Similarly, the public regards their local MPs more favourably than Boris Johnson against all of the principles, with a third of the public (33%) saying their local MP upholds selflessness, integrity, objectivity, accountability, openness, honesty and leadership. 
Perceptions towards the Labour Party have become more favourable as they have rated less negatively on all principles since November. In particular, fewer members of the public rate the Labour Party's leadership, openness and objectivity poorly, showing some improvement.
In contrast, perceptions towards the Conservative Party have declined in terms of leadership and accountability. Only 23% of the public believe the party exhibits Nolan's ethical principles in its leadership, down from 28% in November. Almost 6 in 10 members of the public (58%) said the party does not uphold accountability, an increase of 3 percentage points from November. This decline in opinion follows the party's failure to hold to account those involved in the Christmas parties during lockdown last year and to lead by example in following the lockdown rules. 
Tables can be found here.
Charts for Gen pop on Nolan principles can be found here.
Charts for Conservative voters in 2019 on Nolan principles can be found here.
---
< Back