Politics, Government & Current Affairs
Public wants measures to end austerity in Autumn Budget
The public supports the inclusion of measures to end austerity in today's Autumn Budget, according to Survation polling on behalf of the GMB union. Over three quarters (77 percent) of respondents said they wanted increased public investment in infrastructure such as roads, railways and school buildings, and a similar proportion (76 percent) want to see real terms increases in spending on public services. Large majorities think the chancellor should announce plans to hand additional funding to local councils (72 percent), above inflation pay rises for public sector workers (68 percent) and the reopening of public services that have been closed (67 percent).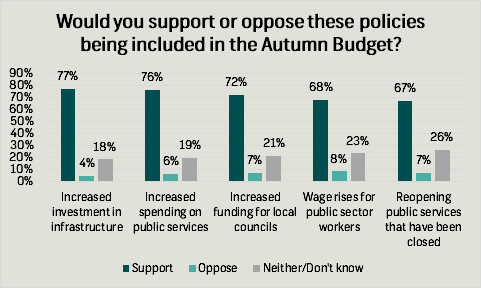 Following the prime minister's declaration in her party conference speech that 'austerity is over', majorities said that the era of fiscal constraint cannot be said to have ended unless the policies mentioned above are implemented. Almost seven in ten (68 percent) said that more investment in infrastructure was a necessary condition for the end of austerity, and almost as many respondents (67 percent) said the same for increased funding from central government for local councils. By overwhelming margins, respondents thought austerity would not truly be over until spending on public services is increased (65 percent), public sector workers receive real terms increases in their wages (61 percent) previously shuttered public services are reopened (58 percent).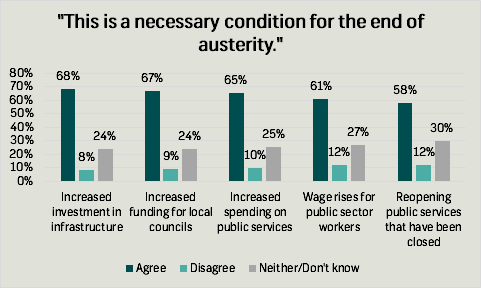 Survation polled 1053 people aged 18+ in the UK on behalf of the GMB union. Fieldwork was conducted 22nd -23rd October 2018. Full results can be found here.
Survation is a member of the British Polling Council and abides by its rules.
Would you like to have your own views represented in Survation's research work?
Survation's paid consumer opinion panel is now live.
Simply go to: https://panel.survation.com/ – register (1 minute) and we'll credit your account with 50 points for simply confirming your email and allocate 100 points for taking a very short survey. Points convert to cash which can be withdrawn each time you reach the equivalent of £50.
---
< Back