Blog
Public: Yes to COVID restrictions but sharp drop off since first wave in support for government's handling
Survation's January political and COVID-19 polling shows the public strongly supports lockdown restrictions – would support even tougher measures – but there's been a sharp drop off in support for the government's handling of COVID-19 since last May, and an eight point drop in the Prime Minister's personal satisfaction rating in the past month.
However, voter intention remains largely unchanged, with the Conservatives holding a two point lead over Labour in our first poll of the year.
There has been a net reduction by 27 points in the numbers of people who think the Government is handling the pandemic well. Back in May, 44% thought it was being handled well and 47% badly. In January, 31% think it is being handled well and 61% badly.
However, support for government measures are very strong with 83% either strongly or somewhat supporting the rules, and 7% strongly or somewhat opposing them.
There is also strong support for current schools policy. Only 9% believe schools should re-open immediately, 29% after the easter holiday, 27% after February half term, and 19% after the summer break.
The public, according to our latest poll, don't believe the current restrictions go far enough. 54% believe the the rules aren't tough enough, 31% say they are correct, with only 11% believing they are too tough.
In terms of compliance with the rules, the public strongly believes it is following the rules. 71% say they are following all the rules, 21% most of the tules, 5% some of them, and only 2% say they aren't following the rules.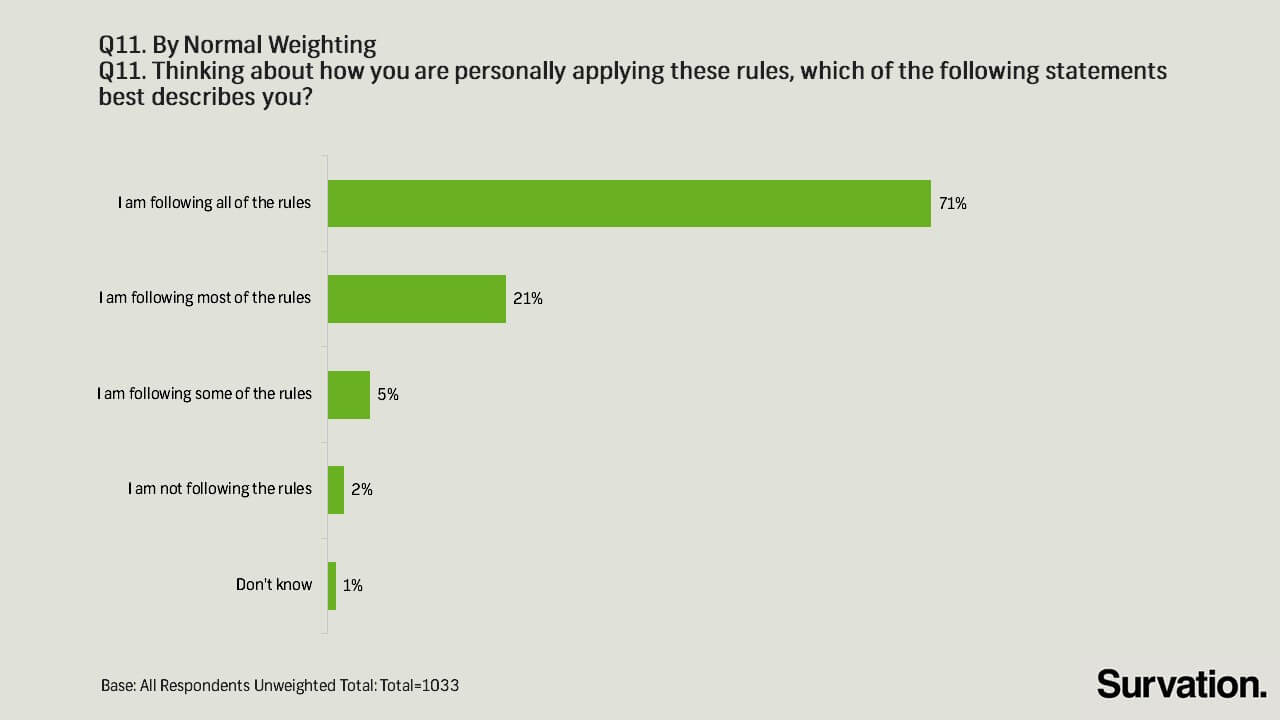 There is strong confidence in COVID-19 vaccinations with 70% saying they'll get vaccinated if offered, and 13% saying they won't.
And 74% strongly or somewhat support a 24 hour vaccination programme, against 12% strongly or somewhat opposed.
Political polling – January 2021
In our first voter intention poll of the year, there is little change with the Conservatives maintaining a small lead over Labour, by 40% to 38%.
Boris Johnson has seen an eight point reduction since December in his overall leadership approval ratings, with a net rating now of -8. Keir Starmer has had a one point drop since December, but has a stronger +8 net rating.  On who would make the best Prime Minister, Boris Johnson has a two point lead on Keir Starmer, down 1 point since December.
Survation interviewed 1,033 respondents, adults over 18 years old.  fieldwork 12-13 Jan 2021.
Data tables
Survation January 2021 UK Politics and COVID-19 Survey Tables (1)
---
< Back