Politics, Government & Current Affairs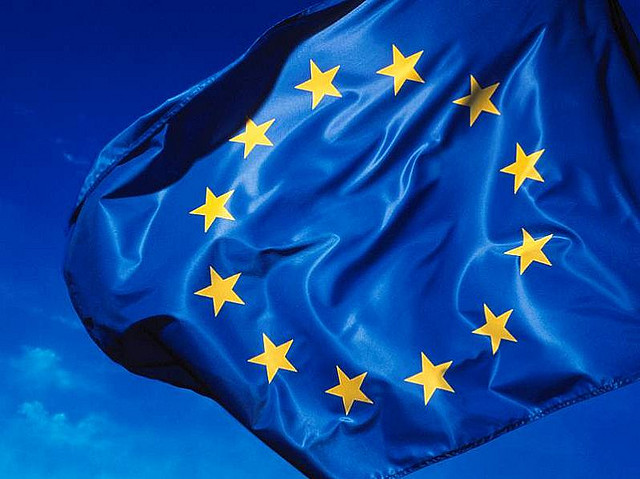 Remain narrowly in the lead in latest IG Poll
EU Referendum – New Survation Polling for IG Group
Fieldwork, 1003 Respondents. June 20th 3.30pm to 9pm. Method. Telephone.
With less than 2 days until polling stations open, Survation's final telephone polling on behalf of IG conducted yesterday shows "Remain" with a very narrow lead over "Leave".
Leave 43.8%(+2.3% change compared to last Survation poll)
Remain 44.9% (-0.4% change compared to last Survation poll)
Undecided 11.3% (-1.9% change compared to last Survation poll)
Rounded results are as follows with comparisons to Survation's latest poll in the Mail on Sunday (19/06) in brackets:
Remain 45% (NC) Leave 44% (+2) Undecided 11% (-2)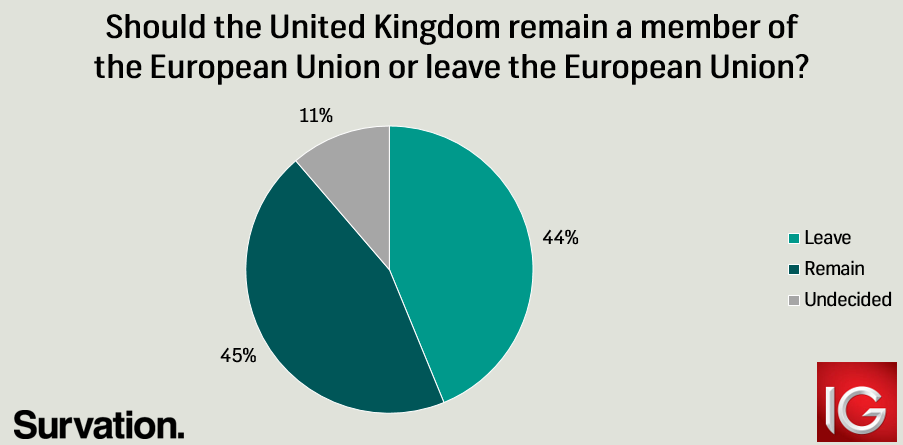 Excluding Undecided voters, headline results are:
Leave 49.3%(+1.5 % change compared to last Survation poll)
Remain 50.7% (-1.5 % change compared to last Survation poll)
What About The Undecideds?
Even though the number of undecided voters in the initial voting intention dropped by 3 points since our last poll, 11% of respondents say that they are still undecided with days until polling stations open on Thursday morning. These voters in the sample who told Survation that they were undecided were then "squeezed" with the question:
"If the referendum was today and you had to choose, would you vote to leave / vote to stay or would you not vote?"
Leave 49.5% (+1.4 % change compared to last Survation poll)
Remain 50.5% (-1.4 % change compared to last Survation poll)
Number of persons this represents: Leave: 402 persons. Remain: 410 persons.
Adding back these respondents into the initial leave/remain voting intention had the effect of a slight (1%) boost to the Leave figure. Rounds to:
Remain 50% Leave 50%
Full data tables for this polling including all questions asked and the methodology used can be viewed here.
IG's EU Referendum Barometer is currently showing a 75.5% chance that the UK will vote to Remain in the European Union. Ahead of polling day the price of IG's binary continues to fluctuate, reacting to record amounts of trading along with divergent polling information. The Remain price has been bottomed out last Wednesday at 58% and has been on an upward curve since.
The Barometer is an indicator of what those traders are predicting will happen in the 2016 UK referendum on membership of the European Union. The data is based on the political binary market IG has created for clients to trade on.
Matt Brief, Head of Dealing at IG Group, comments:
"The latest polling figures match the shift we have seen in other polls seen since Thursday, namely that Remain have reclaimed a lead, if only by a small margin. The key point is that plenty of voters remain undecided, which suggests that there is still 'all to play for' in the question of the UK's future direction. Thus, the UK's referendum continues to match the trend seen across the globe in such plebiscites, with the gap between the campaigns narrowing and each vote becoming more and more crucial. Since the last IG/Survation poll, markets have become much more optimistic about the outcome, with both the FTSE 100 and sterling seeing their biggest days in years. There is still time for fresh disruption, but for now the markets have calmed."
Survation interviewed 1,003 adults aged 18+ across the UK including Northern Ireland on behalf of IG by telephone on 20th June.
IG Group
Chris Alfred PR Manager 020 7573 0319
Survation
Chris Hopkins Senior Project Manager 020 3818 9661
media@survation.com
Notes to Editors
About IG Group
IG is a global leader in online trading, providing fast and flexible access to over 10,000 financial markets – including shares, indices, forex, commodities and binaries.
Established in 1974 as the world's first financial spread betting firm, IG's aim is to become the default choice for active traders globally. It is an award-winning multi-platform trading company, the world's No.1 provider of CFDs* and a global leader in forex, and it now offers an execution-only stockbroking service in the UK, Ireland, Germany, Austria and the Netherlands.
It is a member of the FTSE 250, with offices across Europe, Africa, Asia-Pacific, the Middle East and the US, where it offers limited risk derivatives contracts via the Nadex brand.
*Based on revenue excluding FX, from published financial statements, September 2015.
About Survation
Survation conduct telephone, online and in-person market research, as well as strategy & advisory research for well-known brands & organisations. Survation are members of the British Polling Council.
You can sign up other email addresses or colleagues to our press release list here.
To find out more about Survation's services, and how you can conduct a telephone or online poll for your research needs, please visit our services page.
Follow Survation on Twitter:
@Survation – Our Main Account
@DamianSurvation – Personal commentary from our Chief Executive
More about the services Survation provide can be found here. For press enquiries, please call 0203 818 9661 or email enquiry@survation.com
Survation Ltd Registered in England & Wales Number 07143509
---
< Back