Politics, Government & Current Affairs
Rishi Sunak yet to turn Conservative fortunes around. Labour 23 point lead:
5th November 2022
Westminster & Political Polling
New polling with fieldwork conducted 1-3 November – just over a week after Rishi Sunak's takeover sees Labour's voting intention lead over the Conservatives remaining considerable, at 23 points – higher than our polling leads seen at the end section of the Truss administration.
Changes below are since our prior poll with fieldwork 26th-27th October.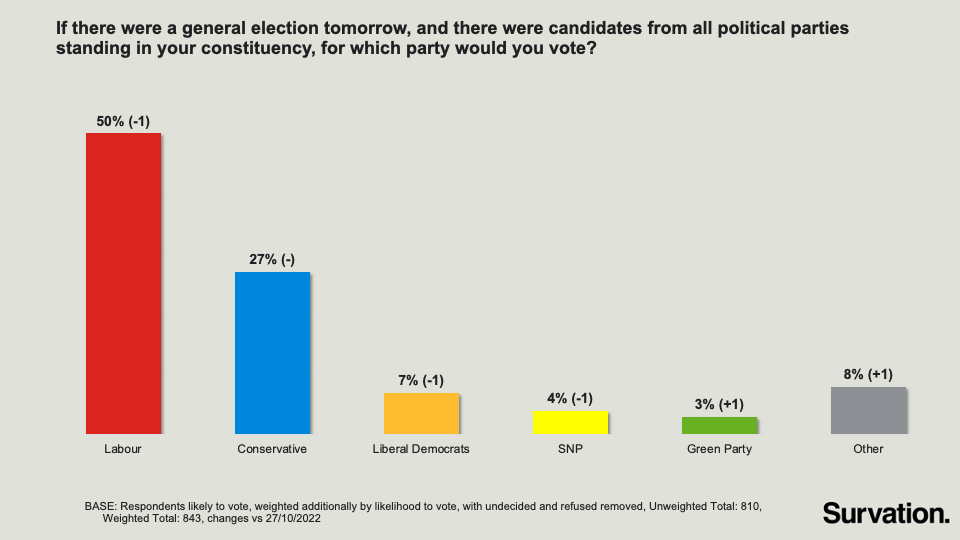 Sunak begins his premiership and Conservative party leadership with a net Survation favourability rating of -7, ahead of both the Conservative party on -24 and the Government on -43 – very low scores despite some improvement in comparison to our final polling of the previous Conservative administration. In comparison, Keir Starmer, with a favourability rating of +9 fares better than Sunak, with the Labour Party enjoying a +9 net favourability.
Reflective of his superior favourability ratings Keir Starmer leads the "best Prime Minister" question with 39% opting for him as Best Prime Minister in a forced choice vs Sunak on 34%, 27% say they don't know. 
In terms of economic trust, respondents are more likely to say they trust Labour's shadow Chancellor, Rachel Reeves than Chancellor Jeremy Hunt:
A indication to why this might be so lies in the crosstabs. Significantly more respondents think that Jeremy Hunt is not competent (41%) than believe he is (29%), and while Rishi Sunak is the most likely of those listed below to be described as competent (43%) this is not at present enough to move the Conservative party's voting intention in an upward direction.
Get The Data
Survation conducted online polling of 1,017 adults in the United Kingdom. Fieldwork was conducted 1-3 November 2022. Data tables for this research can be found here.
Survation. is an MRS company partner, a member of the British Polling Council and abides by their rules. To find out more about Survation's services, and how you can conduct a telephone or online poll for your research needs, please visit our services page.
If you are interested in commissioning research or to learn more about Survation's research capabilities, please contact John Gibb on 020 3818 9661 email researchteam@survation.com or visit our services page.
For press enquiries, please call 0203 818 9661 or email media@survation.com
---
< Back