Blog
Scotland Political Polling September 2020
Election and Referendum voting intention
Survation's new political poll in Scotland shows the Scottish National Party (SNP) with a commanding lead in voting intention for the next general election and Scottish Parliament election – and on the question of another referendum on Scottish independence, "Yes" is in the lead.
In the poll, conducted 2nd – 7th September 2020, 53% of likely voters would choose the SNP candidate for their constituency vote a 2-point increase compared to our previous poll of Scottish voting intention in January. The Scottish Conservatives are on 20% (-3) and Scottish Labour on 18% (+1).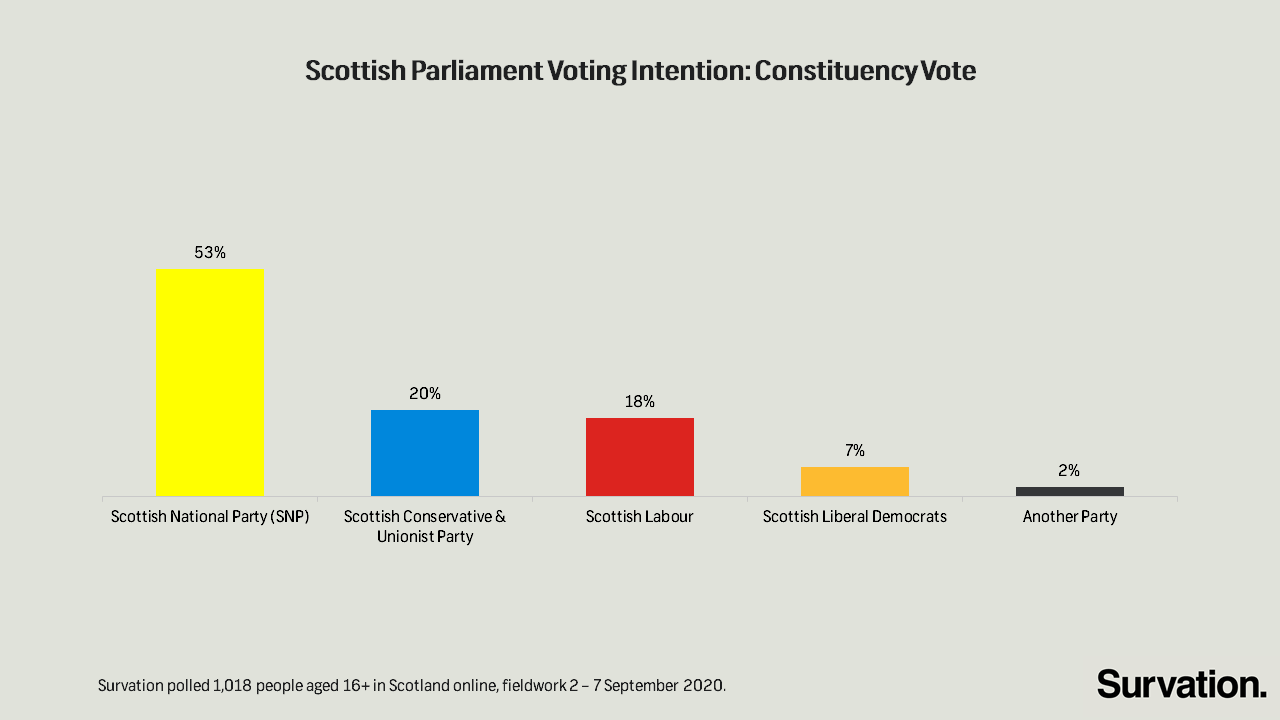 Looking at voting intention for the regional party lists, the SNP share is 42% (+3). Scottish Conservatives are on 18% (-3), Scottish Labour is also on 18% (-1), with the Scottish Green Party on 10% (+1).
Our regular UK general election polling has indicated that the SNP would win around half the vote across Scotland, and our new national representative survey of Scotland confirms this. The SNP have 51% share, followed by Scottish Labour on 21%, and Scottish Conservatives (20%).
Among respondents who reported how they would vote in another independence referendum, 53% said they would vote "Yes", and 47% "No". In our previous poll on this question in January, "Yes" and "No" were 50-50.
Survation conducted an online poll of 1,018 people aged 16+ living in Scotland. Fieldwork was conducted between 2nd and 7th September 2020. Data tables are available here.
—
Engaging opinion to inform the future.
Survation provide vital insights for brands and organisations wanting to better understand authentic opinion, adding value and credibility to the research we provide to our clients.
Click here for further information on our industry leading mixed-method market research offering.
For a quote or a chat about your research needs and our packages, contact Harry Mason on 0203 818 9662 or John Gibb on 0203 818 9661
Panel.
Would you like to have your own views represented in Survation's research work?
To join Survation's paid consumer opinion panel, simply go to: https://panel.survation.com/ – register (1 minute) and we'll credit your account with 50 points for simply confirming your email and allocate 100 points for taking a very short survey. Points convert to cash which can be withdrawn each time you reach the equivalent of £50.
You can sign up to our press release list here. Follow Survation on Twitter: @Survation
---
< Back