Politics, Government & Current Affairs
Scots surveyed on remaining in or leaving the UK
A new survey on behalf of Scotland in Union reveals considerable support in Scotland for 'remaining' in the UK, although this support drops when the potential of a no-deal Brexit is mentioned. The poll also reveals that the SNP retains a strong lead amongst Scots in their Westminster voting intention.
Topline Westminster voting intention (Fieldwork: 9th – 13th November 2018)
Scottish Conservative and Unionist Party: 26%
Scottish Labour Party: 24%
Scottish Liberal Democrats: 8%
Scottish National Party (SNP): 39%
Other:                                                                              3%
The survey found that in a hypothetical referendum, 60% of Scots would vote to 'Remain' in the UK compared to 40% who would vote to 'Leave'.
The question differs from the one asked in the 2014 referendum and from our standard independence referendum tracker. An Electoral Commission decision before the 2016 EU Referendum concluded that a yes/no option question could not be considered neutral with only one outcome reflected in the question and the sponsor of this poll was interested in asking the question in a similar manner to the EU Referendum.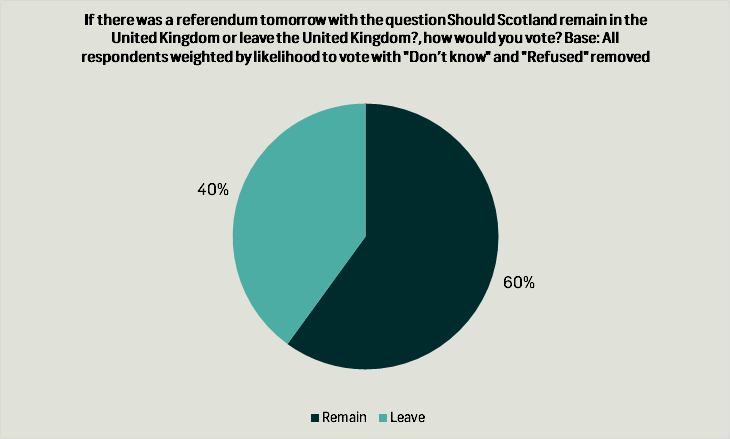 The prospect of the UK leaving the EU has led to some Scots saying they would be more likely to support Scotland leaving the UK – 34% of respondents selected this option. 36% did say they were no more or less likely to support Scotland leaving the UK because of the UK leaving the EU and 21% said they were less likely. The remaining 9% said they did not know.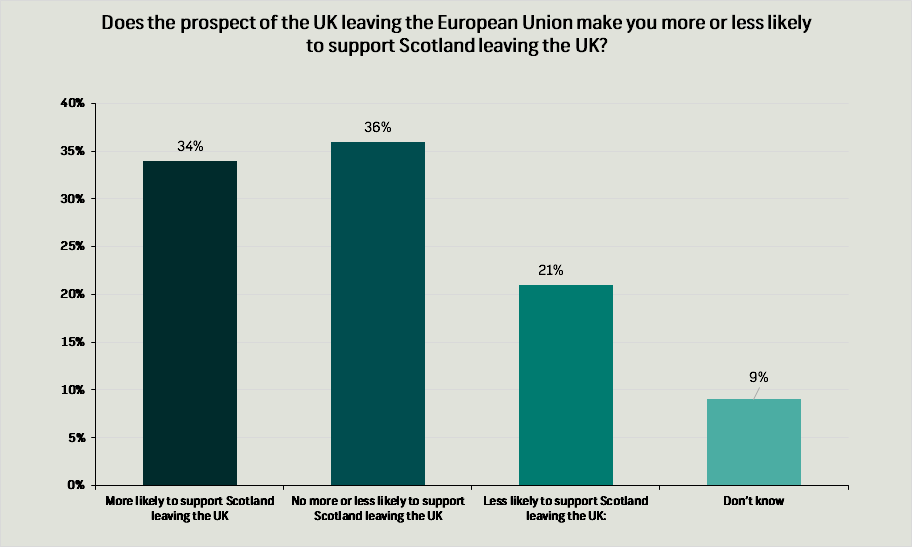 The spectre of Brexit can be seen when respondents were asked how they would vote if the UK leaves the EU with a deal in place and there was a subsequent referendum on Scotland leaving the UK. In this case, once those who said "Would not vote", "Undecided" and "Refused" were removed, 57% of respondents said they would vote to remain in the UK and 43% said they would vote to leave. When the question said 'without a deal' support for remaining in the UK dropped to 52%.
31% said the issue of UK membership in the EU is more important than the issue of Scottish membership in the UK, compared to 22% who said the issue of Scottish membership in the UK is more important than the issue of UK membership in the EU. 36% said both issues were of equal importance and 11% said they did not know.
If Scotland were to leave the UK and seek to be a member state of the EU only 13% are optimistic that Scotland would be immediately granted membership of the EU with a further 24% believing Scotland would be granted membership after a short application process. 26%, however, think it would take a lengthy process and 22% said Scotland would not be granted membership.
Respondents were also asked when they think there should be another referendum on Scotland leaving the UK. 23% said before the UK is scheduled to leave the EU on 29th March 2019 and a further 18% said after the UK leaves the EU but before the next Scottish Parliament election in May 2021. 7% said there should not be another referendum. The highest percentage (36%), however, was for don't know.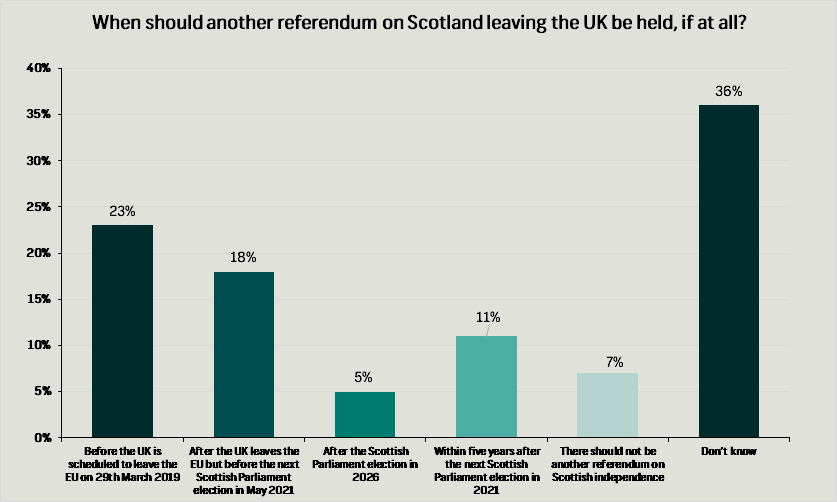 Survation interviewed 1013 Scots aged 16+ online. Fieldwork was between 9th -13th November 2018.
Data tables and methodology can be found here.
Survation is a member of the British Polling Council and abides by its rules.
---
To learn more about Survation's polling capabilities or to commission a poll, contact Harry Mason or John Gibb on 020 3818 9661 or email researchteam@survation.com.
---
Would you like to have your own views represented in Survation's research work?
To join our paid consumer opinion panel, simply go to: https://panel.survation.com/ and register (1 minute) and we'll credit your account with 50 points for simply confirming your email and allocate 100 points for taking a very short survey. Points convert to cash which can be withdrawn each time you reach the equivalent of £50.
---
BPC Statement: All polls are subject to a wide range of potential sources of error. On the basis of the historical record of the polls at recent general elections, there is a 9 in 10 chance that the true value of a party's support lies within 4 points of the estimates provided by this poll, and a 2 in 3 chance that they lie within 2 points.
---
< Back