Misc
Scottish Westminster & Holyrood Voting Intention Update. Scottish Labour on the bounce:
New polling on behalf of Scotland in Union, published yesterday, contained updates to Westminster and Holyrood voting intention.
The fieldwork , conducted at the end of September, a week after the Chancellor of the Exchequer's mini-budget announcement, shows progress for Labour in both Westminster and Scottish Parliament voting intention.
Behind Scottish Labour's rise, 18% of Scottish voters who backed the Conservatives in 2019 say they will now vote Labour as well as 6% those that voted SNP. Although numbers are too small to accurately report on, we're also seeing a consequential amount of 2019 Lib Dem voters currently turning to Labour.  Looking to former Conservative voters, just 55% of those that voted for the party in 2019 currently say they will cast a vote for the party in a General Election tomorrow.
With regard to Scottish Parliament voting intention, taking the constituency vote, a similar story is seen. The SNP hold a similar level of lead the party enjoyed in March this year, while Scottish Labour sees a 5 point increase and the Scottish Conservative and Unionist Party off by 6 points.
Over a longer term view, we can again see the Scottish Labour Party's +50%  gain in vote share since this time last year, and the Scottish Conservative and Unionist Party's descent.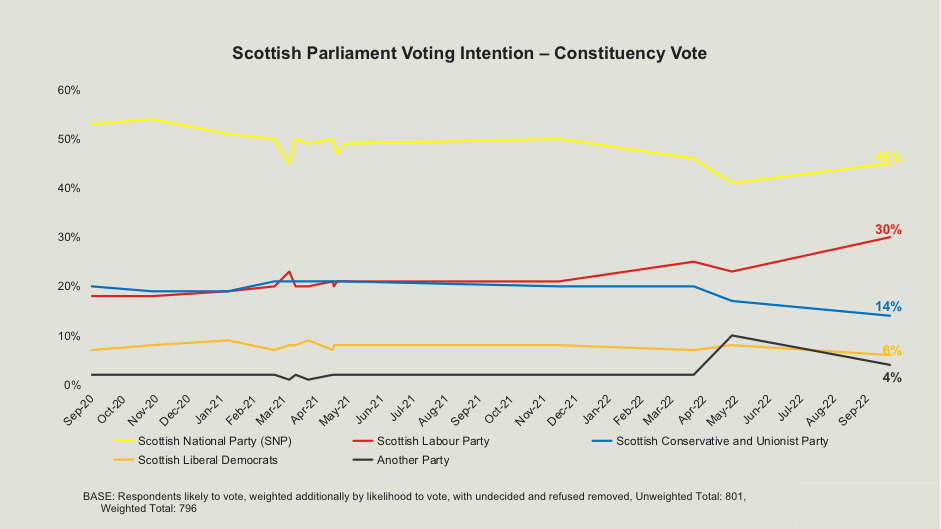 We're interested to see how these trends will play out in the next few months as both governments navigate the cost of living and energy crisis, intimately affecting the lives of the public and impacting on their voting intention.
Get the Data
Data tables for this research can be found here. Survation conducted online polling of 1,011 people aged 16+ in Scotland between the 28th and the 29th September 2022.
Survation is an MRS company partner, a member of the British Polling Council and abides by their rules. To find out more about Survation's services, and how you can conduct a telephone or online poll for your research needs, please visit our services page.
If you are interested in commissioning research or to learn more about Survation's research capabilities, please contact John Gibb on 020 3818 9661 email researchteam@survation.com or visit our services page.
For press enquiries, please call 0203 818 9661 or email media@survation.com
BPC Statement: All polls are subject to a wide range of potential sources of error. On the basis of the historical record of the polls at recent general elections, there is a 9 in 10 chance that the true value of a party's support lies within 4 points of the estimates provided by this poll, and a 2 in 3 chance that they lie within 2 points.
---
< Back