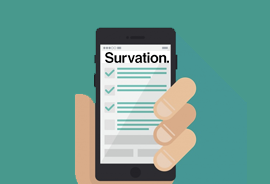 Telephone Opinion Polling (CATI)
Survation: Your Trusted Partner in Telephone Opinion Polling
Telephone opinion polling or CATI (Computer Assisted Telephone Interview) remains an essential tool to reach a truly representative sample and to target small geographic areas.  As a market and political opinion research company with an in-house telephone calling team, Survation specialises in conducting detailed telephone opinion polling to reach representative samples and target small geographic areas. Our expertise allows us to reach "harder to reach" groups, providing valuable insights to inform decision making and shape effective strategies.

"YMCA were delighted that our research project with Survation would be able to continue during the current health pandemic. We had a time sensitive project which meant our telephone polling needed to take place shortly after our marketing had finished. This coincided with the Government's guidance on people being asked to work from home. Survation seamlessly were able to continue the research with their call centre team working remotely and we didn't notice any drop in service." David Bridson, Head of Campaigns & Research at YMCA England & Wales
—
Who can the telephone reach where online can not?
Consider the following from the Office for National Statistics:
24% of men and women in the UK have not used the internet in the last 3 months
4.5 million adults 8% of the population have

never

used the internet with more than half (2.6 million) aged 75 years and over
These offline groups participate in our society, vote, and have the same right for their voices and views to be be heard.
Telephone opinion polling can be particularly effective for clients that need to target specific geographic, demographic or membership groups where there are just not enough people to reach via online panels, or when the information being gathered is nuanced and benefits from open text responses. Survation are a leading provider of Westminster Constituency polling.
In house calling team
Survation do not outsource our telephone operations as is commonplace and pay our callers, based in our HQ the London Living Wage.
By keeping our phone team in-house we are able to closely monitor all calls to ensure methodologies are strictly adhered to, and that any sensitive topics are dealt with appropriately. All callers are briefed at the start of a new phone project to ensure they are familiar with the particular structure and aims of the poll. Our telephone interviewers are experienced in a variety of topics including those of a sensitive or complex nature. All of our telephone polls are overseen by one of our fieldwork managers.
This level of attention to detail is valued by our clients looking for accurate, detailed and nuanced responses to their questions. Open text responses can be gathered and categorised by our fieldwork team, allowing for qualitative analysis. This is as useful for understanding the key political issues in a constituency as it is for brands looking to do market research and better understand responses to their brand.
Hard to reach groups
Bespoke telephone opinion polls by Survation  have involved capturing the views of "hard to reach" and our bespoke samples have included contacting self-identifying Muslims on behalf of Sky News, polling Westminster  constituencies on behalf of a multitude of clients, and using the UK's only Jewish opinion panel to poll self-identifying Jewish people on their view behalf of The Jewish Chronicle.
We have also worked on smaller-scale, targeted projects (such as conducting a poll of residents of Perth and Kinross on behalf of T in the Park) and have extensive experience working with organisations to contact and poll their members by telephone.
This work sits alongside our political polling which includes both targeted constituency polls by telephone, and broader, nationwide polling as evidenced by our Scottish referendum polling. In the aftermath of the Scottish referendum the two final polls that came closest to the final result were those by Survation and Ipsos-Mori – the only final polls that used telephone polling.
Survation's telephone opinion polling service is as ideal for clients looking for flexible, bespoke polls as it is for clients looking for trusted responses to more straightforward questions. Whatever the brief, the work will be undertaken by an experienced team able to deal with even the most sensitive and complex topics.
For information about our telephone opinion polling services, email researchteam@survation.com or to discuss your requirements call John Gibb on 0203 818 9661.
---
---
< Back