Politics, Government & Current Affairs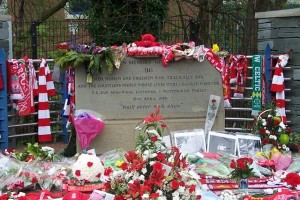 Should The Full Hillsborough documents be released and does football standing have A Future In the English and Scottish Game?
Should The Full Hillsborough documents be released and does football standing have A Future In the English and Scottish Game?
Full report and Crosstabs now available HERE;
Today, MPs are to debate an e-petition which demands the full release of documents relating to the 1989 Hillsborough Stadium disaster. The petition, which was backed by Liverpool Manager Kenny Dalglish, will be debated after it gathered the support of more than 100,000 people – the threshold for consideration for a Commons debate. It followed a ruling by Information Commissioner Christopher Graham that the papers should be published. Ninety-five Liverpool fans died in the disaster at the FA cup semi-final tie against Nottingham Forest at Sheffield Wednesday's Hillsborough stadium on 15 April, 1989. The 96th victim died two years later. Deputy Prime Minister Nick Clegg has said that he backed the full release of cabinet papers relating to the 1989 Hillsborough stadium disaster. Labour MP Steve Rotheram has tabled the motion which "calls for the full disclosure of all government-related documents, including cabinet minutes, relating to the 1989 Hillsborough disaster" and "further calls for the families of the 96 and the Hillsborough Independent Panel to have unrestricted access to that information".The Hillsborough Disaster in 1989 and the subsequent Taylor Report saw a recommendation that standing terraces should be abolished; as a result all stadia in the Premier League are all-seater.
Survation interviewed 1002 Football fans over the age of 18 between October 7th and October 14th. 76.8% of our sample are season ticket holders or declared "regular attenders" to live football games. We did not poll the views of those that primarily watch their football on television. We did ask a proportion of casual viewers for their thoughts.
Fans from over 90 clubs were interviewed on questions relating to their views including on whether modern, purpose-built standing areas have a role in the modern game and whether the full Hillsborough documents should be released;
Q1) How often do you attend football matches?
46.5% attend regularly, 30.3% are season ticket holders, 18.9% attend "every now and then" and 4.4% "rarely attend".
Q2) Which football team do you support?
We took responses from Arsenal, Aston Villa, Blackburn Rovers, Bolton Wanderers, Chelsea, Everton, Fulham, Liverpool, Manchester City, Manchester United, Newcastle United, Norwich City, Queens Park Rangers, Stoke City, Sunderland, Swansea City, Tottenham Hotspur, West Bromwich Albion, Wigan Athletic, Wolverhampton Wanderers, Barnsley, Birmingham City, Blackpool, Brighton & Hove Albion, Bristol City, Burnley, Cardiff City, Coventry City, Crystal Palace, Derby County, Doncaster Rovers, Hull City, Ipswich Town, Leeds United, Leicester City, Middlesbrough, Milwall, Nottingham Forest, Peterborough United Portsmouth, Reading, Southampton, Watford, West Ham United, Bournemouth, Brentford, Bury, Carlisle United, Charlton Athletic, Chesterfield, Colchester United, Exeter City, Hartlepool United, Huddersfield Town,, Leyton Orient, Milton Keynes Dons, Notts County, Oldham Athletic, Preston North End, Sheffield United, Sheffield Wednesday, Tranmere Rovers, Walsall, Wycombe Wanderers, AFC Wimbledon, Aldershot Town, Bradford City, Bristol Rovers, Crewe Alexandra, Dagenham & Redbridge, Gillingham, Hereford United, Macclesfield Town, Morecambe, Northampton Town, Oxford United, Plymouth Argyle, Port Vale, Rotherham United, Southend United, Swindon Town, Torquay United, Aberdeen, Celtic, Dundee United, Dunfermline Athletic, Heart of Midlothian, Hibernian, Inverness Caledonian Thistle, Kilmarnock, Motherwell, Rangers, St. Johnstone and other clubs we did not list as selections.
Q3) "Given the opportunity to sit or stand at a football ground, which would you choose?"
Interestingly, 38.8% of fans polled would prefer to stand despite most fans not currently having access to standing areas.
Q4) "Is your enjoyment in all-seater stadiums ever impaired by those who choose to stand?
A huge 70.9% of fans have felt that their enjoyment of games has been impaired by those choosing to stand in designated seating areas saying their enjoyment in all seater stadiums was impaired or was sometimes impaired – seemingly a common problem.
Q5) "Would you feel your safety would be jeopardised by the introduction of modern purpose-built standing areas in a football ground?"
Although we did not choose to discuss the modern standing solutions that are enjoyed by fans in leagues such as Germany's Bundesliga, only 27.9% of fans thought their safety might be jeopardised by modern purpose-built standing vs 63.6% thought it would not. (The balance "don't know").
Q6) "How do you think the atmosphere within football stadiums has changed since the move to all seater
stadiums? (since the 1994-95 season in The Premiership)"
Fans feel atmosphere has worsened slightly on balance since the introduction of all-seater stadiums with 42.5% sayng atmosphere was "worse" 31% "better" with the balance not knowing or remembering.
Q7) "Do you think the introduction of modern purpose-built standing areas will lead to more violence within football stadiums?"
Despite being prompted with the suggestion, fans do not seem to think that violence would increase with standing with only 27.8 considering it to be a contributing factor.
Q8) "Would you support the introduction of modern, purpose-built standing-only areas within Premier League and Championship grounds?
This, for us is the major question of the whole survey on standing's future role. 66.3% wholly support the introduction while only 17.3% oppose it – the balance having either not decided or don't know. If we rebasing the YES/NO ratio to those expressing a definite opinion. A significant 79.3% of those who have reached an opinion would support the introduction of the introduction of modern, purpose-built standing-only areas within Premier League and Championship grounds.
Q8) If modern, purpose-built standing-only areas were available, would you personally use them?
A huge 48% of fans are interested in using standing areas, The good news for stadium owners is that most responders do not expect a steep discount to enjoy those areas;
Q9) Should ticket prices in modern, purpose built standing areas be?
41.6% of respondents feel standing prices should be "a little lower" than seating, 23.4% "a lot lower" but 19.4% answered "the same price" and 15.8% saying "a little higher or "a lot higher".
On an entirely side issue to that of football standing, it was interesting that very few (8.2%) of respondents who were aware of the Hillsborough disaster cited 'Terracing / Standing' as the main reason for the tragedy. This was actually the least chosen answer with respondents blaming 'Poor Policing' (29.9%), 'Fenced in Enclosures' (27%) and 'behaviour of the fans' (20.4%) for the disaster.
Q10) The single most unequivocal response in the whole survey was that of question 10:
"Do you think there should be full disclosure of the unreleased Government documents relating to the Hillsborough disaster?"
93.7% of fans want these documents to be made public with only 2.7% not. The difference is made up from those who respond "don't know" (3.7%) [and those who were unaware of the Hillsborough disaster (4.5% of all respondents) who were already excluded from answering this question]. Clearly, the vast majority of football fans want these documents released despite the fact 22 years have passed and it will undoubtedly bring back painful memories. This strength of feeling from the football community should not be disregarded lightly by any politician ahead of Monday's debate.
Media organisations or others wanting an early full report crosstabbed report (which will be available later today) should contact Damian Lyons Lowe at 020 7490 4094 or email press@survation.com
Damian Lyons Lowe
CEO
Survation Ltd
020 7490 4094
damian.lyonslowe@survation.com
Survation are a member of The British Polling Council and abide by its rules
http://www.britishpollingcouncil.org
Survation Ltd  Registered in England & Wales Number 07143509
---
< Back