Blog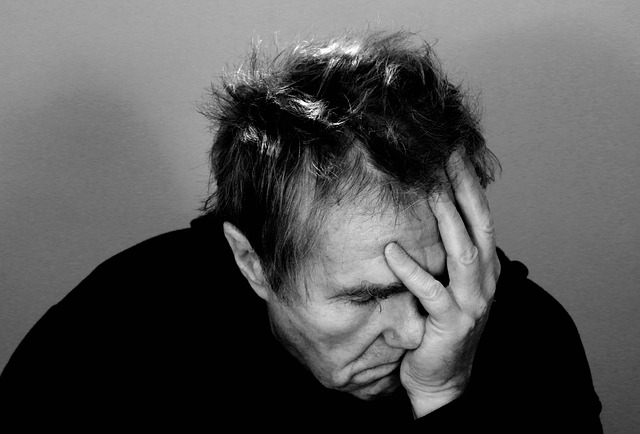 "Snatching Defeat From the Jaws of Victory"
As I'm writing this article, the Conservative Party now clearly have the amount of seats with which to form an overall majority and the implications are clear.
The SNP's near clean sweep of Scotland will likely lead to a more federal UK, especially in the run-up to the Holyrood 2016 elections.
There will also now certainly be an in/out referendum on leaving the EU in 2017 as the Conservatives have publically promised the UK and the party will be able to pursue it's own manifesto without the support of other parties.
Nigel Farage's UKIP are on course to have perhaps 112 second places across England & Wales despite possibly losing his own seat.
Nick Clegg has indicated that he will likely step down today as a Coalition with the Conservatives is clearly off the table given their seat picture. Tim Farron would likely take over as the next leader of the Liberal Democrats as the party sets-about rebuilding their voter base.
Labour are poised for a "reset" of their shadow front bench – Ed Balls has lost Morley & Outwood and Ed Miliband himself may well now consider his position.
An interesting summary of the next likely Labour leader written by the Independent on Sunday's John Rentoul based on our video based poll of likely Labour leadership contenders for the Mail on Sunday can be found here:
But why wasn't this dramatic turn of events predicted by the polling companies?
Attention will soon turn to the pollsters including ourselves of course and why we "got it completely wrong".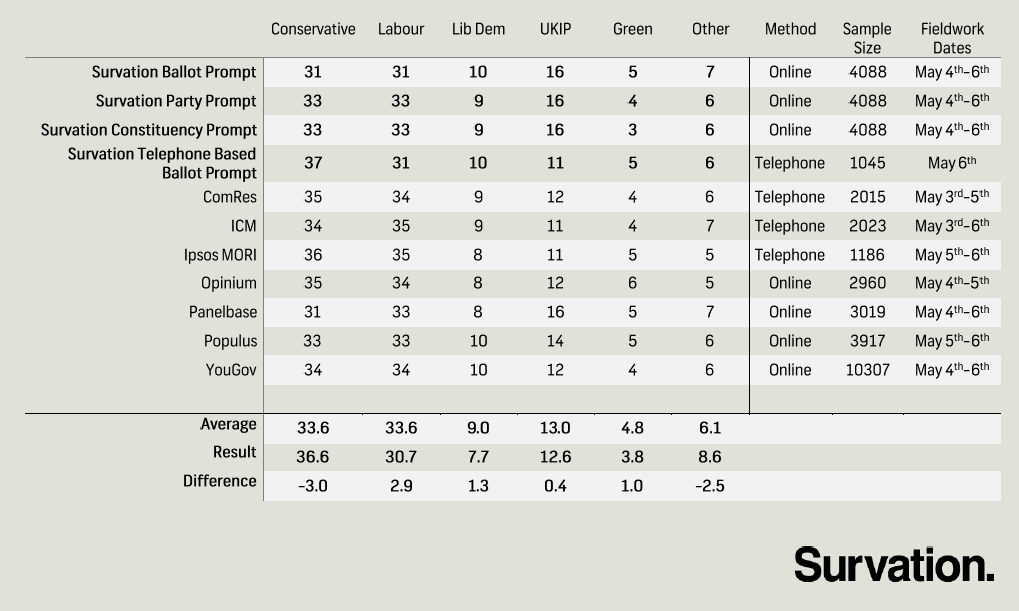 We can only speak for ourselves on this matter.
As in the Scottish Independence Referendum, where Survation shared "joint honours" with Ipsos Mori for accuracy, Survation conducted a voting intention telephone poll the day before the election (Wednesday) with three specific attributes:
Naming candidates through a ballot prompt specific to the respondents' constituency based on their postcode.
Carefully balancing our sample based on age, region, sex, and past vote prior to weighting, from a nationally representative sample frame.
And crucially;
Speaking only to the named person from the dataset and calling mobile and landline telephone numbers to maximise the "reach" of the poll.
This was conducted over the afternoon and evening of Wednesday 6th May, as close as possible to the election to capture any late "swing" to any party – the same method we used in our telephone polls during the Independence Referendum that produced a 54% and a 53% figure for "no".
This poll produced figures of:
Survation Telephone, Ballot Paper Prompt:
CON 37%
LAB 31%
LD 10
UKIP 11
GRE 5
Others (including the SNP) 6%
Which would have been very close to the final result.
We had flagged that we were conducting this poll to the Daily Mirror as something we might share as an interesting check on our online vs our telephone methodology, but the results seemed so "out of line" with all the polling conducted by ourselves and our peers – what poll commentators would term an "outlier" – that I "chickened out" of publishing the figures – something I'm sure I'll always regret.
So in short, there will be no internal review of telephone polling methodology for Survation post this General Election result, while clearly there is work to do to improve our and the industry's online polling samples.
Online polling is very effective and useful for a wide range of reasons, however we're now clearer than ever that this method of telephone polling as described above will be our "Gold Standard" for voting intention going forward.
Survation always recommend this method to our clients where telephone polling is the most suitable method for their project – which we've used to conduct hundreds of constituency and national polls.
As with many things in life, taking your own advice onboard is often the best course of action – and we've been reminded of that today in a particularly hard way.
Damian Lyons Lowe.
Founder and CEO of Survation.
To see the full tables for our telephone poll, click here.
To see the full tables for our final online poll for the Mirror, click here.
We would be very happy to share the raw data for the telephone poll on request, which we've already sent for post-match methodological perspective to the heads of The British Polling Council, Professor John Curtice & Nick Moon.
---
< Back