Blog
SNP continue to lose ground amongst voters in Scotland as Conservatives and Labour gain
Westminster headline voting intention figures (change vs. 7th October):
CON 27% (+1) LAB 26% (+2) SNP 36% (-4) Lib Dems 7% (+1) Others 3% (NC)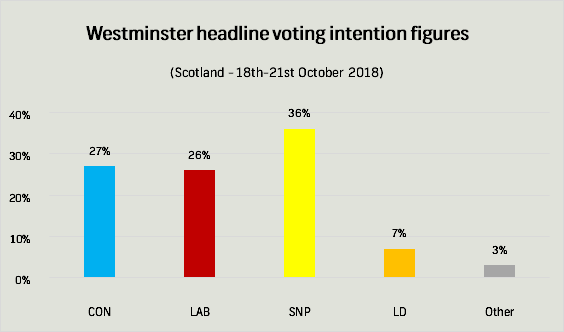 New polling for the Daily Record reveals that the SNP has continued to lose the support of voters in Scotland after being a percentage point down in polling at the beginning of October. Labour, the Conservatives and the Liberal Democrats have comparatively made small gains.
If Scotland had another independence referendum, no would win again as only 45% support independence.
Scottish independence referendum headline voting intention (change vs. 7th October):
Yes: 45% (-2)
No: 55% (+2)
Scotland also remains heavily pro-EU in the latest hypothetical EU referendum voting intention.
EU referendum headline voting intention (change vs. 7th October):
Leave: 34% (NC)
Remain: 66% (NC)
Survation surveyed 1017 people aged 16+ in Scotland online. Fieldwork was conducted 18th-21st October 2018. Data tables and methodology can be found here.
---
Survation is a member of the British Polling Council and abides by its rules.
BPC Statement: All polls are subject to a wide range of potential sources of error. On the basis of the historical record of the polls at recent general elections, there is a 9 in 10 chance that the true value of a party's support lies within 4 points of the estimates provided by this poll, and a 2 in 3 chance that they lie within 2 points.
To learn more about Survation's polling capabilities contact Harry Mason or John Gibb on 020 3818 9661 or email researchteam@survation.com.
---
Would you like to have your own views represented in Survation's research work? Survation's paid consumer opinion panel is now live!
Simply go to: https://panel.survation.com/ – register (1 minute) and we'll credit your account with 50 points for simply confirming your email and allocate 100 points for taking a very short survey. Points convert to cash which can be withdrawn each time you reach the equivalent of £50.
You can sign up to our press release list here. Follow Survation on Twitter: @Survation
---
< Back