Blog
Survation Post-Debate Poll Cuts Conservative Lead To One Point
Survation's most recent poll for the Mail on Sunday has cut the Conservative lead over the Labour Party to just one point.
This online poll aimed to capture public reaction to Friday evening's live public Q&A of Theresa May and Jeremy Corbyn, broadcast by the BBC. Fieldwork took place the day after, on Saturday June 3rd.
We asked our respondents if they had seen, or heard about, the TV debate. A total of 72% of respondents had either seen it in full, watched part of it, seen clips or highlights or read about it. Of this, 17% had watched the whole thing.
Voting intention shares for the two main parties have seen significant swings, outside the margin of error, since our last poll for the Mail on Sunday two weeks ago. In answer to our headline party voting intention question, 40% (-6)  said they planned to vote Conservative, 39% (+5) Labour, 8% (NC) Lib Dem, 5% (+1) UKIP and 9% (+1) other.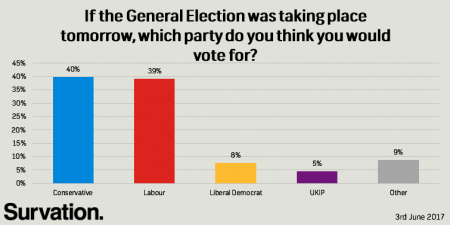 Full tables available here.
Is Jeremy Corbyn fit to be Leader? – Mail in Sunday's Question Scrutiny:

The overwhelming focus of the poll was on the public's judgement of Jeremy Corbyn's aptitude to lead the country, after some intense scrutiny of his world views in the Question Time special.
There was some encouraging news for Mr Corbyn on this subject: when asked if the event had made them more or less likely to vote Labour, of the 72% who had seen or heard about it, 36% said more likely, against 24% less likely, 34% no more or less likely and 5% don't know.
The results were almost reversed for the Conservatives, with 24% saying more likely, 32% less likely, 38% no more or less likely and 5% don't know.
However, a majority of respondents returned an overall negative view of Mr Corbyn's position on several key issues: his stance on Britain's nuclear weapons and his views on the IRA chief amongst them. When asked who they trusted most to defend Britain, of all respondents, 53% said Theresa May, against only 25% for Jeremy Corbyn and 22% don't know.
Jeremy Corbyn's stance on nuclear weapons may have contributed to respondents' lack of confidence in his ability to defend the nation. All respondents were asked: "Overall, how important is a UK Prime Minister's attitude towards Britain's nuclear defence capability to your vote?" A total of 76% said it was somewhat or very important to them, with only 16% saying it was not all important, and 8% saying don't know.
Jeremy Corbyn said during the event he would never approve 'first use' of Britain's nuclear weapons, and declined to say if he would use them to UK from a nuclear attack from a country such as North Korea or Iran. Of all our respondents, 42% said they disapproved of this position, 35% approved and 23% said don't know.
Other questions established that 44% of all respondents said that, regardless of whether they intended to vote Labour, they disapproved of Jeremy Corbyn's stance on nuclear weapons. 33% said they approved and 22% said don't know.
Respondents were also asked if Jeremy Corbyn's attitude to the use of nuclear weapons made them more or less likely to vote Labour. His views made no difference to 42% of respondents, but 31% said less likely, and 20% more likely.
After being grilled on his nuclear weapons stance, attention shifted to Jeremy Corbyn's opinions of the IRA. Jeremy Corbyn declined to condemn the IRA specifically during the debate, and a large majority of respondents, 58%, said he was wrong in not condemning them. Only 22% said he was right, and 21% said don't know.
Finally, respondents were asked how Jeremy Corbyn's responses on nuclear weapons and the IRA affected his fitness to be Prime Minister. The largest group, 39%, said they make him unfit to be Prime Minister, 29% said they are not relevant, 21% said they do not make him unfit to be PM and 12% said don't know.
All respondents were also asked if they agreed with one audience member's suggestion that Labour's policy manifesto was more like a 'letter to Santa Claus' than a 'realistic wish list'. 46% agreed, 27% disagreed and 27% said don't know.
Survation interviewed 1,049 UK adults aged 18+ online on the 3rd June 2017. Survation is a member of the British Polling Council and abides by its rules.
The following describes the makeup of those who had seen or heard something about the debate.
On the evening of Friday June 2nd, Theresa May and Jeremy Corbyn participated in a special BBC Question Time show with David Dimbleby. The event ended around at 10pm the same night.
Which of the following describes this TV event and you?
I watched the whole event live on television, internet or have watched on "catch-up" 17%
I watched some or part of the event live on television or internet   21%
I have only seen clips / highlights of the event on TV news channels or the internet 21%
I have not seen any of the event but have read articles about the event via the internet 13%
I have not seen anything about this event during or after it ended   28%
---
< Back