Charities & Campaign Groups
Third of BAME Scots have experienced discrimination in Scotland in the past two years
Over a third (34%) of Black, Asian, and minority ethnic (BAME) Scots have experienced discrimination in Scotland over the past two years, a new telephone poll on behalf of Dr Nasar Meer at the University of Edinburgh has shown.
Survation interviewed 501 BAME adults in Scotland between 8th July and 11th September 2019.
This result is comparable to other polls conducted by Dr Nasar Meer and Survation in previous years (2015 and 2017 respectively) showing that prejudice remains at a persistent level.
Additionally, a large majority (89%) of those experiencing discrimination felt they had experienced discrimination related to their ethnicity. Furthermore 66% also felt that they had experienced discrimination based on their perceived religion, a rise from 44% responding that way in both 2017 and 2015.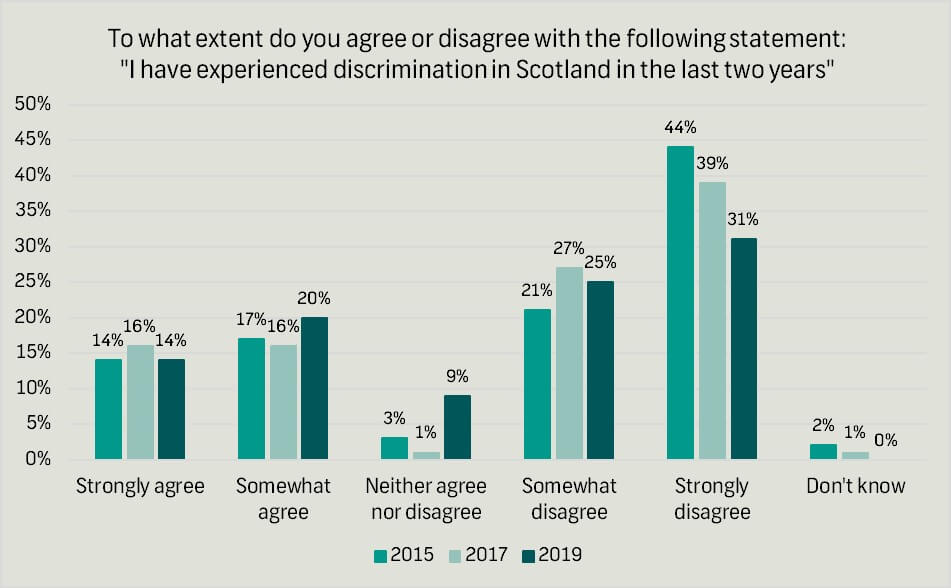 Of those who had experienced discrimination far more have taken action than in previous years, with just over half (51%) taking some form of action as a result of the discrimination experienced, a rise from previous years.
Most (43%) of the BAME Scots interviewed believe that the SNP is the party best placed to tackled discrimination. However only 24% believed an independent Scotland would be better placed to tackle discrimination in Scotland, with 21% believing it would be worse placed, and 43% stating it would make no difference.
Lead researcher Professor Nasar Meer, of the University of Edinburgh's School of Social and Political Science states: "It is encouraging that black and ethnic minority Scots still have faith in Scottish institutions to tackle racism, but this trust has decreased over time. Although levels of non-reporting have improved, they still remain high so more targeted support is needed to help overcome this."
Survation conducted a telephone poll of 501 residents aged 18+ in Scotland who identified as Asian, Black/African/Caribbean, Mixed or Multiple Ethnic group, or belonging to another ethnicity group (not including White). Fieldwork was between 8th July and 11th September 2019. Data tables and methodology can be found here.
Survation is a member of the British Polling Council and abides by its rules.
---
To learn more about Survation's polling capabilities or to commission a poll, contact Harry Mason or John Gibb on 020 3818 9661 or email researchteam@survation.com.
---
Would you like to have your own views represented in Survation's research work?
To join our paid consumer opinion panel, simply go to: https://panel.survation.com/ and register (1 minute) and we'll credit your account with 50 points for simply confirming your email! Points convert to cash which can be withdrawn each time you reach the equivalent of £50.
---
< Back